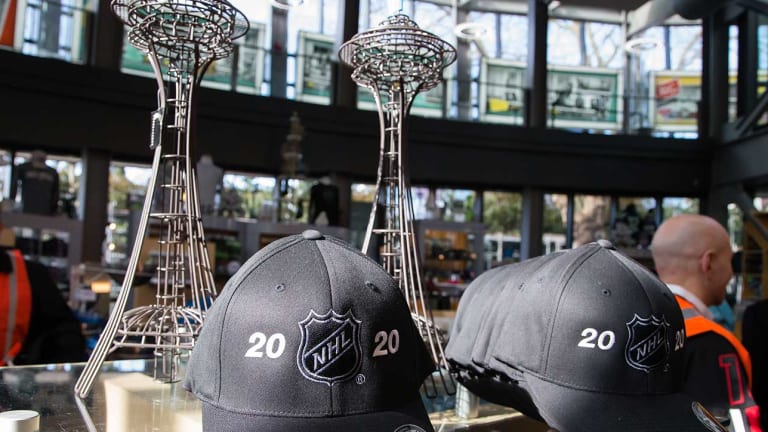 Seattle's NHL Hopefuls Continue Planning Franchise in Anticipation of Successful Expansion Vote
The dream of Seattle hockey fans is about to be realized. The city's NHL expansion group is "cautiously optimistic" about the league's vote to officially decide on adding a 32nd franchise.
The Cloister is a five-star resort nestled along the private enclave of Sea Island, Ga., a short stroll away from the ocean shoreline. Amenities include beach club access, tennis courts, Spanish Mediterranean décor and three area golf courses, as well as fresh cookies and hot tea served every afternoon. The website makes no mention of rubber stamps, though one assumes those will also be made available when the NHL Board of Governors meets there next week.
The exact agenda schedule hasn't been finalized, but most likely the inevitable will become official on Tuesday afternoon as the league's 32nd team is approved by board vote. Even then, the expansion franchise will still be missing a general manager, a coach, a practice facility, a home arena, and even a name. But it will exist—honest to goodness, in the flesh—regardless. "Fingers crossed," Seattle Hockey Partners vice chairman David Wright says. "Cautiously optimistic until we get the word, but nothing's guaranteed."
True. Then again, Seattle probably slots somewhere behind the rising sun on the spectrum of fixed outcomes. It was a risk-free decision when the NHL authorized a season ticket deposit drive in March—hitting 10,000 by minute 12 certainly didn't hurt matters—but stationing pro hockey in Seattle has been an obvious move for awhile. The Eastern and Western Conferences will have equal numbers. A regional rivalry will develop with Vancouver. A booming city that lost its last major winter sports team will get a new one, exactly 10 years later. And who's turning down a chunk of that $650 million expansion fee?
Plus, a rejected bid would really bum out people like Dave Tippett.
The team's senior advisor and longtime NHL coach isn't traveling to Sea Island. That honor is reserved for folks like Wright, CEO Tod Leiweke and co-owner David Bonderman—much of the same cohort that delivered a presentation to the league's executive committee on Oct. 2 and received a 9-0 vote of approval. Besides, Tippett seems far too preoccupied for a resort weekend. (The onsite Introduction to Falconry class sounds like a wild time, though.)
"Been watching a lot of games," he says, on the phone between meetings earlier this week at his downtown Seattle office. "Working with the infrastructure. Designing the team spaces. Monitoring where things are with the American [Hockey] League. Staying busy."
The urge to build runs through Tippett's blood. One grandfather worked in auto maintenance, the other carpentry. Later on, when Tippett was playing left winger for the Hartford Whalers from '83-90, he simultaneously ran a company that fixed and flipped houses each offseason. Today the 57-year-old prefers tinkering with custom motorcycles in his garage workshop, at ease among the hydraulic lifts and air hoses. "But," he says, "I've never built a hockey team."
That is far down the road. Heck, Tippett doesn't expect to start evaluating general manager candidates until "late spring," he says. (Shame Seattle isn't starting next season, really, considering that close friend Joel Quenneville recently joined the ranks of available coaches.) For now, he is thinking about things like workout facilities and player lounges, hot tubs and steam rooms, theaters and cafeterias. "[General manager] Doug Armstrong in St. Louis told me, 'If you don't plan on building to make it top-five, then it'll be bottom-five in a hurry," Tippett says.
Part of this has involved phoning "a lot" of current players from Tippett's 18 years behind NHL benches and soliciting their recommendations. He also made trips to Chicago and Minnesota, touring each team's new facility, taking mental notes of which features he liked. The visit with the Blackhawks happened about a week before Quenneville, his former teammate of nearly 10 years, was abruptly fired, the second of four such moves this month. Sorta makes a guy extra happy that he's thinking about hot tubs and steam rooms. "All throughout the league, you've got GMs, you've got coaches, players being thrown around," Tippett says. "It's crazy."
Power Rankings:It's Good to Be Buffalo Right Now
Fortunately, next Tuesday figures to promise something much more predictable. The governors are already plenty rehearsed in this procedure, seeing as how they went through this whole shebang two years ago. The only new fella will be Vegas Golden Knights owner Bill Foley—who pretty well earned that seat when his $500 million admission check turned into the greatest expansion success story in North American pro sports history. Foley was on the other side two and a half years ago, waiting for a smoke signal from the board of governors, which eventually arrived in the form of a text announcing the vote: 30-0.
Before Seattle can score a similar shutout, there is a formality to these things. First, the executive committee will make a report. Then matters will get discussed. Most important: The renovation timeline for KeyArena. Ground will break on the proposed hockey team's home stadium next Wednesday; construction is being overseen by Oak View Group and CEO Tim Leiweke, Tod's brother. After that? "There are so many moving parts," Wright says. "We're still tracking for that 2020. That's all I can say. We should know a lot more in the coming months."
The Board of Governors don't need a hardline completion date to approve Seattle's bid, though they might wind up wanting to wait until '21-22 anyway if the NHLPA decides to strike for a new CBA. Wright, a fourth-generation Seattle resident whose father Howard was a founding owner of the Seahawks, would prefer to get to The Cloister already. "Just a lot of anxiety coming up until that meeting," he says. "Even though it's as likely as it might seem, until you hear those words, you don't know. On the one hand, yeah, it does feel real. On the other hand, it's like, hey, I'm not going to get ahead of myself until the NHL says we've been awarded a franchise."