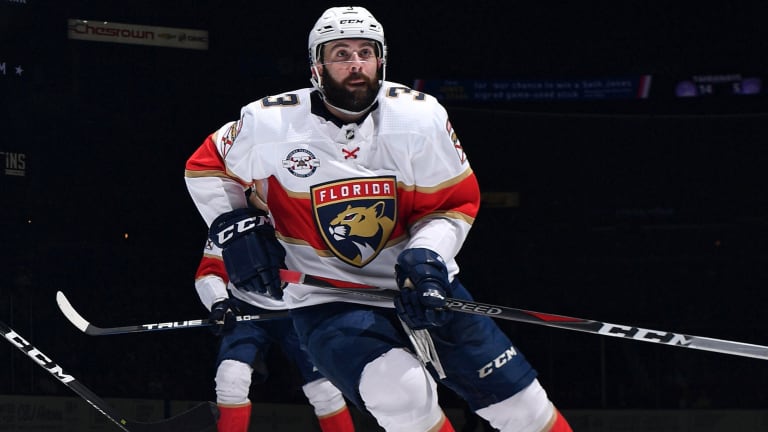 Keith Yandle Hasn't Missed a Game Since 2009, and Don't Expect Him to Sit Anytime Soon
NHL ironman Keith Yandle hasn't missed a game since 2009, and it doesn't look like he's stopping anytime soon.
Eleven years long and counting, the career of Florida defenseman Keith Yandle can be neatly summarized by two ongoing streaks, each equally impressive and personally meaningful. The first is known well: Since March 22, 2009, when none other than Wayne Gretzky sent him to the Coyotes press box as a healthy scratch, Yandle hasn't missed a single game. Through Monday this ironman run stood at 740 straight, sixth-longest in league history and tops among active players after Anaheim's Andrew Cogliano was sidelined due to suspension last January.
And then there is the second streak.
"My biggest claim to fame in the NHL," says Yandle, "is that I've never had room service."
To him, road trips are wasted in hotels. Better to wander around cool cities than wait around for lukewarm steak-frites. "Whether you're talking about hockey or not," the 32-year-old says, "it's just a good way to build friendships and camaraderie." As such, Yandle is always planning different activities. Team dinners, yes, but also concerts and comedy shows. Last season he was part of a Panthers crew that got really into mini-golf. Earlier this season he took several teammates on their first New York City subway ride to see "Book of Mormon" on Broadway.
"The first car we got on was pretty empty, so we all had seats," says Yandle, who spent a season-plus on the Rangers before signing a seven-year, $44.45 million contract with Florida in June '16. "Then everyone felt bad that people were coming on and they thought they had to stand up and let people sit. I'm like, 'No, this is a cage match, you just sit and don't move for anyone. Unless your mom comes on the train, you don't get up.'"
Sportsperson of the Year: The Vegas Golden Knights Surprised Us All with Remarkable Inaugural Season
On the ice, of course, the opposite is true: As the second blueliner in league history to eclipse 700 consecutive games, Yandle almost never sits down. His father pulled overnight shifts driving 18-wheelers for FedEx and still had enough leftover energy to coach high school hockey. His mother still rises before dawn, grinding away at an office job despite suffering from Rheumatoid arthritis. "To see her battling, in pain, was something for me," Yandle says. "I took that in as a kid, saw what my parents were doing for us. That was instilled in my brain."
Put another way, what are a few puck-sized bruises to keep him from playing a game for work? Certainly good fortune helps too. The closest that his ironman streak has come to ending, Yandle recalls, happened when a first-period shot from fellow Panthers defenseman Aaron Ekblad struck the back of his foot against Boston in Dec. '16. After the game, then-coach Tom Rowe told reporters that Yandle would be out "for a while." At least one obituary was penned. Instead, Yandle returned the next night in Philadelphia, attempting four shots and skating 23:57.
In general, though, Yandle follows pretty much the same routines as most NHL players. No secret smoothie recipe or Svengali healer to explain his year-after-year endurance—most impressively the '14–15 season, when a deadline-day trade from Arizona to New York meant that Yandle wound up playing 84 games. His pregame meal is penne vodka with chicken; afterwards he generally just heats up leftovers at home. He receives daily massages during the season, tri-weekly over the summer, and bought a pair of those NormaTec compression pants to help recover at home. Some Panthers players have gotten into cryotherapy, but that's a little much for him. "I like the cold tub after a game, glass of scotch, that's about it," Yandle says.
Over the phone, it's hard to tell whether he's entirely serious. Former teammate Shawn Thornton reports that Yandle, a native of Charlestown, Mass., "has got that Boston dry funny sense of humor." Now in the Panthers front office, Thornton remembers how Yandle crushed everyone in conditioning skates during the '12–13 lockout: "He was three-quarters faster than everyone else and it looked like he wasn't even trying." He also remembers seeing Yandle hobble around after getting tagged by Ekblad and thinking that the streak was done.
"Nah," Yandle told Thornton. "I'll get through it."
Beyond 740 (or wherever Yandle will be when you read this), another figure impresses Thornton more. Over the past decade, dating back to the '08–09 season, Yandle is second among NHL defensemen in total points with 475, trailing only Erik Karlsson and leading Duncan Keith by seven. This raw-number ranking is largely attributable to his longevity; Yandle is 19th in points per game with 0.59, a spot ahead of reigning Norris Trophy winner Victor Hedman. Then again, Yandle is also producing at a career-high rate this season—four goals and 19 assists in 25 games entering Tuesday's matchup against Atlantic Division–rival Boston.
The greatest uptick has come on the power play, where Yandle has nearly matched his entire points output from last season (16 to 18). With weapons like Aleksander Barkov and Evgenii Dadonov attracting primary attention from opposing penalty kills, Yandle is letting the puck fly at a career-high rate (18.7 shots per 60 minutes with a man advantage, according to Natural Stat Trick). "For us to have a better power play, talking to [teammates] and coaches, they told me I needed to shoot a little more," Yandle says. "I'm probably the guy [other teams will] leave open."
PREWITT: Scorin' Like My Daddy: Evgenii Dadonov's Second NHL Tour Paying Off for Panthers
On breakouts, Ekblad compares Yandle to an especially escapable quarterback. "Sometimes you've got to beat a guy first before you make the first pass, and sometimes you get in trouble doing it," Ekblad says. "Whenever he gets in trouble, he weaves his way out of it pretty well. Some kind of crazy saucer pass, no-look, behind his back." Clearly Yandle makes for an entertaining presence on the bench as well; a recent mic'd-up video featured him quoting a certain ... portly Austin Powers character: "Get. In. My. Bellllly."
All of which is to say that 740 consecutive games hasn't really felt like a slog. Muscles ache, bones bruise, but the rest is a pretty damn good time. When the Panthers returned to New York City later last month, for instance, Yandle called in a connection and bought five teammates tickets for "School of Rock the Musical." "When I was a young guy, I always had guys showing me around cities," he says. "I've tried to take over that role a little bit, help guys out, show them something new, whether it's a new restaurant or a cool spot to have a beer."
To surpass Doug Jarvis and set the all-time ironman record (964), Yandle would need to play the rest of this season, then two more seasons, and then four more games—all without taking a seat in the cage match. But this is hockey. Best-laid plans are a foolish proposition. Four years ago, Jay Bouwmeester's 737-game run ended when the Blues defenseman stepped on a crack in the ice. Last season Cogliano had gotten all the way to 830—including, coincidentally, the game that started Yandle's streak, Arizona-Edmonton on March 26, 2009—before delivering a high hit that drew a two-game ban. Rest assured, though, that Yandle won't bow out easy.
After all, what's the point in missing time unless absolutely necessary? He might as well order room service.