Breaking down the contenders for men's skating singles
While there are obvious frontrunners in men's singles, Sochi will host the greatest number of medal contenders in recent history. Here is a breakdown of the top ones, each of whom has the complete package of artistry and athleticism -- once considered an elusive combination.
Patrick Chan, Canada
Strengths:
• Graceful athleticism. Figure skating isn't considered the manliest of sports, but the 23-year-old exudes strength without sacrificing artistic expression.
• Discipline. Chan attributes his exceptional work ethic to his Chinese heritage, which he says helps him train harder and smarter and maintain focus.
Weaknesses:
• His axel. It's always been shaky. At worlds in 2012, he fell hard out of a simple double axel, which is unheard of for a skater at that level.  During Skate Canada last year he even singled the jump, and while skating the short program in the Olympic team event he stepped out of his triple axel landing.
• His bad days are bad. Chan rarely skates a program with one mistake. On some days he is flawless, but if he makes one error during a program, more blunders -- often trivial errors, in, for instance, his footwork or spins -- are likely to follow.
• A lighter load of elements. Chan's programs don't boast as challenging an array of technical components as some of his opponents. The majority of difficult jumps are in the first half of his long program.
Yuzuru Hanyu, Japan
Strengths:
• Artistry and presence. The insanely flexible 20-year-old has worked on becoming a more artistic skater. It showed when he won the short program in the Olympic team event. He has chosen music he clearly connects with for both the short and long.
• Footwork. Hanyu rarely skates a straight line between elements. His routines this season are jam-packed with intricate footwork, which ties his spins, jumps and choreography together. Hanyu executes every sequence with masterful precision.
• Jumps and sequences. Hanyu has landed quadruple toe loop-triple axel and even quad toe loop-triple axel-triple axel combinations. Though he is unlikely attempt either one in Sochi, the sequences he does have planned are sure to make an impression on the judges. Hanyu's quad toe loop has been consistent all season and his rare (and very difficult) triple axel takeoff will earn some bonus points.
• Stamina. Despite having asthma, Hanyu has two triple axels in the second half of his long program, where they are worth more points than in the first half. 
Weaknesses:
• The quad Salchow. Hanyu fell on this jump at nationals and the Grand Prix final in December. At the 2013 worlds, he touched his hand to the ice on the landing. If he goes for it in Sochi and falls, it could cost him more technical points than he would earn by landing it.
Evgeni Plushenko, Russia:
Strengths:
• Tenacity. At nationals in December, after doubling a triple axel in the long program, he immediately three-turned into another attempt. He doubled that axel as well, along with the following two jumps, but remained unfazed and finally pulled off a triple axel three minutes into the program.
• Home advantage. Russians love Plushenko. And he loves to be loved. Hearing the crowd in the Iceberg Skating Palace screaming his name could give him the charge he needs to skate through the back pain he complained about after the team event. It could lead him to ham up his choreography for the crowd and cameras, possibly scoring bonus artistry points as a result.
Weaknesses:
• Injuries. In November, Plushenko missed skating in the Rostelecom Cup due to a knee injury and the back surgery he underwent a year ago is still giving him some ill-effects, such as pain while jumping.
• Endurance. The 31-year-old appears to lack the stamina he once had. Toward the end of his long program in the team event, he doubled two jumps -- though, in fairness, that was fewer than he doubled at nationals less than two months ago. His spins and once-famous footwork sequences appear slower as well.
• The Pressure in Sochi. This is his fourth and final time at the Olympics and Plushenko, undoubtedly wants to go out on top in his home country. "The fourth Olympics are even harder than the first," he told reporters after skating in the team event.
Javier Fernandez, Spain:
Strengths:
• Confident takeoffs.  Fernandez never appears to hesitate or lose speed going into his jumps. When his landings are clean, the 22-year-old's jumping is perhaps his greatest strength. In winning the European championship last month he executed three quads during his free skate.
Weaknesses:
• Artistry. He isn't really lacking in this department -- except in comparison to some of the other top contenders. Fernandez has been criticized for not connecting with his current music and giving artistically flat performances throughout the season.
• Awkward landings. He has a tendency to cheat his landings by touching down, two footing or under-rotating.
U.S. Hopefuls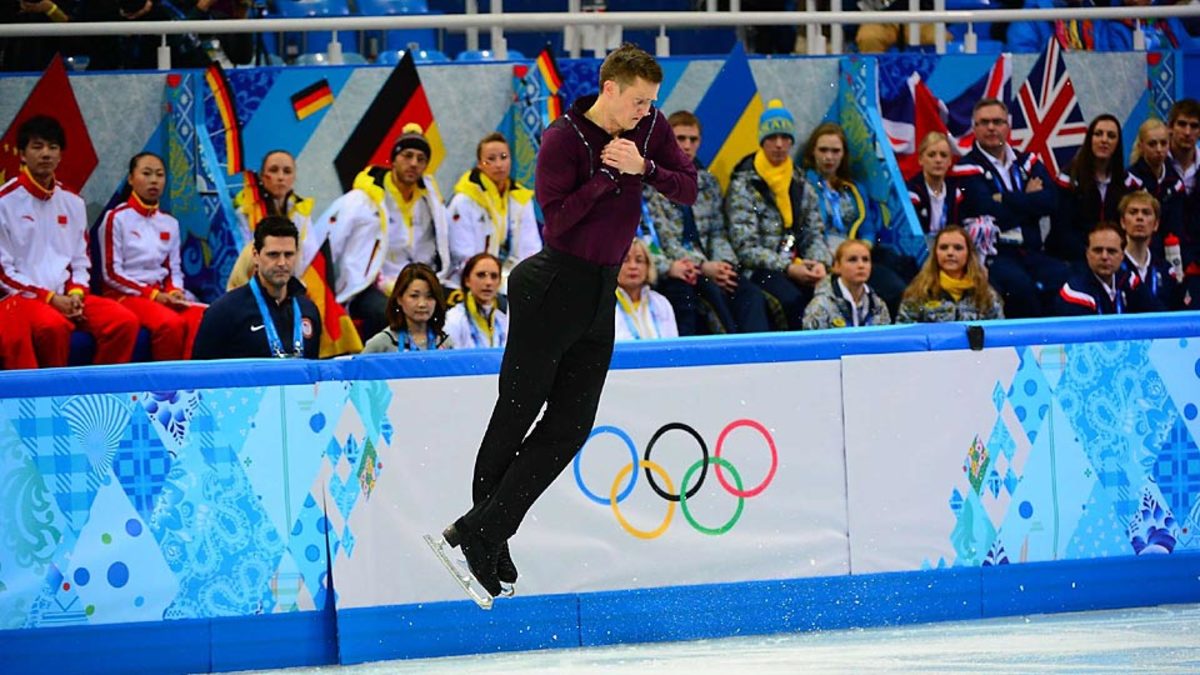 Jeremy Abbott
Strengths:
• Emotion: Abbott has the unique ability to feel every note of his music. He conveys powerful emotion through the smallest of movements. His lines, his eyes, even his fingertips tell a story, without a need for overly elaborate choreography.
• Edges. They are oh-so-crisp. Abbott's strokes emit an audible crunch beneath his blades that indicates power and control, not heaviness.
Weaknesses:
• Stage Fright. Abbott has battled performance anxiety throughout his entire career, particularly in international competition. The disappointing short program he delivered during the team event proved that he still hasn't quite conquered his nerves or "demons," as Abbott called his lack of emotional fortitude in a press conference following his first Olympic skate in Sochi.
• The quad. When he lands it, Abbot's quad toe loop is one of the most precise in the game, but he struggles with consistency. At the U.S Championships in January, he chose to not even attempt it in his short program, but in Sochi, where he already fell while attempting it during the team event, that won't be an option if he wants to medal. His toughest opponents all have at least one in their programs—some in combination.
Jason Brown
Strengths:
• Showmanship. Not only a strong technical skater, (despite lacking the quad, he has a solid triple axel), Brown is also a born entertainer. His exudes positive energy and artistic flair, and is consistently a delight to watch. No wonder he is the underdog the world can't help but root for.
• Spins. With all the hype surrounding who has more quads, it's easy to forget that spins count for technical merit points as well and Brown's -- which possess standout speed and flexibility -- set him apart from the rest in that department.
• Youth. He might not have the international experience of his opponents, but at 19 years old, Brown has the least to prove and the least to lose. The absence of pressure could give him the psychological advantage over angst-ridden old timers like Plushenko and Abbott. Just like Oksana Baiul in 1994, Brown could prove to be the youngster no one saw coming. 
Weaknesses:
• Quads. Among the skaters projected to medal in Sochi, Brown is the only one who won't be attempting a quad.
• Inexperience. Not only will these be his first Olympic Games, this is also Brown's first season as a senior level competitor.