Fifty-Eight Years After Making History, Kyung Soon Yim Discusses His Unlikely Olympic Past
Fifty-eight years ago, Kyung Soon Yim made history by becoming the first South Korean ski racer. Now, he revisits how that experience altered the course of his life.
PYEONGCHANG, South Korea—We usually talk about the winners. But one of the things that make the Olympics so wonderful is that sometimes we talk about the ones who finish last. Sometimes, when an athlete travels a great distance and arrives short on experience, but long on Olympic spirit, we find it admirable enough to tell their story.
That's why Sports Illustrated devoted a page in the March 7, 1960 issue to the story of Kyung Soon Yim.
*****
The Alpensia Ski Jumping Centre is the most imposing venue at the 2018 Winter Olympics in PyeongChang. Two gigantic ramps offer enough runway for skiers and snowboarders to hurtle themselves into the air an alarming way. High above even that stands a 900-meter tower, visible throughout much of the surrounding mountainous region.  Way down below the tower's top observatory deck, the Daegwanryoung Ski History Museum tells the history of skiing through a collection of photos and memorabilia, with a particular focus on Korea's contributions to the alpine, aerial and cross-country exploits of the sporting world.
Off in one corner: A framed copy of that 1960 issue of SI, from a week after the Winter Olympics in Squaw Valley, California.
This story picks up where that one left off, adding some details about how the article changed Yim's life in the 58 years since.
It's worth reading Arthur Murphy's entire story from 1960, but the most important thing to know is that Yim had very little experience skiing Olympic caliber slopes—a trait he shared with practically everyone else from his home country. He learned technique from foreign instruction manuals and did much of his training on dry land instead of snow.
Many of the more incredible details that aren't covered in SI's original 349 words, the now-88-year-old Yim was happy to share this week in a phone interview through a translator. Like how he expected to buy skis in Japan on his way to America, but because Japan and Korea hadn't established diplomatic relations yet he was forced to reroute through Hawaii and arrive in San Francisco sans skis.  Or how the Korean government paid for his flight and lodging, but he had to sell his wife's wedding ring to pay for his equipment. And how American journalists had heard rumors about his arrival, which set wheels in motion for Team USA to give him the skis he used in competition.
Yim's experience in Squaw Valley changed his life, but he admits some days were difficult. He arrived with no coach or support system, so he had to remember the course by himself and set his strategy solo.  Korea sent one other skier to compete in cross-country, but they had different meetings and competitions, so Yim still felt very much alone.
But on his way out of town, he learned that he'd caught Murphy's eye enough to warrant the write-up in SI. He bought a couple copies shortly before hopping on the plane back home.
After the Olympics, he became something of a ski legend in Korea—thanks largely to the article. He went back to teaching high school students, as he had been doing before the journey to Squaw Valley, and wrote a book about skiing that Choi Il Hong, the manager of the ski museum, says is the book that Koreans read when they want to start skiing.  After eight years of teaching, Yim was approached by a university with the opportunity to teach aspiring teachers. He says his future bosses had seen the article in SI and were impressed by his sportsmanship and passion.
Yim said this week that his job as a professor was the most important thing he's done in his life, and he believes that the article in SI was the starting point. In the original 1960 article, Yim made clear his interest in helping those who would come after him. "My country is sure this will be of great value in teaching our younger generation," he said.
He then went on to devote his life to teaching, not just in the classroom but on the slopes as well.  He doesn't get on his old skis very much anymore, but is still the president and manager of a ski school, with a particular interest in helping kids. (It also helped that he started making more money once he got to the university. He and his wife Hye-Sun Yang are still happily together, and he says he was able to buy her an even nicer ring than the one he sold.)
Fifty-eight years after Yim skied in the Olympics, the Games are in PyeongChang. Once upon a time he showed up to the Olympics without any skis. This time around he got to carry the Olympic torch.  Yim actually made the trip from his home in Seoul to come serve as one of the many official volunteers in PyeongChang for the Games. He joked that he was too old now to compete, so he might as well volunteer.  But after a couple days he decided it was too difficult to shuttle back and forth between his housing and the venues in frigid temperatures, and he returned home with a cold.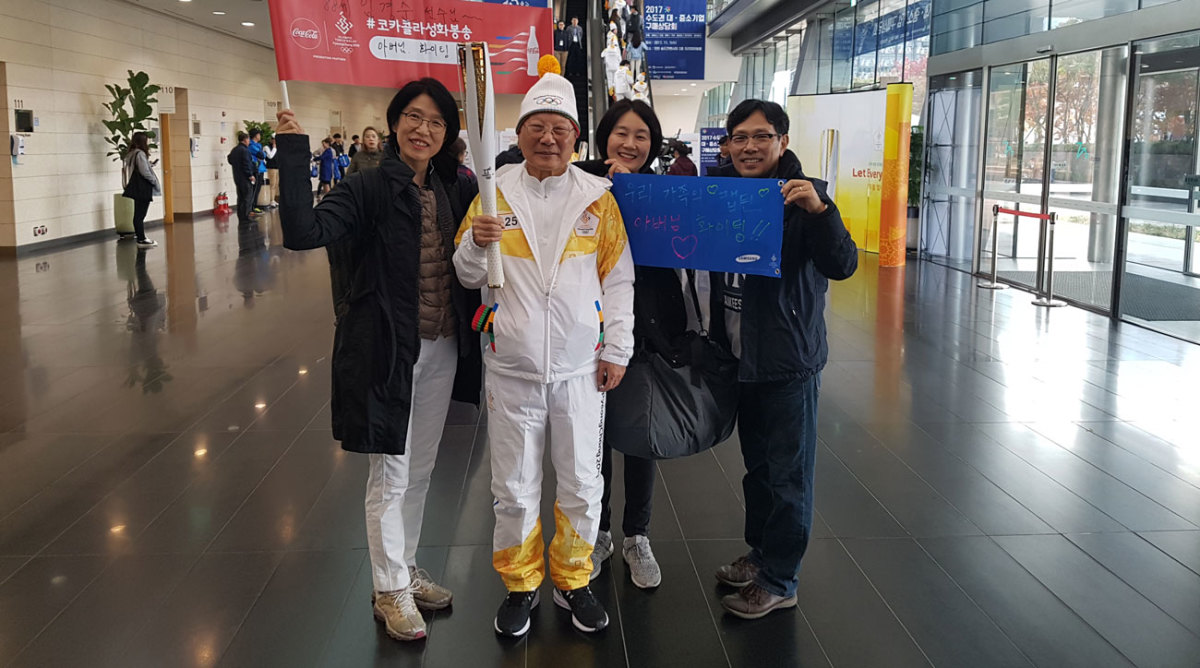 South Korea has still never won an Olympic medal in any form of skiing. But the host nation has collected medals in speed skating, short track speed skating and skeleton (a first this year).  Short track made its official debut as a medal event in 1992, and South Korea has since won more medals than any other nation. The foundation for that success begins with trailblazers like Yim, who helped spread an interest in the Winter Olympics throughout Korea.
What he may have lacked in experience in 1960, he has more than made up for in passion and commitment to teaching others. It can be easy sometimes to feel cynical about the Olympics, and its seemingly endless parade of scandals and controversies. But every two years, the world does find itself inundated in that Olympic spirit. And we get hooked by a good story about an athlete with priorities we can aspire to—showing up, doing your best, representing your home proudly and coming out a better person on the other side.
Sometimes we learn more from those who come in last than those who come in first. Kyung Soon Yim has been showing us that for a very long time.