What Brexit could mean for Premier League, England national team
Thursday's vote could have a large impact on the English game, should the referendum to leave pass.
A day from now I'll find out if I'm still European.
A referendum on June 23 will offer Brits the chance to leave the European Union and break the ties that bind us to the Continent. But more is at stake Thursday than my own national identity crisis. The British electorate holds in its hands, among other things, the future of the world's biggest soccer league.
There are around 200 European players in the English Premier League and hundreds more in the three pro soccer leagues that sit below the top flight—in comparison, the NBA boasts only about 100 international players. Those numbers include Chelsea midfielder Eden Hazard (from Belgium), Manchester United goalkeeper David De Gea (Spain), and Arsenal midfielder Mesut Özil (Germany). Most of these Europeans come from one of the EU's 28 member states, and have the right to live and work anywhere within the union without the need for work permits.
David Beckham voting for Britain to remain in Brexit referendum
The EPL has flourished in this open-borders environment. Over the 2014-15 season, it pulled in $4.8 billion in revenue, more than twice that of the next two biggest soccer leagues combined, Germany's Bundesliga ($2.6 billion) and Spain's La Liga ($2.1 billion).
In 2015-16, domestic and international TV rights alone brought the EPL $2.5 billion, and next season that will jump to $3.9 billion.
But all is not right with English soccer. While the Premier League has soared, the national team has stalled. In 1996, England reached the semifinals of the European Championship. Since then it has gone no further than the quarterfinals of either that or the World Cup. Twice England failed to escape the group stage of a major tournament. Once it failed to even qualify. In that same time period, three of our most ancient enemies, France, Germany, and Spain, won both the European Championship and the World Cup.
GALLERY: Leicester City's incredible title run
Leicester City's Top Moments of 2015-16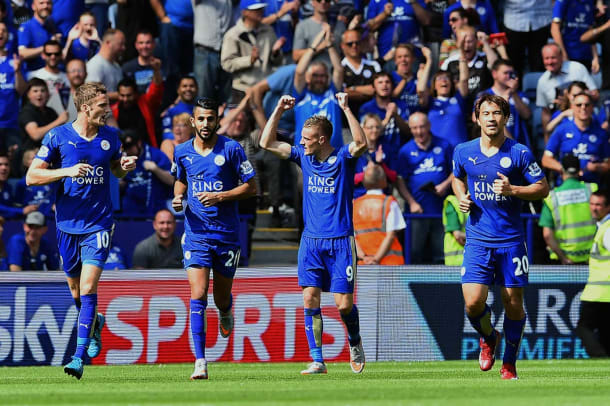 Perhaps that will all change at this summer's European Championship. England was the only team to qualify with a perfect record (10–0–0), but on June 11 opened with a 1–1 tie against Russia (ranked No. 29 in the world by FIFA, or 19th out of the 24 teams at Euro 2016). Last Thursday it relied on an injury-time goal to win 2–1 against Wales (No. 26 in the world, 16th at Euros), and it closed group play Monday with a 0–0 draw against Slovakia (24/15). Or perhaps 2016 will be yet another painful chapter in English soccer history.
"Vote leave, take back control," urges the campaign for Brexit, tapping into fears of lost independence, and laying the blame for British woes at the feet of the European Parliament. In soccer terms, foreign players are accused of taking jobs and opportunities from homegrown talent.
If you were ever unsure of how dangerous stoking xenophobia can be, consider the brutal murder of British MP Jo Cox last Thursday. Appearing in court two days later, her alleged killer, Thomas Mair, gave his name as "Death to traitors, freedom for Britain." Or consider the soccer violence that has made headlines almost every day of Euro 2016 so far.
Despite Euro group finish, England's form not a cause for concern
In May 2015, the British Government tightened up work permit rules in order to reduce the number of international players in the UK. At the time, Greg Dyke, chairman of England's Football Association, explained that the new rules would "make it far tougher for those who don't meet the quality standard to get to play in Britain." What the FA couldn't do, until now, was prevent the influx of EU citizens; a vote for Brexit would do just that.
However, no one really knows what effect that might have. Access to the international talent pool raises the standard of play in the EPL, and foreign players bring with them foreign fans, sponsorship deals, merchandise sales, and TV money. The league is too big and powerful to simply disappear if that lifeblood is constricted, but it could lose its place at the top, out-competed by leagues that still have access to Europe, such as the Bundesliga and La Liga.
"We, in the UK, must be in Europe from a business perspective," said Richard Scudamore, CEO of the EPL, last October.
On Tuesday, former English soccer player and UNICEF Goodwill Ambassador David Beckham threw his support behind the Remain campaign. "For our children and their children we should be facing the problems of the world together and not alone," he wrote on his social media channels.
Besides, if English players are being shunned by the EPL, that is a sign of a lack of English talent, not foreign bias. Spain has three times more soccer coaches than England; Germany has twice as many. (Based on UEFA coaching statistics from 2013, and adjusting for the size of each country's under-20 population.) Better youth soccer development programs, not fears about immigrant workers, make a far more convincing case for why Germany and Spain won the last two World Cups.
Raising the drawbridge that connects Great Britain to Europe, just like building bigger castle walls, will almost certainly work to keep more foreigners out. But isolation won't make English soccer great again.