Kentucky misstep could be huge blow to Carl Edwards' Chase hopes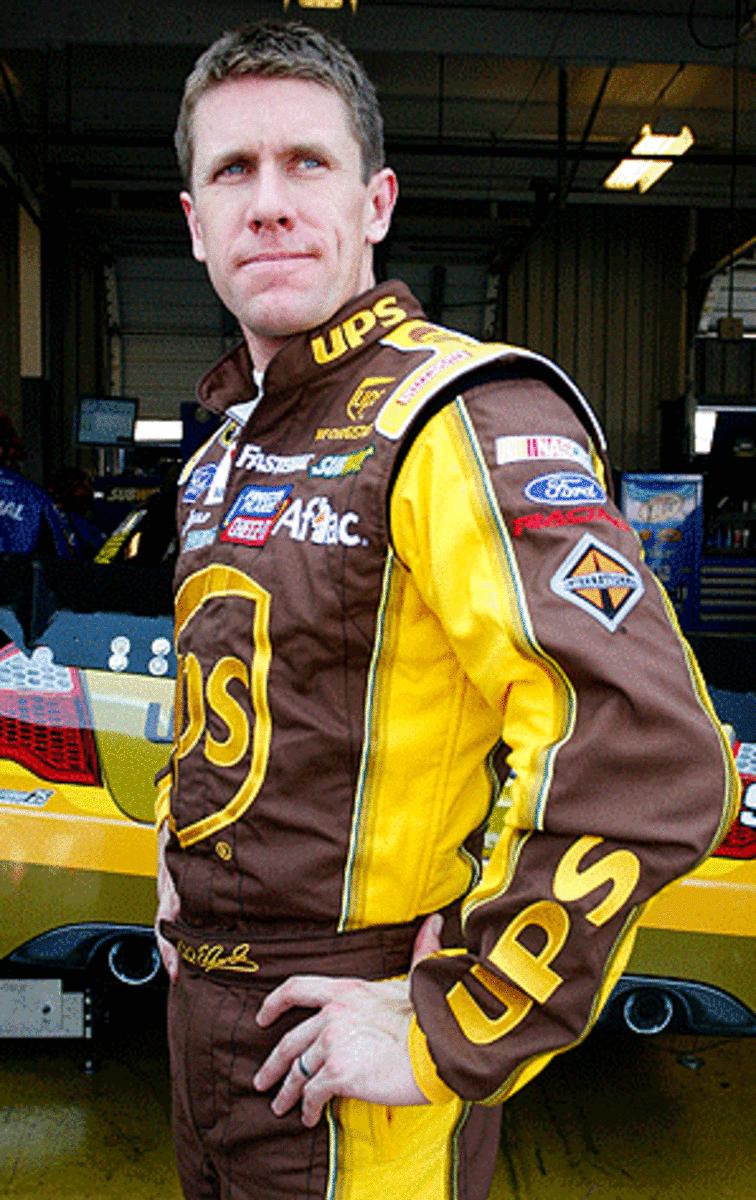 SPARTA, Ky. - The tension was obvious as Carl Edwards talked with his longtime crew chief, Bob Osborne, moments after Saturday's Sprint Cup race at Kentucky Speedway. Edwards displayed not a hint of the wide smile that is the trademark of his usual sunny persona. Osborne mostly stood and listened, lips tight, arms crossed.
The discussion undoubtedly centered on the botched pit call with less than 60 laps to go that led to Edwards being forced to make a late stop for gas, dropping him from a probable third-place finish to 20th. The No. 99 team had just thrown away valuable points in the championship standings at a crucial time. With only nine races remaining before the field is set for the Chase, Edwards currently is not among the 12 drivers who would qualify.
Edwards and Osborne know all too well how important every point can be. After all, they came up only one point short of winning the championship last year. One lousy point. Now they had just discarded 17 points like it was so much pocket lint. The eyes and body language of Edwards and Osborne displayed just how costly this mistake had been. It was the type of moment when tempers easily could bubble out of control, and a once-promising season could fall apart for good.
But after a few minutes of this discussion, Edwards and Osborne both nodded their heads and then shook hands. Moments later, as Osborne was talking with members of the media, Edwards came over and in a protective voice said of his crew chief, "Come on, guys, he's having a tough night." He then pulled Osborne aside for a second private conversation, followed by another round of affirmative nods and the shaking of hands. The No. 99 team eventually might melt down this season, but it was not going to happen on this hot night in Kentucky.
"The thing you have to do when times are tough is work together to improve it. That's what it's all about," Osborne said moments after his second conversation with Edwards. "We don't expect everything to be hunky-dory and perfect on the race track and throughout a weekend. You have to focus on positives and work on your issues together as a group. That's the only way to overcome them.
"If you start losing your mind, so to speak, and getting angry, that doesn't solve any problems. That just makes everything worse. Both of us through the years of working together have always done that. We always try to focus on the positives and deal with the negatives the best we can and improve as we go."
With the exception of a brief time apart in 2006, Osborne has been Edwards' crew chief since Edwards began racing on the Cup circuit in 2004. By all accounts the two men are close. Even during the frustration of Saturday night, Edwards made sure to reiterate his support for Osborne.
"What I told Bob last week is the same thing I'm going to tell him this week. He's the best crew chief in the business," Edwards said. "We're going to stick together, we're going to ride this thing out, and then we're going to get better in a number of little ways.
"Bob and I have been through so much together. Sixteen races ago he was darn near the smartest guy in the whole sport. Now we're getting divided because we're having this frustrating luck and this communication trouble."
Edwards' 20th-place finish at Kentucky was the fifth consecutive race in which he failed to crack the top 10. He hasn't had a top-five showing since March. And amazingly, especially considering he nearly won the championship last season, Edwards currently is on a 50-race winless streak. There have been 19 drivers who have experienced the thrill of a Sprint Cup victory since Edwards last took the checkered flag on March 6, 2011.
Edwards probably was not going to end his winless streak Saturday night, but he certainly appeared poised to have his best finish of the season. But following a caution on lap 210 of the 267-lap race, Edwards did not receive instructions from Osborne to pit for a splash of gas until he was almost to the entrance of pit road.
Edwards was near the top of the track at the time and said he was concerned he wouldn't be able to cut across traffic and make it onto pit road without receiving a penalty for hitting the entrance cone. Most of the other leaders did pit, ensuring that they could make it to the end of the race on fuel. So when the race went caution free the rest of the way, Edwards was forced to take gas under green with only four laps to go.
"We missed the opportunity to pit there because the engineers and Bob told me at the very last second to come to pit road," Edwards said. "We have to polish this thing. We can't give up an inch."
Said Osborne, "It just didn't go our way. We didn't get the job done."
Of course, one way to look at all this is that Edwards merely is continuing a recent trend of the Chase runner-up having a drop-off the following season. Denny Hamlin won eight times in 2010 but lost the championship to Jimmie Johnson on the final weekend. He then managed only one victory last season and finished ninth in the standings. Mark Martin was a five-time winner when he was the series runner-up in 2009. He went winless and failed to make the Chase in 2010. And Edwards followed up his nine-victory, runner-up season in 2008 by going winless and finishing 11th in the standings the next year.
But in none of those instances did the runner-up lose the championship by a single point. Edwards actually finished tied with Tony Stewart in the point standings last season, but Stewart won the tiebreaker because he had five victories to only one for Edwards. Still, despite the disparity in wins, if Edwards had somehow, some way managed to pick up one more point over the course of nine months and 36 races, he would have been the 2011 Sprint Cup champion.
It would seem inevitable that there would be some sort of hangover effect from coming that close to the title but falling just short. A period of soul-searching and second-guessing. In fact, during an offseason meeting with team owner Jack Roush and general manager Robbie Reiser, Edwards and Osborne were specifically asked if they should have done something differently during the 2011 season.
"I'm sitting there thinking, 'Maybe there is something,' " Edwards recalled before this season began. "And Bob said without hesitation, 'If we ran it over again, I'd do the exact same thing. We did the right things and we did the best we could. If we do that every time, we'll be fine."
After Saturday night's blunder in the Bluegrass, it is doubtful Osborne would answer that question the same way at the end of this season.