Tony Stewart, Brad Keselowski among contenders for top seed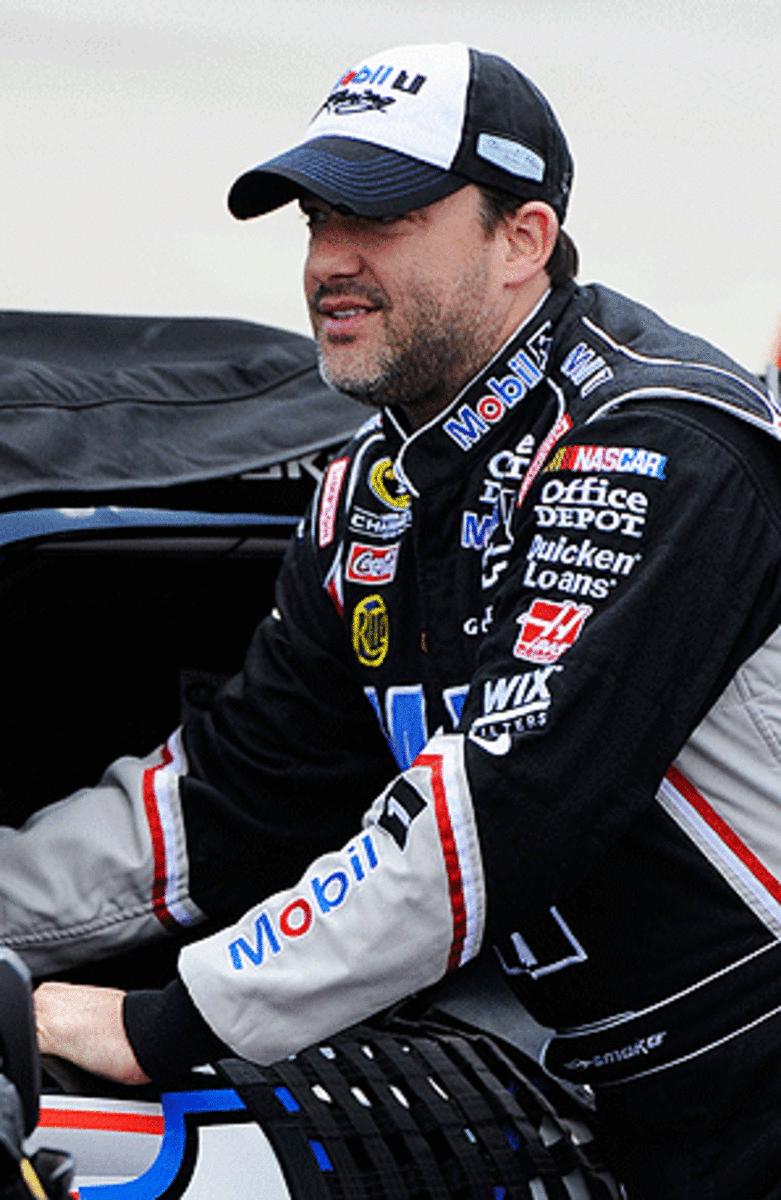 Being the top seed in the Chase didn't help Kyle Busch and Kevin Harvick last season. They shared the top line entering the playoff only to finish fourth (Harvick) and 12th (Busch) as Tony Stewart, who was seeded ninth with no bonus points from regular-season wins, took the title.
In fact, the No. 1 seed hasn't been much of a precursor to a title in the eight seasons under this format. Only Stewart in '05 and Jimmie Johnson in '07 held that spot and went on to win the championship.
That being said, it still carries weight. With each win over the first 26 races producing three bonus points, it's a key early edge that makes the pursuit of the top seed one of the more intriguing storylines as the regular season counts down, especially in a year like this, when there are so many contenders with eight races to go.
So who will enter Chicagoland as this Chase's top seed? Here's a look at the leading candidates, Brad Keselowski and Stewart, who lead the Sprint Cup Series with three wins each, two-race winners Denny Hamlin and Johnson, and a one-win driver who could make a run at No. 1. Plus, the prediction of the driver most likely to claim that coveted seed.
The Three-Race Winners
Brad Keselowski
In a season in which nobody has really taken command, Keselowski makes an interesting case. He's shown his versatility, winning on a short track (Bristol), a superspeedway (Talladega) and an intermediate (Kentucky). Brad K. will certainly be among the favorites at a return to one of those tracks, Bristol -- where he's won the last two races and boasts a 10.4 average finish.
We also can't forget that it was a year ago on this upcoming stretch of races that Keselowski captivated, producing six consecutive finishes of ninth or better from Indianapolis to Atlanta, including wins at Pocono and BMS. But consistency has been an issue in 2012, as Keselowski has six finishes of 15th or worse, including two 32nds and his eight top 10s are tied for the fewest of any driver currently in top 10 in points. Still, unless fellow three-race winner Stewart wins again or someone else goes on a tear, he'll at least share the top spot.
Tony Stewart
As we all know, Smoke heats up with the temperature. Of his 47 career Cup victories, 27 have come in June, July, August and September, a total which he added to last weekend at Daytona. He also has two second-place finishes and a third in the last five weeks.
Stewart has been strong on three of the four regular-season tracks that the series will visit again, taking second at Michigan and third at Pocono and Richmond. As for the other tracks before the Chase, Stewart won at Loudon in '11, boasts three straight runs of sixth or better at Indy and won at Atlanta in '10, though Bristol has always been a problem, with Stewart finishing in the top eight just twice in 14 visits. Like Keselowski, he's often been all or nothing in '12, taking 22nd or worse six times, and like Brad K., at a minimum he'll share the No. 1 seed barring a spurt by another driver or another Keselowski victory.
The Two-Race Winners
Denny Hamlin
He sizzled over the first half of the regular season, producing wins at Phoenix and Kansas and averaging an 8.8 average finish to sit third in the points. But Hamlin's been erratic since, chasing seconds at Charlotte and Darlington and a third at Kentucky with four 23rds or lower, including a 25th last weekend at Daytona. He's still a threat for that top seed because he's won multiple times at Pocono, Loudon, Michigan and Richmond, though his last top five at Atlanta and Indy were in '08 and the last one at Watkins Glen came five years ago.
His health is also a concern. A bad back -- Hamlin has been undergoing rehab and has had injections for torn and bulging discs -- kept him out of a practice session and the Nationwide Series race at Daytona. It didn't sideline him for the Cup race, though being part of a 14-car wreck likely didn't help his condition. He's clearly put last year's troubles behind him, but with a back issue and his recent drop is anyone ready to say he'll win multiple races in the next two months?
Jimmie Johnson
All trips to restrictor-plate tracks aside -- Johnson was 35th at Talladega and 36th in the second trip to Daytona, both DNFs -- it's been the No. 48 team at its best over the past three months. In that span, Johnson has two wins (plus the non-points All-Star Race), five more top-5s and two sixth-places. Those superspeedway efforts would be more concerning if they weren't a result of a blown engine ('Dega) and a chain-reaction wreck (Daytona) and if there were a restrictor-plate race left on the regular season schedule.
What remains are three tracks where Johnson's already finished in the top 10 this year (Bristol, Michigan and Pocono), two where he's won three times (Indianapolis and Richmond) and two others where he has a career average finish of 10.0 or better (Atlanta and Loudon). If you're looking for a weak spot, he's horrible at Watkins Glen, posting his last top 5 there five years ago. It wouldn't be surprising to see Johnson, Chad Knaus and Co. lay down the gauntlet with a few more victories before the Chase opener at Chicagoland.
The One-Race Winner Wild-Card
Matt Kenseth
OK, so picking the guy who's been either first, second or third in the points standings for 14 weeks, including the last five at No. 1, isn't going out on a limb. What separates Kenseth from the other group of one-race winners, Greg Biffle, Clint Bowyer, Kyle Busch, Dale Earnhardt Jr., Kasey Kahne, Joey Logano and Ryan Newman, is the consistency with which he's been in the running for the victory late in races. Twelve times he's run in first, beating out his nearest competitors Biffle (10) and Junior (nine), and he leads the series with 12 races in which he's run laps in the top 15 at least 91 percent of the time. But Kenseth has serious ground to make up if he's going to seize the top seed for the first time since 2006, which coincidentally was the last time he won four races, which is what it would likely take to do it again.
The Verdict
Sure, the status quo could hold firm, giving us Keselowski and Stewart sharing the top line. But it's not likely. The smart money is on this coming down to either Johnson, who has nine wins over races 19-26 in his career and 15 on the upcoming eight tracks, while Stewart counters those figures with 12 and 20, respectively. But the driver most likely to be atop the standings heading into the Chase opener is Stewart. He's already in the driver's seat, and with his two best tracks -- Watkins Glen, where he has a career-best 7.1 average finish, and Indy, where he's not far behind at 8.1, remain -- still ahead, he'll be tough to keep out of at least a share of the No. 1 seed.
The defending champ should start the '12 Chase where he ended the '11 version: atop the standings.
Loudon Prediction
Johnson. As stated above, I expect him to make a push for the top seed and he'll give himself a boost at New Hampshire. He has more points than anyone over the last 10 races at the Magic Mile and has finished lower than ninth just twice and has one victory, in 2010, in that span. \n