Five burning questions as the Sprint Cup Chase approaches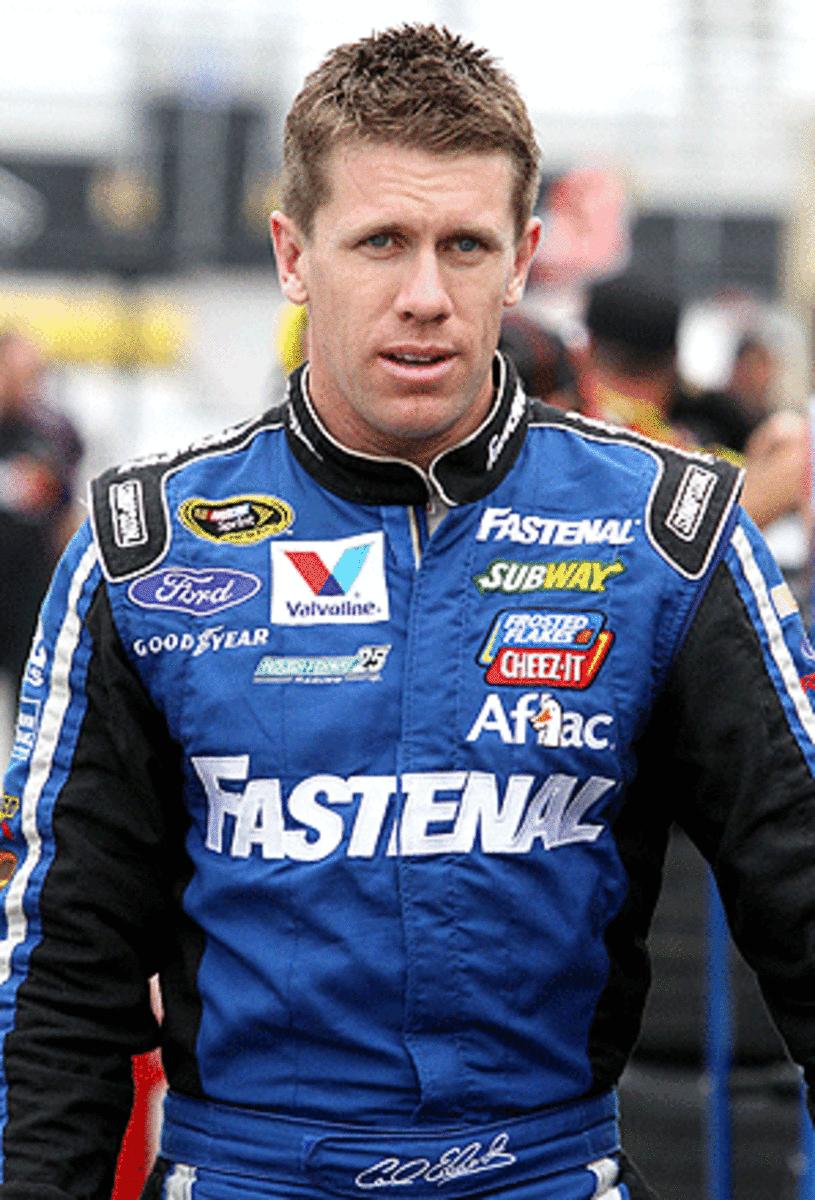 It was a stretch that saw Dale Earnhardt Jr. bring an end to one of the most talked-about droughts in sports, Brad Keselowski and Tony Stewart flex their muscles with their third wins and AJ Allmendinger rock the Sprint Cup garage with a failed drug test.
The regular season is now three-quarters of the way complete and there is no shortage of burning questions. Here are five that the Racing Fan is pondering.
1. Who will make the Chase? With seven races left before the playoff field is set after Sept. 8's trip to Richmond, all the drama may reside in the wild-card hunt, more specifically, the hunt for the second wild-card spot.
It's hard to imagine any of the current top 10 losing their spots. The gap between ninth-place Clint Bowyer and 11th-place Carl Edwards is 47 points (10th-place Brad Keselowski will, at the least, claim a wild card with three wins), nearly the maximum a driver can win in a race. With Kasey Kahne all but securing one wild card with his second trip to Victory Lane last weekend at New Hampshire, that leaves nine drivers vying for the other spot in Edwards, Kyle Busch (13th), Ryan Newman (14th), Paul Menard (15th), Joey Logano (16th), Jeff Gordon (17th), Marcos Ambrose (18th), Jeff Burton (19th) and Jamie McMurray (20th).
That berth, at this point, would seem to be Busch's to lose. He's ahead of fellow race winners Newman and Logano, though he's been struggling, averaging a 21.1 in the last seven races, while Newman (two straight top 10s) and Logano (four top 10s in seven weeks) are gaining momentum. But here's guessing Busch, who has three of his four best tracks -- Richmond (4.7 average), Watkins Glen (5.5), Bristol (9.3) and Indianapolis (11.3) -- still ahead, doesn't let it slip away.
2. Will Jeff Gordon go winless for just the third time in 19 seasons? With all due respect to Edwards and his continuation of the Runner-Up Curse (more on that later), nobody has had a run of worse luck this season than Gordon.
It's not that he has been a non-factor. He's eighth in the series with a 94.2 driver rating, is ninth in average running position (12.8) and only nine other drivers have run more laps on the lead lap than his 4,456. In fact, he's led at least a lap in 14 of the 19 races. But at Daytona, Bristol, Fontana, Martinsville, Kansas, Talladega, Darlington and Dover he saw promising days fall apart.
Just twice since 1994 has Gordon not won at least once in a season ('04 and '08), and while he's been hit by bad luck in '12, there are signs he's headed for a breakthrough. He's posted four finishes of sixth or better in the last five races and he has 27 career wins over the next seven tracks, including five at Pocono, where he won last season.
Gordon is running out of time to help his Chase chances and avoid another 0-for season, but as well as the Hendrick Motorsports cars have run this year, with five wins in all, at least one victory seems more than obtainable.
3. Who has been the most disappointing driver of the season? Edwards. A year ago, he spent all of one week outside of the top 5 in points and held the top spot for 24 weeks in finishing second to series champion Tony Stewart. This season, Edwards has been within the top five for just a week, and that was over four months ago.
His struggles -- he has nine top 10s, which is Edwards' lowest as a full-time driver -- are made all the more confounding given his Roush Fenway Racing teammates are first (Matt Kenseth) and third (Greg Biffle) in points. But Edwards is just the latest in a string of runners-up to flounder the next year as five of the drivers since 2005 to be tied for or have second-place outright, had zero wins the following season.
Sitting 11th in the standings and mired in a 52-race winless drought, his No. 99 team underwent a surprising change as the crew chief who guided Edwards to 18 Cup victories, Bob Osborne, stepped down to give way to Chad Norris.
Is the change just what Edwards needs to reinvigorate his season? For all his troubles the fact that he's even stayed in Chase contention is a feat in its own right, but Edwards does seem destined to miss the Chase for just the second time in his seven full seasons.
4. Which domino will be the next to fall in Silly Season? Newman. With U.S. Army pulling out as the primary sponsor of Newman's No. 39, his future at Stewart-Haas Racing would seem to be uncertain with his contract set to expire.
There is hope he stays in Stewart's stable. Quicken Loans, which sponsored Newman's ride for nine races this season (three fewer than U.S. Army) and also served as a secondary sponsor on both of Stewart-Haas' cars, could be the path to keeping him put. But the pressure is on Stewart-Haas to line something up quickly.
With Kenseth off the market -- next stop: Joe Gibbs Racing? -- Newman would be the most sought-after driver, if he's available. The longer it takes to sign him to an extension, the more it would seem likely he leaves for another team. As colleague Lars Anderson alluded to, there are rumors that Newman could drive for Richard Childress Racing next season. Whether Newman stays at SHR or bolts for RCR, his decision should dictate what's available for the rest of the free-agent class.
5. Who has been the most surprising? Logano. After Gibbs tried to lure Edwards last season, the writing seemed to be on the wall for Logano in this, his contract year.
But he's delivered under pressure, scoring his second career win at Pocono, boasting career highs in average start (13.1) and finish (16.3) and sitting the highest he's been in the standings (17th) at this point in the season. He has a chance to reach the playoffs for the first time as a wild card. Then there's his Nationwide efforts, where Logano has won a staggering five of the 12 races he's entered.
Regardless of whether he makes the Chase, Logano has the public backing of boss Joe Gibbs and has broken through as a driver at the most opportune time.