James Buescher not rushing his eventual move to Sprint Cup Series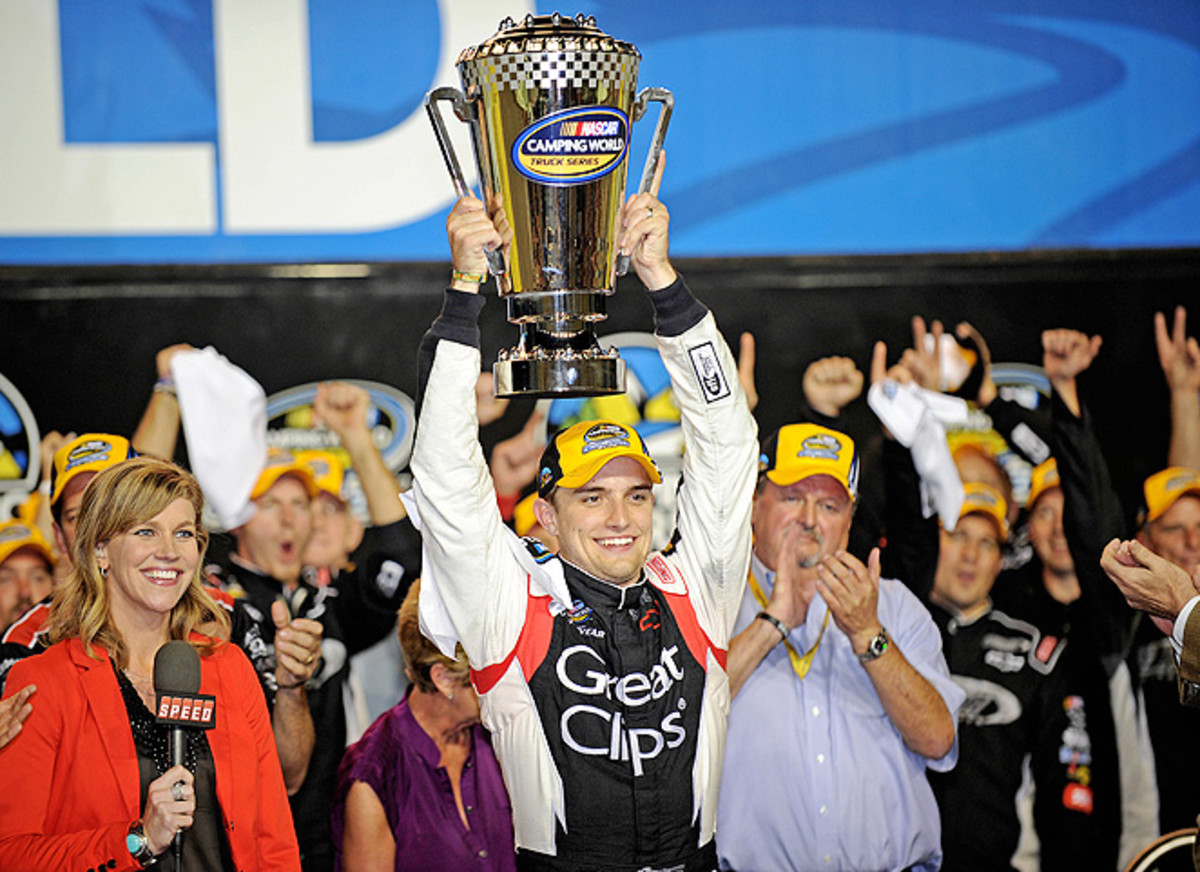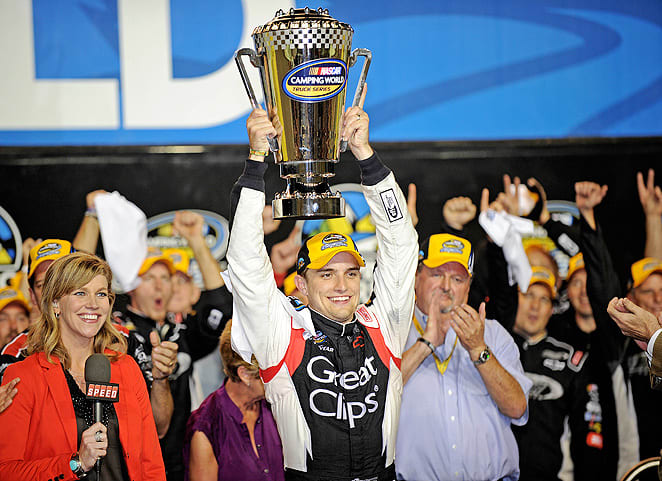 After a breakout season in 2012, James Buescher's resume boasts accolades that would warrant a full-time move to the NASCAR Nationwide Series. But the Camping World Truck Series reigning champion will return to the Trucks this season to make a run at a second straight title.
The 22-year-old Buescher won four races en route to claiming his first Trucks championship; he also drove in 20 Nationwide races, winning the season opener at Daytona.
Buescher doesn't see his decision to stay in Trucks as retracing his steps in a NASCAR career that he eventually wants to take forward to Sprint Cup. He likens his decision to that of Ricky Stenhouse Jr., who stayed in Nationwide full-time after winning the championship in 2011.
"There's always more to learn, more to do," Buescher said. "Hopefully, I'll become the first back-to-back champion in the Truck series. From a driving standpoint, I'm still learning and the competition in Trucks is the most level competition in NASCAR. We had 16 different winners in 22 races last year and it's seriously competitive."
Stenhouse went on to defend his Nationwide title in 2012, winning both with Roush Fenway Racing. But Stenhouse was promoted when Matt Kenseth surprised Roush Fenway by moving to Joe Gibbs Racing for 2013. Patience can be a virtue in a sport when timing (or contracts ending) means everything.
Buescher has a strong and stable situation at Turner Scott Motorsports, with sponsor support from Rheem and Exide and an established relationship with crew chief Michael Shelton.
"My sights are set on Sprint Cup, that's the top level and the goal. I'm only 22 years old, and Mark Martin is [54] and still competitive," Buescher said. "If I play my cards right, I can be in Cup for the next 30 years. What's the rush?"
Buescher also expects to race for the Nationwide championship before going to Cup. His priority is to race for competitive teams capable of winning championships, opportunities that are often difficult for newcomers to find.
"Hopefully, we'll win some championships in Nationwide," he said. "I want to win races and be excited and enjoy what I'm doing. I don't want to take an opportunity with a team that does start-and-park or isn't competitive. I don't want to make it to the Cup series just to stay I made it to the Cup series. I'd rather stay competitive and I want to enjoy myself while I do it."
Buescher expects to race a partial Nationwide schedule this season with Turner Scott, which is the biggest Nationwide and Truck Series-only team. He's still unsure of how many races he'll drive, but Buescher says he won't shy away from an opportunity.
Buescher began driving for team co-owner Steve Turner, a fellow Texan, at age 15 in the American Speed Association's Late Model South Series at the end of the 2005 season, and they won the ASA South championship in 2006. Buescher moved into ARCA stock cars in 2007, becoming the youngest race winner in the history of the series. He made his NASCAR Nationwide debut with Braun Racing in 2008, and drove six races that season.
"Mr. Turner has been a big part of my career for a long time," Buescher said. "We won the ASA championship and he was part of my ARCA racing."
Buescher switched to the Truck series in 2009, driving the full 25-race schedule and finishing 14th in points with one top-five and three top-10s with Billy Ballew's team. He drove in 22 of 25 races in 2010, 21 with Turner, in 2010 and was 11th in points with six top-fives and 10 top-10s.
He didn't win a race, but 2011 was a breakthrough season in Trucks for Buescher. He was third in points with 10 top-fives and 14 top-10s.
Buescher's victory in the wild finish of the Nationwide race at Daytona last February launched his season. Buescher went into the final corner of the race 11th and weaved his way through a crash.
"They all piled up in front of me and we made it through," Buescher said. "It's hard to describe the feeling when you make it through the wreck and you're the only guy. You don't see anybody in front of you coming to the checkered flag. It's pretty incredible."
Buescher switched to the Truck series in 2009, driving the full 25-race schedule and finishing 14th in points with one top-five and three top-10s with Tom Mitchell's Circle Bar Racing. He drove in 22 of 25 races in 2010, 21 with Turner, and was 11th in points with six top-fives and 10 top-10s.
"It was definitely rewarding to win races," Buescher said. "I've been in different situations where I've been close to winning since 2008 and to break through at Daytona opened the flood gates. To have five wins in one season, I'd say we're putting all the pieces together. We have a team Michael Shelton and I helped build here at Turner Scott Motorsports."
Buescher has 94 starts in the Truck series, 54 in Nationwide. It figures that this season will be his final in Trucks before going to Nationwide.
The Trucks have been a NASCAR national series for 18 seasons. Ron Hornaday Jr. was champion in 1996, 1998, 2007 and 2009, Jack Sprague in 1997, 1999 and 2001 and Todd Bodine in 2006 and 2010. Cup and Nationwide veterans Bobby Hamilton, Ted Musgrave and Johnny Benson also have Truck titles. Considering the drivers who haven't been able to win two in a row, it would be a significant accomplishment to Buescher to achieve.