Mark Martin may be old school, but he can still race with the best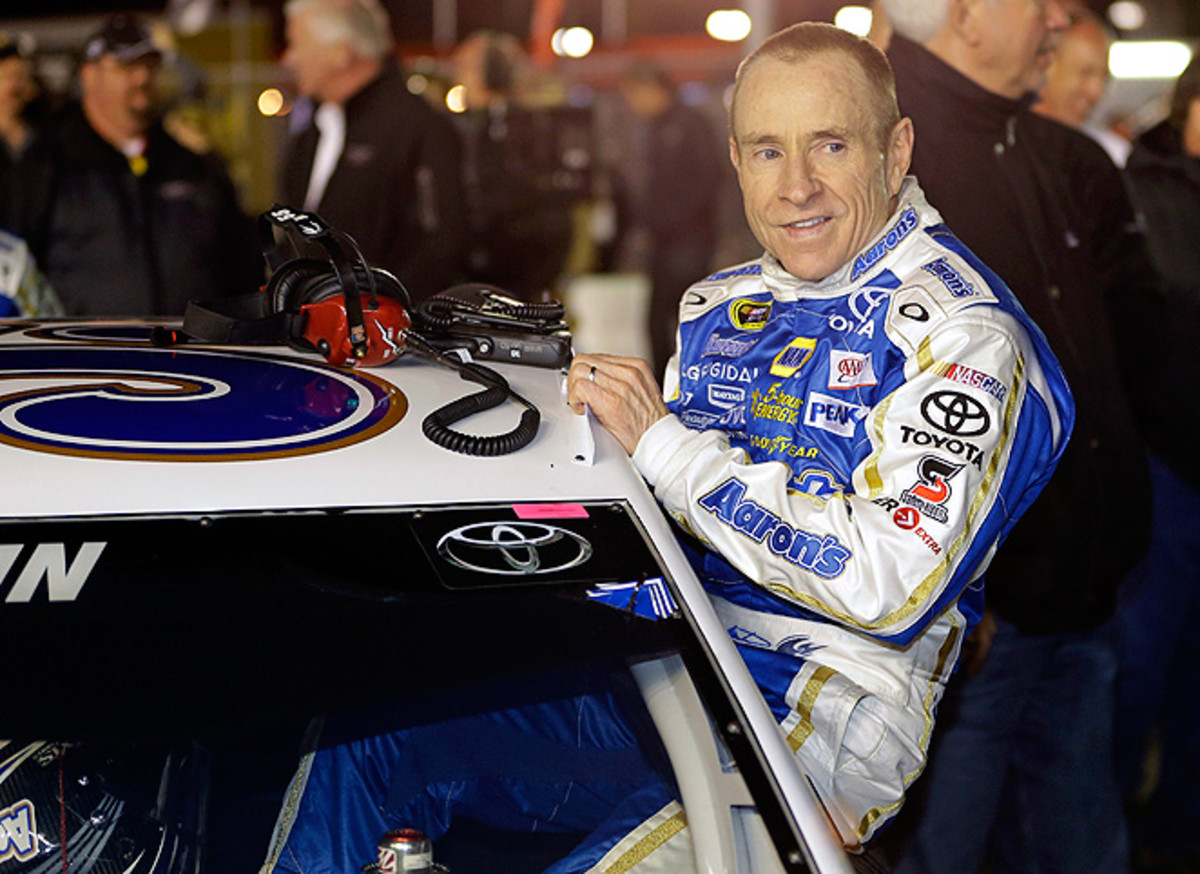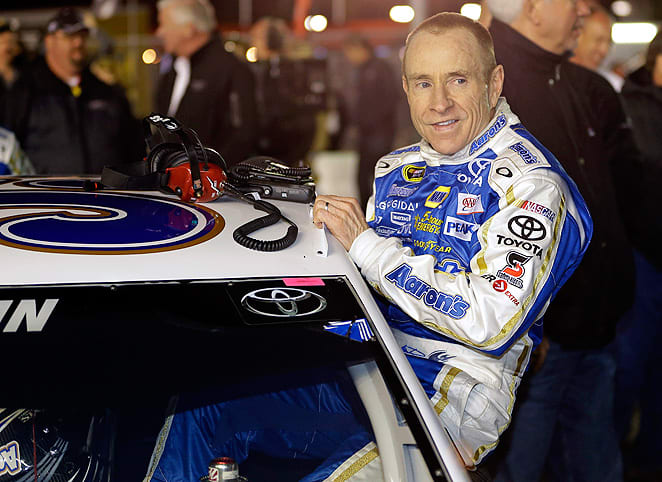 The lines arch, dip and recline on Mark Martin's mug shot with the randomness of an abstract painter. The indentations meander -- each crease a memory, experience, or moment collected throughout his 54 years, including nearly 40 racing from local dirt tracks to the country's top speedways.
He's old school as they would say, but not so rigid that he can't adapt. NASCAR just debuted the sixth generation of their Sprint Cup car at Daytona International Speedway; well, Mark Martin has driven four generations of those cars. Had he made his NASCAR debut a year sooner, he could have driven five generations.
However, the fact that he's older than his competitors doesn't mean he's slower. There he was at the end of Sunday's Daytona 500 -- a few hours after hanging with 50 Cent and impressing the rapper with his hip-hop knowledge -- charging toward the front in a race where drivers groused about how hard it was to pass.
"I was in a position where I needed to pass a bunch of cars in order to get in contention to win,'' Martin said after his last-lap dash with Dale Earnhardt Jr. "So we did that. If things had been crazy enough, maybe we could have got the big trophy."
Alas, Martin did not win. Jimmie Johnson hoisted the trophy over his head for the second time. Martin finished third.
ANDERSON: Nationwide wreck formed a gray cloud over 2013 Daytona 500
That seems to be a trend in Martin's career. For all the races he's won and races he's run, some look at Martin an 'almost' type of driver. One who almost won a Cup championship, finishing second five times. One who almost won the Daytona 500, losing by inches in 2007. One who almost did this or that. To view Martin in only those terms overlooks all that he's accomplished in racing beyond the 40 Cup wins and 49 Nationwide victories.
"I'm not bitter about the things I haven't accomplished,'' Martin said. "I'm pretty damn proud of the things I have.''
The fact that he came so close to winning his first Daytona 500 is a testament to his hard-headedness. His rookie season in 1982 left Martin with such debt after a sponsor reneged on a deal that he auctioned all his equipment. He drove for others in 1983, but that did not go well, forcing him to return to short-track racing. Martin would not return to NASCAR's top series full time until 1988. Once he did, he wouldn't leave.
Some day he will, maybe soon. He created a stir last month when he said he didn't expect to again be in the No. 55 car next season for Michael Waltrip Racing. He's in the final year of his contract and running only 24 of the 36 points races, stepping aside while Brian Vickers and Waltrip run the remaining races. Martin said his goal is to make the team strong enough for a championship-caliber driver to take the ride next season.
Even if Martin isn't racing in that car next February, it would be shocking to see him not in the Daytona 500. Sunday was his 29th start in the race -- only three starts shy of Richard Petty's total. Martin first ran in the series' biggest race in 1982, two years before defending Cup champion Brad Keselowski's birth.
Back then, drivers didn't walk through an inflatable tunnel serenaded by an operatic anthem and parade by fans stretching to slap hands during driver introductions as they did Sunday. If Martin can be active on Twitter -- just after 7 a.m. Monday he tweeted he was "getting ready to smash some weights'' during his workout -- what's something else a little different? Once the pomp ends, racing is still about being first to the finish whether Erin Andrews is there to witness it or not.
Martin has remained relevant by winning or running near the front. Only three starters in the 500 had more Cup wins than Martin (Jeff Gordon, Johnson and Tony Stewart). Martin has raced regardless of injuries, competing at Daytona in July 1999 about 24 hours after he broke his left wrist, fractured a rib and bruised a knee in a crash. He's had to be lifted by a crew member and eased into the car to drive. Until back surgery years ago, Martin resembled the crooked man from Mother Goose when he walked.
Get him in a car and he's fast, just like he was Sunday in those closing laps.
ESTES: Daytona 500 didn't produce thrilling racing promised with Gen-6 cars
Earnhardt admits he wouldn't have finished second for the third time in the last four years of this race without Martin's help on the final lap.
"I was hoping he was thinking what I was thinking as we come off of turn two on that last lap,'' Earnhardt said of his former Hendrick Motorsports. "I felt like we needed to make the move a little earlier than off of four.
"Once we come to turn four, we kind of run out of steam, didn't have enough to get a run on Jimmie.''
Martin took solace in his finish.
"I was happy today that we were able to race and not have a huge accident,'' he said. "That's how it plays out. Sometimes you have 'em and sometimes you don't. There was plenty of recipe to have a big one there at the end, we just didn't. Probably next time, they probably will be in July, and I'll be on the couch.''
While Martin will join the series next week at Phoenix, he'll skip a few races throughout the season, including NASCAR's return to Daytona in July. He prefers to skip the restrictor-plate races except the Daytona 500. He's earned that right.
When he was done Sunday, he was asked if this might have been his last Daytona 500.
"I'm definitely not going to talk about 2014 yet,'' he said, laughing.
Funny thing, as he talked after the race, the lines on his face faded. He looked younger. He looked like a driver with more years left to race.