Indy 500 crash proved valuable for Takuma Sato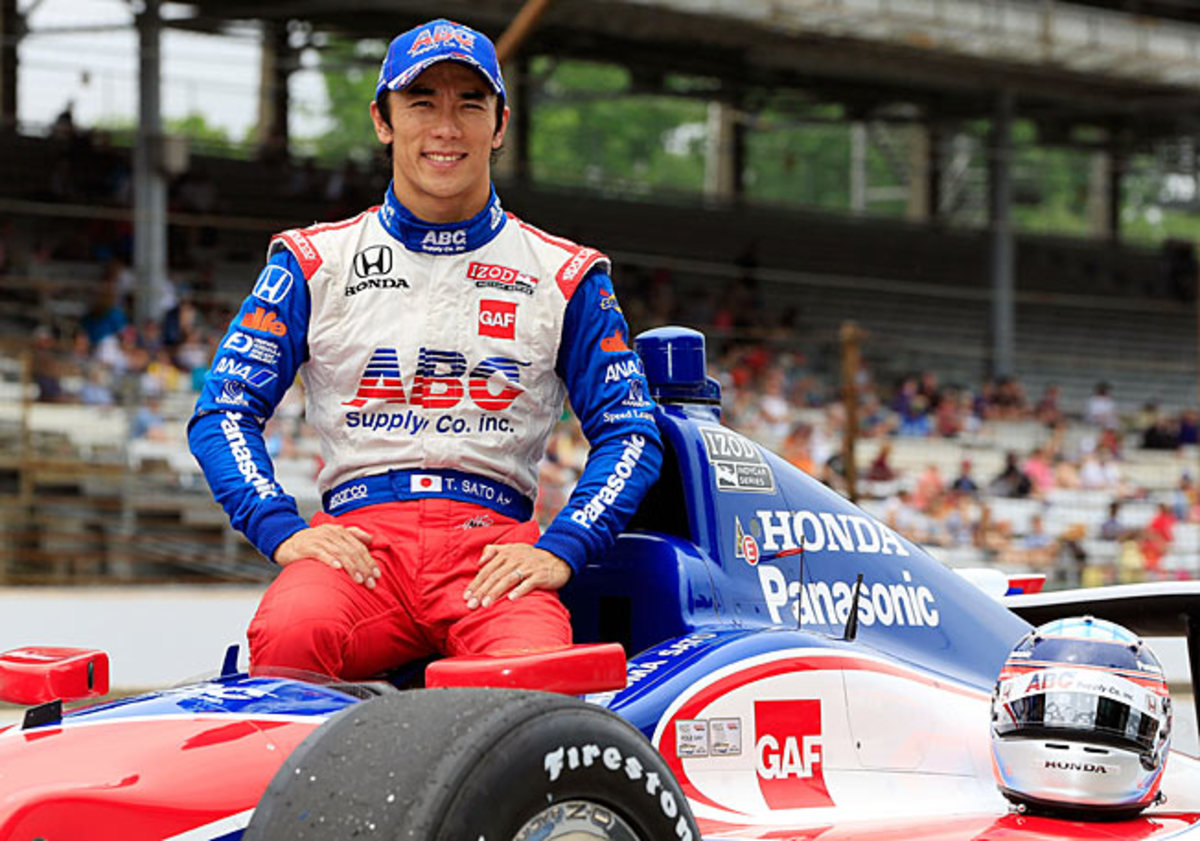 Last winter, when A.J. Foyt Racing was looking for a driver for its famed No. 14 in the Izod IndyCar Series, two veterans were available: Ryan Briscoe, who had been released by Penske Racing after five seasons with the team, and Justin Wilson, a free agent who had been with Dale Coyne Racing in 2012. Each had won races on road coures and ovals.
But it was Takuma Sato, who didn't have a victory in 49 races since coming to IndyCar in 2010, who had attracted the team's interest.
Sato was regarded as fast, but too frequently out of control, a crasher. Ironically, it was his most famous wreck, while going for the lead on the final lap of last year's Indy 500, that raised his value to Foyt.
While driving for Rahal Letterman Lanigan Racing, Sato had started 19th in his Dallara DW12-Honda and led three times for 31 laps in the second half of the race. At the start of the 200th lap, he was third. Dario Franchitti passed Chip Ganassi Racing teammate Scott Dixon on the front straight and took the white flag. Sato drafted in behind Franchitti, passed Dixon, and they headed for Turn One. Franchitti left slightly more than a car width for Sato, who went inside in a bid to take the lead. While trying to make his DW12 turn, it lost grip and Sato spun into the outside wall.
"Takuma is a thinking driver," says Foyt Racing team director Larry Foyt. "He knew he had a lot of understeer in his car in Turn Three. That wasn't the place he was going to be able to make the move. He had to go for it right then. We like that about him."
Says Sato, "Really, the 500 last year is just an unforgettable day for me. You could say it was a special and spectacular show. At the end of the day, obviously, I was disappointed with the result, but it was still...a great experience to be leading the 500 for the first time. It was a special feeling. When we came back to the garage, hundreds of fans waited and cheered me big time and Bobby (Rahal) really gave a big hand."
Sato made more strong runs last year, leading five races and finishing second at Edmonton and third at Sao Paulo, Brazil. But he was running at the completion of only five of his 15 races and he finished 14th in the championship. For reasons that haven't been disclosed, negotiations between him and Rahal broke down and Sato went looking for another team. He'd been supported by Honda throughout his career and was intent on continuing the relationship. That desire ultimately led him to Foyt.
When Sato unexpectedly showed up on the open market, Larry Foyt negotiated a deal with the enthusiastic approval of his father, A.J. They've been an impressive combination in the opening four races of this season. Sato had a breakthrough victory, the first for a Japanese driver in IndyCar, at Long Beach (also a first win for Foyt since 2002, when Airton Dare won at Kansas) and followed it up with a second at Sao Paulo. He started the opener at St. Petersburg, Fla., on the front row and finished eighth, and was 14th at Barber Motorsports Park in Alabama. He arrived at Indianapolis as the series points leader.
A key part of Sato's success is that Foyt Racing has transitioned into a second generation of leadership that brought with it a bulked up engineering staff.
"I think we've become a more engineering-based team, kind of what modern IndyCar racing is." says Larry Foyt, who reluctantly gave up his driving career in 2006 to go work with his father and learn to operate the team. He'd had a late start to his racing career because A.J. required him to graduate from college before going into racing. Larry Foyt drove in three Indy 500s from 2004 to '06 and spent four years racing partial schedules in NASCAR's Nationwide and Sprint Cup Series. Late in 2011, A.J. turned over day-to-day operations to Larry.
"I hardly make a decision we don't go over," Larry Foyt says. "Our working relationship has been really awesome. When I first came in, when he made the announcement I was going to be team director, I didn't' want to just jump in and be the boss' kid, come in and change everything. I really had to get back into IndyCar mentality. I wanted to analyze the team, see what we're working with. As I've learned over the years, every year he's given me a little bit more leeway to do things the way I've wanted."
Larry hired the respected veteran Don Halliday to be chief engineer and he's in his second season with the team. Halliday also has an engineering staff to support him. A.J. Foyt credits the connection between the staff and Sato for their tremendous start to the season: "Sato has very, very good feedback. That helps the engineers a lot. He and the engineers work very close. I think that's really been successful for us."
Says Sato, "Don Halliday, in my racing tenure, I know him a long time. Obviously, in this series, he did a really great job. And it was just an immediate bond between me and him."
Sato also noticed an immediate difference when he got behind the wheel. "When I jumped into the car, I remember very clearly that first time at Sebring (Fla.) this winter test, the car was a bit different from what I was used to from last year," he says. "It was very, very consistent. I thought, 'Hmm, this consistency, if you can maintain it, just sharpen up the speed, we could have been really, really strong. And that's what we did."
On Sunday at Indy, it's improbable that Sato will find himself in the exact circumstances as last year. What's important is that he was challenging for the lead on the final lap of the Indy 500 and this time around has more wisdom born of experience.
"I think Takuma would tell you he would have done things a little bit differently," Larry Foyt says. "I don't think when he made his move, he just would have maybe not given Dario quite as much room and would have tried to protect himself a little bit."
Even so, things worked out pretty well in the end. A.J. Foyt believes that Sato, who starts Indy this year from the outside of the sixth row (18th), gives his No. 14 its best shot at winning since 1999.
"I guess the last time I really felt we could win this race was with Kenny Brack," A.J. said. "I think we're back on that playing field now."