IndyCar's Scott Dixon keeps his greatness on the down low
Humble IndyCar driver Scott Dixon has quietly joined the pantheon of racing greats.
Get all of Andrew Lawrence's columns as soon as they're published. Download the new Sports Illustrated app (iOS or Android) and personalize your experience by following your favorite teams and SI writers.
LOS ANGELES — There's a rumor going around the IndyCar series, a real juicy piece of gossip. Apparently, there's a driver—one of the highest achievers, according to sources in the know—who doesn't show off his awards at home. Instead, he stashes them in his basement, as if he has something awful to hide.
It can't be true, can it?
"Yeah, that's definitely true," Scott Dixon admits somewhat sheepishly, even though he has no right to feel embarrassed.
Why? Because there is simply no shame in his game. Since the last time Dixon was deeply considered in this space, and heralded as no less than the Berkshire Hathaway of open-wheel men, the 35-year-old Ganassi racer has won six more times. For his penultimate victory—only seven-and-a-half months ago, in the 2015 season finale at Sonoma—he rallied furiously and scored a sweet double: a checkered flag and a fourth series championship. For his most recent win, just two weeks ago in Phoenix, he capitalized on the early misfortunes of the front-runners and cruised the rest of the way.
Scott Dixon continues to rise in the record books with win in Phoenix
That last victory gave Dixon 39 for his career, making the 16-year veteran more than just IndyCar's winningest driver at the moment. The New Zealander now ranks among the top five winningest American open wheel drivers ever—level with Al Unser Sr. and gaining on the Andretti boys (Michael has 42, while father Mario's at 52). A.J. Foyt (the GOAT, with 67 wins) still looms small over the horizon, but only Dixon can run him down. Michael Andretti makes it seem like this was inevitable. "[Dixon]'s been with basically one team his whole career, and it's a great team. He's been in a great situation, and he's made the most of it."
On Wednesday evening, three days before Sunday's IndyCar race in Long Beach (4:30 ET; NBCSN, SN360), Dixon found himself sharing a stage inside the Petersen Automotive Museum with three of those greats. (Foyt called in sick with the flu.) One supposes Dixon could even call them peers now, even though he didn't dare in an hour-long panel discussion before an audience of 300. The whole time, he felt like he didn't quite belong. "It does feel strange and a bit weird," he says of his newfound status, even though he totally earned it.
Frankly, that confession—even by Kiwi standards of understatement (Who likes to rock the party!)—is strange and a bit weird.
Drivers, as a rule, are not shy. If they've done anything on the track, please believe you'll be the first to know. Unser features his accomplishments inside a purpose-built museum in his hometown of Albuquerque. Foyt and Michael Andretti humblebrag at the office, from the shops of the teams they own.
Mario Andretti dedicated two levels of his Nazareth, Pa., estate to a lifetime of staggering achievement. "I had it in my [Formula 1] contract that I get the trophy," says the 76-year-old icon, chuckling as he remembers the souvenir he briefly held after besting the field in the 1977 Long Beach Grand Prix. Once he turned it over to his team principal, Colin Chapman, he never saw it again. "They made me a duplicate, and it's got a tag on there that says 'original stolen by Colin Chapman.'"
Lesser drivers cling to their laurels too, showcasing them just as eagerly. And why not? Winning in racing is hard. All of this makes the spotlight-disdaining Dixon—a "thoroughbred racer," our guest columnist for the season, James Hinchcliffe, calls him—look only more alien by comparison. Dixon's compulsive squirreling away even disturbs his wife. "It's so sad," jokes Emma, a former British track and field standout with an appreciation for hard-won baubles. "I walk past trophies and plaques all the time when I have go down to the basement to get suitcases. He's got bucketloads. Like, so many."
What's more, the cache inside their Indianapolis home is just the recent stuff—80-odd IndyCar podium appearances, just for a start. The early Dixon collection, compiled during the time he spent cutting his teeth in the South Pacific, is back at his parents' house in New Zealand, on proud display inside a garage. "It's really lovely what they do," says Emma. "His early years, they were such a big part of that. They were the ones who made sure he got to the track on time and helped [prep and fix his car]. I think they decided to put it all up now because they can look back at their accomplishments too."
Their boy? He isn't in much mood to reflect. No, he's more like an OCD case, storing the bulk of his awards in his basement, preserving them in their original boxes in which they were delivered—just like his old iPhones. "Anything he buys, he has the box for," Emma says.
Sometimes, on his way from the front door, Dixon will unpack his prizes for a bit of show and tell with his young daughters, Poppy and Tilly. But as soon as those showcases are through, the hardware is back in the box and off to the basement.
Is anything missing? 
"I'd have to go through notes," Dixon says.
Wait, there's a master list?
"There's a loose inventory," he says, smiling. "There's probably a good 10 or 15 maybe that I'm missing."
And then there are the trophies he should've claimed but didn't because, well, he lost.
The missed opportunities to claim Indy 500 wins and series championships are particularly haunting. Dixon can tick off every one. "[The 2011 Indy] was a hard one for me," says Dixon, who's only conquered the Brickyard once, in 2008. "Last year was a tough one. There's 2003; I think we had the car to win, but we had a fuel pickup problem.
"And then the championships: in '09, I think we should've won that one. In '07, we should've won in '07. We were leading the last lap of the race. I could see the [finish] line, and the car runs out of fuel. I was like, Nooo..!"
Long Beach was another place that inspired a lot of couldas and shouldas; in his first eight starts, his highest finish was fourth (in 2010). But then last year, after qualifying third, Dixon passed polesitter Helio Castroneves during a mid-race pit stop and led 44 laps on the way to claiming his first SoCal street checkers. That victory, his first in 2015, really jumpstarted his championship campaign. "I was damn happy after that one, man," Dixon says, sounding strange, proud actually. "Damn happy…"
This is rare for Dixon, who never lingers in his moments of glory for too long. When his oppressive Kiwi modesty isn't getting in the way, life is. After his victory lane confetti shower in Phoenix, Dixon dashed off to the airport to catch a redeye to Chicago. From there, he rented a car to finish the last leg back to Indy so he could relieve the lady who was watching his girls while Emma was in London. Along his journey, he happily accommodated the fans in the TSA line and on the plane who asked for autographs. Afterward, there was some time to rest, but not much. Only the buzz of victory kept him going. "I had two-and-a-half hours to think about the race on the drive home, which definitely kept me awake."
One supposes Dixon could indulge himself more if the spoils of his victories made their way out of the basement and into the rest of the house. But then again, that could be a dangerous decorating choice, one that might throw off a work-life balance that was hard won, too. "In our house," he starts, "I don't think there's a single racing picture apart from myself in my racing suit with my daughters and Emma. I like the separation of when I'm home, I'm home. I'm not at the shop.
"Whether it's doing homework with Poppy and Tilly or getting ready to go training, I try to separate. Because motor racing can—any sport can just consume you. I've gone through periods like that when I was younger and single and that's all I would do, think about racing. When I get home [now], it's time to step away from that, focus on being at home, focus on being a dad and a husband."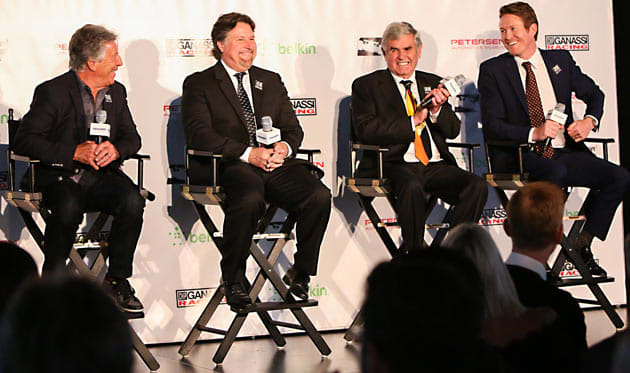 Still, no racer is supposed to focus on his family that much. It can only hurt their career, especially as they age and their skills diminish along with their appetite for risk—or so goes the conventional wisdom.
Dixon, though, disabuses all this—which might explain why he is the rare young sports great who is genuinely respected by legends that came before him. (In a pre-taped interview played during the panel discussion, Foyt said of Dixon that relative to his contemporaries "he kinda stands out over the other ones"—which is high praise coming from Super Tex.) Ask Michael Andretti to nitpick Dixon, and he winces. But then he says this: "If there's one thing that I'm a little envious of it's that he came in at the right time in terms of reliability. Since 2000, it's really rare for cars to have mechanical problems. I know if I had that reliability in my career, I could've gotten at least another 20 wins."
So where should Dixon end up?
"He's gonna pass me probably in another few races. He's gonna be challenging Dad…"
If Dixon doesn't go down as one of the best to ever live, he'll certainly be remembered as the personification of his era of IndyCar, an overly modest series that doesn't toot its own horn enough. "Right now," says Mario Andretti, "the depth of talent in the IndyCar series is as good as I've ever seen." The fact that the top man is a bit of a hoarder is the kind of controversy so many other sports would kill for.
Even in a town like LA, where dishing the dirt keeps the lights on, Dixon comes up sparkling despite his trophy secreting. "If you hadn't told me who we were talking about," says Hinchcliffe, "and I had to guess? I would've had Scott pretty high on the list." And, come to think of it, even that rumor isn't strictly true. Dixon says there are actually a whopping five trophies that live outside the basement, on a shelf in his home office: the Baby Borg commemorating his '08 Indy win and four other replicas that honor his series championships. Naturally, he keeps them off to one side, in peripheral view.
That allows him keep his eyes focused on the next big prize. At the beginning each year, he says, laughing, "I always create space [on the office shelf] for another one. I do!"
Really, it would feel strange and a bit weird if he didn't.