Mixed expectations for German clubs as Champions League resumes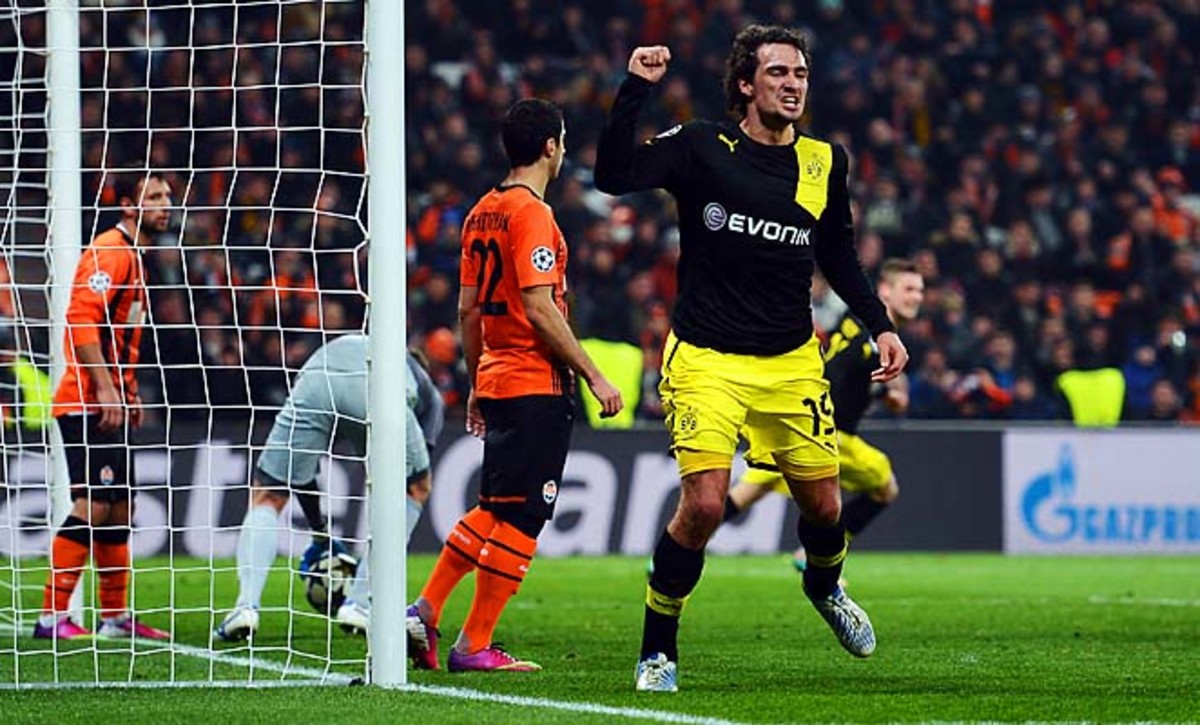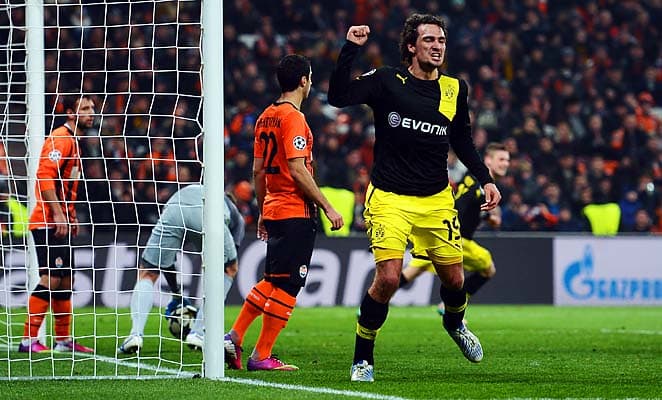 Five German teams contested European football matches this week. None won. But while the Bundesliga's Europa League contingent (Leverkusen, Gladbach, Hannover, Stuttgart) only managed results that verged from disappointing to embarrassing, Jürgen Klopp was all smiles after Borussia Dortmund's 2-2 draw at Shakhtar Donetsk on Wednesday.
"We've had 18 attempts away from home and many good chances," Klopp said. "I'm totally OK with this performance." Klopp did acknowledge "two defensive mistakes" that preceded the home side's goals but felt that Robert Lewandowski and Mats Hummels ensured a result that the champions "could live with" with their two strikes, Hummels' a match-saver in the 87th minute.
The well-deserved draw against Mircea Lucescu's exciting outfit puts Dortmund firmly in the driver's seat for this tie heading back to Dortmund for the March 5 return leg. It was a hugely important game, bearing in mind that a 4-1 home defeat to Hamburg had all but killed off their residual hopes of a title defense in the Bundesliga last Saturday.
In that game, Dortmund had looked very shaky at the back, and questions were asked whether the club hadn't missed a trick when it didn't buy cover for the wide defensive positions. The Shakhtar game didn't provide a definitive answer, since the regular fullbacks, Lukasz Piszczek and Marcel Schmelzer, were able to play (Piszczek was subbed out against Hamburg, and Schmelzer didn't play).
But doubts about the Black & Yellows solidity remain. Center back Hummels, his goal aside, had a forgettable game, and colleague Felipé Santana gave away a needless free kick that led to Darijo Srna's opener.
"He's got the tendency and the wish to make his endeavors look much easier than they are," wrote Süddeutsche Zeitung. You might call it "the Beckenbauer complexz:" Hummels, 24, sometimes looks obsessed with looking cool and cultured, and thus suffers from lapses of concentration.
Nevertheless, he is one of European football's most coveted defenders, and rightly so. The return of his regular partner, Neven Subotic, after injury will make life for him easier, as well. And he'll be less exposed once Piszczek and Schmelzer get over minor injury problems that have impacted on their performance levels in recent weeks.
Giving up on the domestic championship could well work in Dortmund's favor in coming matches. Klopp will be able to rest key players for the Champions League and the German Cup, where Borussia is up against Bayern in 10 days. His options in attack are limited though, since Lewandowski is suspended for the next three games. A Barcelona-like system without a true center forward is reportedly under consideration in case Julian Schieber, a ?5 million recruit from Stuttgart, doesn't quite cut it at this level.
Drawing at Shakhtar felt like a win for Dortmund, but at least in one small respect it's possibly better than the real thing. In a week when the world was transfixed by the epic heavyweight tussle between Real Madrid and Manchester United, Klopp's men, including the outstanding Mario Götze, have been off the radar somewhat. The incessant hype that greeted their wins over Madrid and Manchester City in the autumn has subsided somewhat in the process. This should help the team but might prove only a temporary respite if its formidable attack finish the job in emphatic fashion in the return leg.
Local rival Schalke 04, on the other hand, is despondent before a single ball has been kicked in its trip to Galatasary on Wednesday. The Royal Blues have only won one game out of their last 11 in all competitions. Sporting director Horst Heldt is facing increasing pressure over his decision to replace veteran manager Huub Stevens with youth coach Jens Keller before Christmas.
Keller, 42, has cut a forlorn figure since taking over, and his lack of charisma hasn't helped rejuvenate a squad low on confidence. He will sweat on Klaas-Jan Huntelaar recovering from a burst vein in his eye in time for the match in Turkey. It's remarkable how the dynamic of this tie has shifted since the draw was made in December. Schalke had finished atop its group ahead of Arsenal, Olympiakos and Montpellier and looked like firmly establishing itself as the third power behind Dortmund and Bayern in the league. Instead, it went into free-fall while Galatasary added Wesley Sneijder and Didier Drogba to the squad in the winter break. The Turkish club will feel quietly confident that it can progress to the next round.
Anything but a convincing win from league leader Bayern over Arsenal (over two legs) would be seen as a huge upset in Germany, by contrast. Jupp Heynckes' side has been in devastating form. Ahead of Friday night's league game, it had not conceded a single goal, let alone point, since the restart of the league four weeks ago.
"We will not let up," promised the manager, but the 15-point gap ahead of Dortmund is big enough to excuse a couple of less stellar results, in any case.
Much has been made of Bayern conceding only seven goals in 21 games this season domestically. It's a sensational achievement, especially if the 55 goals in the "for" column are added. What has been overlooked, however, is the fact that the Bavarians looked altogether less convincing in the Champions League, where they also conceded seven goals -- in six games.
Group-stage performances don't necessarily correlate to those in the knockout phase, to be sure. Still, there's no reason to see this tie as a foregone conclusion. Arsenal, despite its defensive frailty, has enough firepower to hurt a Bayern team that won't be used to doing too much defending. It is yet to play against a team this season that will really attack.
In the end, this one might not come down to whoever is better, but to whoever is better without the ball. Most fingers will point to Bayern here, but let's not forget the Germans will have to rely on the services of big, clunky defender Daniel van Buyten in the absence of the suspended Jérôme Boateng at the Emirates. Chances are Arsenal can make this tie much more open than generally anticipated.