Embattled Villa seizes opportunity in Barcelona's comeback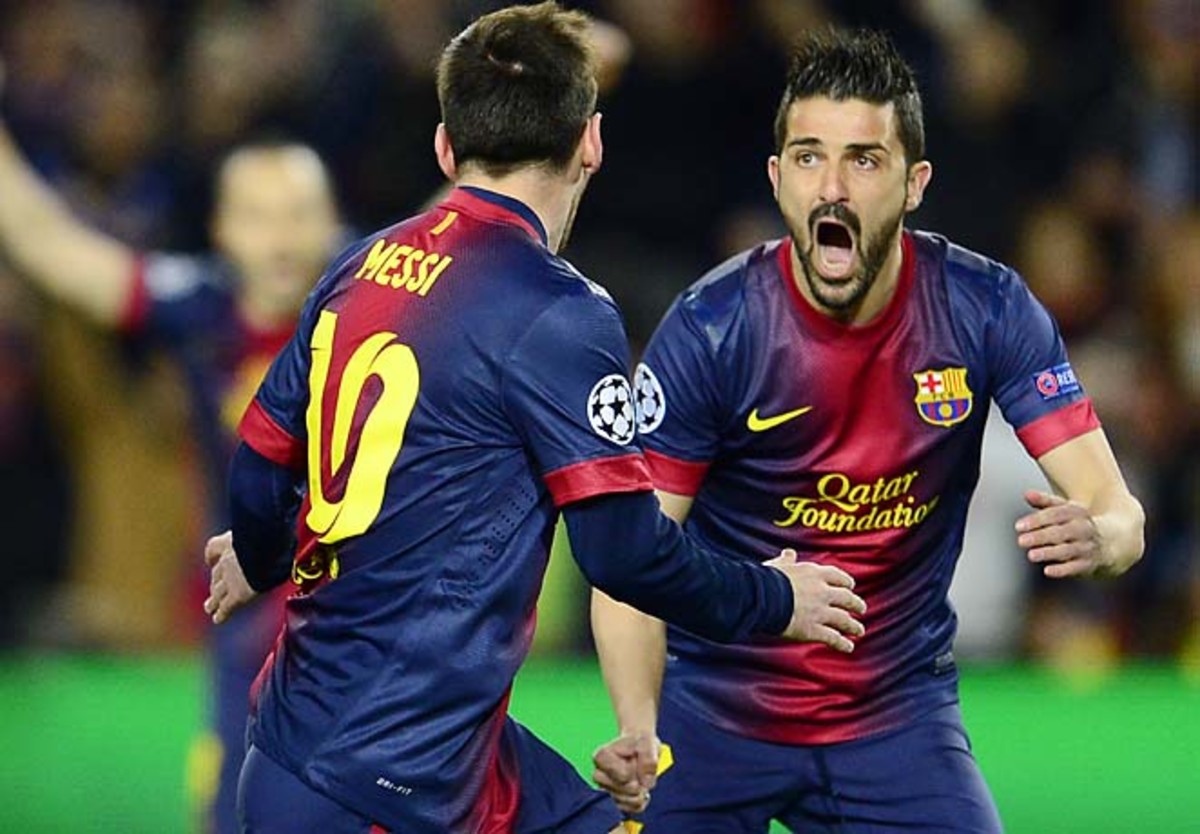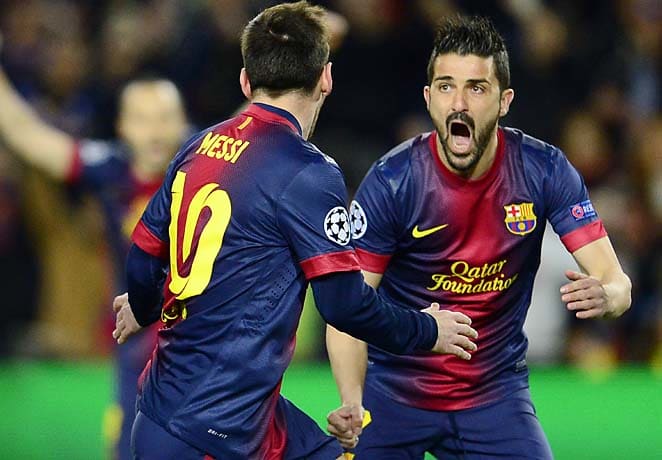 David Villa took two touches, one with his right foot and one with his left, and took his chance like a man that was never going to miss. Smooth and precise, lethal. Just like Villa always did. With the first touch, he controlled the ball and eased away from his marker in a single move, letting the ball come across him; with the second, opening out his body, he curled it past AC Milan goalkeeper Christian Abbiati and into the far corner, so far from the goalie that he did not even bother moving.
There were nervous moments to come, Barcelona still trod that knife edge, but it was the third goal of the night -- the one that took it through to the Champions League quarterfinals. Villa ran toward the touchline, and his teammates piled on. The noise from the stadium was deafening. In the din, Pedro shouted: "You deserve it, Guaje," referring to Villa's nickname, "The Kid." As the bodies unraveled and Villa stood alone again, he clenched his fist, opened his mouth wide as a hippopotamus and let it all out. The injury, the frustration, the uncertainty. Out it came in a long, intense roar. When he was substituted late on, exhausted but satisfied, the Camp Nou crowd of 99,786 chanted: "Villa! Villa! Villa!"
This was a huge night for the Asturian, one he had not necessarily expected to start. It has been a difficult year; he has never really recovered his automatic place in the team since he broke his leg in December 2011. Last season he was limited to just 15 league appearances, scoring five times. And although he is now fit again, recovery has been a long process. Winning his place back has proven problematic. Villa's goal-scoring record this season is actually pretty good: he has scored seven times in the league in just 11 starts (plus eight substitute appearances), but perhaps the key statistic there is the 11, not the seven. Less than half the games.
Barcelona, Galatasaray pull off impressive comebacks
Alexis Sanchez, Andres Iniesta, and Cesc Fabregas have all played ahead of him, and sometimes the talk of his fitness felt like an excuse. Fans chanted for him to be included, but while his early season form was good, albeit often coming off the bench, there were still doubts. There have been doubts over his future, too; he has not always felt like Barcelona wanted him to continue. It is unlikely he will still be at Camp Nou beyond the summer. Manchester City, where former Barca man Txiki Beguiristain is the sporing director, are among the teams keeping an eye trained upon him.
"He needed, and deserved, a night like this," Barcelona winger Pedro said.
Tuesday was an opportunity, and Villa did took it, yet it was not really about the goal. Or, at least, it was not only about the goal. It was tempting to include that when he scored, it was one of the few times he had really intervened, but even though he was not in regular contact with the ball, his very presence on the pitch made Barcelona a better side; their positioning was more rational, space easier to find.
Much has been made of the relationship between Lionel Messi and Villa -- and indeed between Messi and any player included in the forward line -- but Messi recently admitted that the team, and himself, play better with Villa in the side. That was borne out Tuesday night. Messi's performance was sublime; it was also assisted. He did not drop so deep, but instead pushed closer to the Milan penalty area. When he did, Villa took defenders away from him and dragged the back four with him -- deeper and wider, forced to constantly reassess its position.
"We chose David Villa because we knew that he could draw the attention of the central defenders away from other players an give us depth to the attack, providing room for the interiores," Roura said.
"And," he added, "We knew that he scores a very high percentage of the chances he gets."
Video: Messi's goals against AC Milan
"You never doubt El Guaje," Iniesta said. "He has goals in him, we know that and that's the most important thing in football."
"David is David," Dani Alves added, "the man who gets important goals."
One chance, one goal. Brilliantly taken. Spain's all-time top scorer at international level, the man who had never dropped under 16 league goals a season in his entire career until the broken leg, 10 seasons spread across four clubs, from Sporting Gijón to Real Zaragoza and Valencia to Barcelona, the man who scored in the 2011 European Cup final, had scored again. It had been a while: he has only two since November. It was his first Champions League goal since October 2011.
When Villa emerged from the dressing room, there was satisfaction.
"These are beautiful, magical moments," he said. "It is exactly what all of us wanted and needed after some difficult weeks. The goal makes me forget all the bad times."
CREDITOR: Boyd watch; Americans Abroad