Premier League into break with Champions League, relegation battles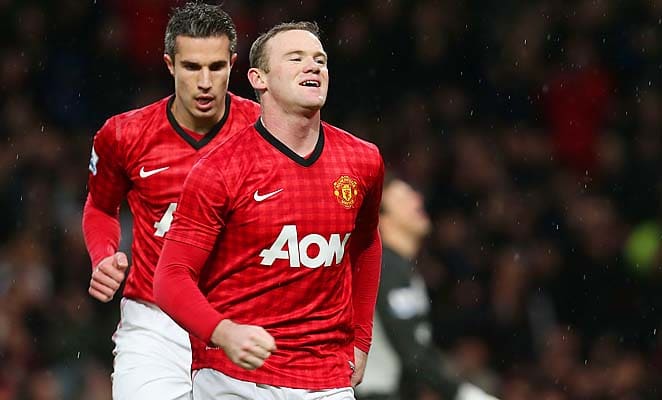 As the Premier League goes into the final international break of the season, how are things balanced in the key battles at the top and bottom of the table?
After Manchester City's 2-0 loss to Everton at Goodison Park on Saturday, the Premier League reaches the break with the trophy all but engraved with the name of Manchester United. City manager Roberto Mancini refused to speak to the press after, his stand-in David Platt explaining that Mancini was "angry about many, many things."
City should certainly have had a penalty for Marouane Fellaini's handball with the game at 1-0, but the biggest problem for Mancini was that relatively few gilt-edged chances were created, and Jan Mucha in the Everton goal -- or rather, racing out of it, on numerous occasions -- did a fantastic job of keeping out City's best.
It is a best that just hasn't been good enough; last summer the state of things at Chelsea and Arsenal told us that the title race would be between the Manchester clubs, but City barely sustained a credible defense beyond the season's midway point. Sir Alex Ferguson and his players preached caution after United moved 15 points clear at the top, recalling the slide that saw an eight-point lead vanish in the final weeks of last season.
"We can't allow that to happen again," captain Nemanja Vidic said. "We have the title in our hands, but we still have games to play, and we have some tough games as well."
There was little in the no frills, taking care of business 1-0 win over Reading -- United's fifth successive league shutout -- to encourage City, however.
For Reading, the result at Old Trafford was hardly a surprise: this was a fifth successive league defeat for a club that has won away from home only once this season. There were some late jitters for United, but Eamonn Dolan, filling in after the sacking of Brian McDermott, said this was not on the list of games earmarked as winnable.
"If we win those games, we'll be OK," he said, but he has been given an impossible task. Reading (23 points, 19th place) is rooted in the relegation zone; McDermott's dismissal was merely theater, a gesture in reaction to the home defeat to fellow relegation candidate Aston Villa that does not bear a moment's scrutiny. Now Dolan has 12 days to prepare the league's worst travelers for a trip to the Emirates to face Arsenal.
Reading's travel sickness is not the only issue there: Arsene Wenger's players have got their heads together just at the right time. Last week fifth-place Arsenal was five points behind Chelsea and seven behind Tottenham Hotspur, and in danger of being caught by Everton and Liverpool. After 73 minutes of play under an incontinent Swansea sky on Saturday, you could have bottled the scent of anxiety in the away end. Alex Oxlade-Chamberlain had already hit the bar twice. A few moments later Nacho Monreal's goal turned fate's grimace in to a grin.
"Our commitment and determination, it is something special," Wenger said. "We dug in when our legs were heavy. I'm very pleased with our spirit."
Arsenal's second goal came from Gervinho, introduced for the final 20 minutes, and the manager insisted the Ivorian "can be a big force" for Arsenal in the run-in. The Gunners are still fifth but can close the gap on Spurs to one point by winning their game in hand.
"We are in the battle, but we are up for it and this team is ready for the fight," Wenger said.
So is Chelsea (55 points, third place), it seems, with a third win in four league matches comfortably achieved against West Ham United. With Eden Hazard in current form, Chelsea has a weapon of the sort that Tottenham would dearly love to be packing. Defeat to Fulham on Sunday, by a Dimitar Berbatov goal, made it three in a week, and once again a lack of spark in the final third cost Spurs (54 points, fourth place, four clear of Arsenal). Andre Villas-Boas said he is convinced that his side can "find our form or confidence," but the international hiatus gives Tottenham fans two weeks in which to fret that this will be another wimpering end to a season in which the perennial "battle for fourth" had at one point promised to become a dash for second.
A year ago it was Harry Redknapp's problem, and England matches occasioned fevered talk about his appointment as Fabio Capello's replacement. Now Redknapp has to fathom a way for Queens Park Rangers (23 points, 20th place), who have won four games all season, to win another four in the remaining eight fixtures if they are to have any chance of staying in the Premier League. Rangers met Aston Villa (30 points, 17th place) on Saturday afternoon knowing a win would close the gap between them to a single point; both managers stood on the edge of their technical areas, as close to the pitch as they could get without stripping up.
Redknapp was the cooler figure in the first half, when Jermaine Jenas gave his side the lead and only some fantastic goalkeeping by American Brad Guzan prevented Rangers from running up three or four goals. Well, Guzan and the width of the post, which kept out Jose Bosingwa's effort just before half time. Less than two minutes later Villa equalized via Gabby Agbonlahor's forehead.
The pendulum swung hard in Villa's direction, the perseverance shown by Andreas Weimann in setting up the 81st-minute winner only bettered as an example of the team's spirit by the sight of his manager, Paul Lambert, climbing on to the back of his assistant in celebration. This is the first time that Aston Villa has won two consecutive league matches in 68 attempts (two recoveries from losing positions, too), and it leaves us with quite the concertina in the positions immediately outside of the relegation zone, especially with Southampton (31 points, 16th place) chalking up a terrific victory over Liverpool.
Wigan Athletic, in 18th, has 27 points thanks to the weekend's win over Newcastle and a game in hand. It is Sunderland that should be most worried: Martin O'Neill's team has not won a match since coming back to beat Wigan two months ago, and after struggling to a 1-1 draw with Norwich despite playing 11 versus 10 for an hour on Saturday, is also on 31 points, above Southampton by a single goal. After the internationals are done with -- after two weeks with the boos of their supporters ringing in their ears -- Sunderland faces Manchester United, Chelsea and then fierce rival Newcastle United.
"Confidence is low," O'Neill said. "It will be difficult."