NBC outlines vast Premier League coverage with new TV deal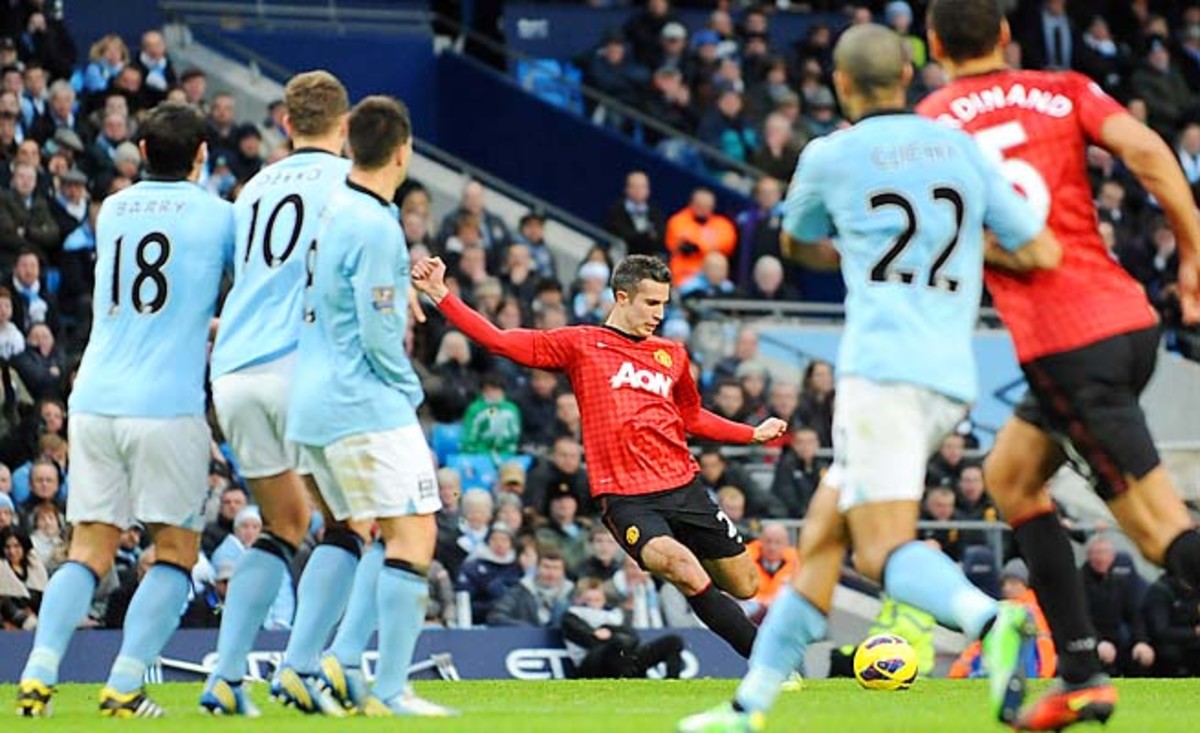 NBC Sports has finally revealed its plans for the English Premier League, and upon first glance, the network's tonnage is as impressive as Robin van Persie in the six-yard box.
During a Premier League presentation at NBC's offices at 30 Rockefeller Center on Tuesday, the network announced all Premier League matches will include pre- and post-game studio coverage and be streamed live via NBC Sports Live Extra, the network's live streaming product for desktop, mobile and tablets.
The network said games not aired on a designated NBC Universal channel would be made available to distributors via Premier League Extra Time, a package of overflow TV channels available at no extra cost for customers who receives NBC Sports Network. As announced in October, NBC Universal will air 380 Premier League matches across all platforms and devices in the United States. A source with knowledge of the negotiations told SI.com that NBC Universal's winning bid was $250 million for a three-year agreement, a sum more than triple the $23 million per year that Fox currently pays for its deal.
Stateside fans of the Premier League expect matches to be available over-the-air, and NBC Sports said its initial schedule will include 154 games on NBC Sports Network, 22 games on other NBC Universal channels and 20 games on NBC. There will be 184 games airing on Premier League Extra Time and 76 Spanish-language broadcasts on Telemundo (10) and Mun2 (66). There are plans to air more than 600 hours of original and weekly studio programming on the NBC Sports Network. NBC said it will air 30 hours of original Premier League programming weekly.
"Our goal and No. 1 objective is to be true to the sport," NBC Sports executive producer Sam Flood said.
Said Premier League CEO Richard Scudamore: "Fundamentally, this is a market of huge interest to our owners. The plans these guys have are a big step for us."
As for those who will present the coverage, the network officially announced that Arlo White will be the lead play-by-play voice, confirming last week's report from the EPL Talk website. White has spent the last two years as the lead play-by-play voice for NBC's MLS coverage and will relocate back to the U.K. to call matches on site for NBC Sports. Lee Dixon and Graeme Le Saux, both former England national team members and EPL veterans, will split time as White's game analysts. Both have worked for BBC as color commentators. NBC said it will use the world feed on games not involving its announced staffers.
As first reported by SI.com last month, Rebecca Lowe has been named the network's lead studio host. After concluding her Premier League and FA Cup duties with ESPN UK in May, she will relocate to the U.S. this summer. She'll be joined in the studio by former Jamaican National Robbie Earle and former English footballer Robbie Mustoe. That group will broadcast from NBC Sports Group's new International Broadcast Center in Stamford, Ct. Well-known BBC presenter and former England national star Gary Lineker will serve as a special contributor for the coverage. He will occasionally host on-site studio coverage in the U.K while continuing to host Match of the Day on BBC.
WAHL: Real Madrid coming to U.S. as part of new tournament
Coverage of the Premier League will kick off Aug. 17 with live matches on NBC, NBC Sports Network, Telemundo, Mun2, Premier League Extra Time, NBC Sports Live Extra and other NBC Universal channels including CNBC and USA. The network also announced that every Premier League match on the final day of the season -- May 11, 2014 -- will air live across a host of NBCU channels, including NBC, NBCSN, CNBC, USA, MSNBC and E!.
As of now, the original programming is as followed:
? Premier League Goal Zone -- A 30-minute program airing after Sunday matches with highlights of every goal scored on Saturday and Sunday.
? Match of the Day -- A two-hour Saturday show on NBC Sports Network modeled after the BBC show of the same name. Match of the Day will re-air Sunday mornings.
? Match of the Day 2 -- A 90-minute program featuring extended highlights with the natural calls of every game Sunday.
? Match of the Week --NBC Sports Network will re-air the best match of the weekend in its entirety Sunday night.
? Premier League 36 -- An original series that follows EPL players for 36 hours leading up to a game.
? Game Cut-Downs -- NBC Sports Network will air a two-hour show Monday nights featuring cut-down versions of Manchester United and Manchester City matches. On Tuesdays the network will feature Chelsea, Liverpool, Arsenal and Tottenham Hotspur matches.
? Premier League Download -- A weekly show featuring high-profile celebrity supporters and journalists discussing the Premier League.
? Barclays Premier League World -- A weekly magazine show produced by the Premier League.
? Barclays Premier League Preview -- A weekly show (also produced by the league) previewing the upcoming week's matches.
? Barclays Premier League Review -- A weekly show produced by the league that recaps all the matches from the past week.
? Premier League Countdown -- A preview of the 2013-14 Premier League season.
NBC said its Saturday coverage of the Premier League will start at 7 a.m. ET on NBC Sports Network and continue on that network at 10 a.m. When Saturday coverage airs on NBC, it will air with a start time at 12:30 p.m. The Sunday coverage begins at 8 a.m. on NBC Sports Network and continues at 11 a.m. on that network and Telemundo. Monday coverage will start at 2:30 p.m. on NBC Sports Network.
An NBC Sports spokesperson said there will be some weeks where mid-week Premier League games could appear on CNBC and USA. The network said any game not designated for an NBCU channel will be available on Premier League Extra Time, which is similar to MLB's Extra Innings Package. (There is no charge to customers whose cable systems have NBC Sports Network.) All games will also be streamed live on NBC Sports Live Extra, though most consumers will need to authenticate that service.
WILSON: England's Day of Shame conjures images of dark ages' hooliganism