Crazy games, big flames make a mark on Saturday's MLS action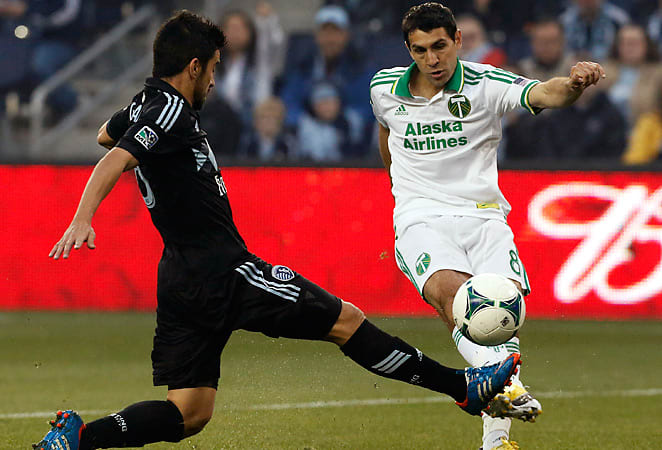 One of the league's best-paid players finally showed his scoring prowess, the Portland Timbers reversed a bad trend, and Columbus Crew Stadium caught on fire on a goal-stuffed Saturday in Major League Soccer.
Game of the day
Portland Timbers 3, Sporting Kansas City 2
It's a scoreline almost as shocking as SKC's new argyle-patterned third kit. Peter Vermes' team had not conceded three goals since a 4-0 defeat by the Philadelphia Union last June and had not lost at Sporting Park since last July. Yet it was defeated by a club who had the worst road record in MLS last season, winning only once away from home.
The key components of SKC's revered defense were in the line-up -- center backs Matt Besler and Aurelien Collin and goalkeeper Jimmy Nielsen -- but Portland's speedy attacking triumvirate of Rodney Wallace, Ryan Johnson and Darlington Nagbe made their opponents appear sluggish.
The visitors overcame adversity, conceding after 40 seconds to Chance Myers, who had not scored an MLS goal in his five prior seasons. Johnson equalized midway through the half. Implausibly, Myers then restored SKC's lead five minutes later. Portland were soon level thanks to Johnson's speed on a breakaway as he rushed beyond the defense and crossed for Nagbe.
Wallace grabbed the winner two minutes before the hour mark, surging between static defenders to collect Diego Chara's incisive pass. For SKC fans it must have felt like watching one of those movies where the bad guys storm a fortress that was supposed to be impenetrable. They broke through there? And there? Again?
Given Portland's away history and fresh start under new head coach Caleb Porter, this victory was about more than three points. It felt like a signal of intent. After last week's 2-0 defeat to the Los Angeles Galaxy, SKC again looked vulnerable to swift counter-attacks. That's less due to the defense than the failure of an unbalanced and unconvincing midfield to offer more protection.
As for those diamond-patterned jerseys? Well, they might look fine on a fairway. But there's a reason you don't see many golfers at Fashion Week.
Player of the day
Tim Cahill, New York Red Bulls
The midfielder's two goals in a 2-1 win over Toronto FC had a sepia-tinted hue, like we were watching dated footage from Cahill's good old days.
Against Toronto Cahill swept in Roy Miller's low left-wing cross in the 39th minute after Thierry Henry's devious dummy then ran off to shadowbox a corner flag, his usual celebration. For the late winner he leapt like a salmon on a pogo stick to outjump Ashtone Morgan and head in the ball from six yards out. You'd call it a trademark Cahill header, except that trademark rights can be lost when they're not used for long periods.
The Australian arrived from Everton last summer with a long-held reputation as one of the sport's most effective attacking midfielders, yet before Saturday he had made scant impact in MLS in the attacking half. What he has accidentally done is enhance MLS's reputation by making the league look difficult. Coming to an inferior competition from the English Premier League, logic suggested Cahill should score more frequently, not less. That he would dominate the stage with star power, not turn out to be a solid member of a (slightly dysfunctional) Broadway ensemble cast.
Cahill made 278 appearances for Everton and claimed 68 goals - a ratio of about one every four games. Such a mark was impressive in a workmanlike team sometimes obliged, through lack of options, to play him as a striker. The perception of Cahill as a goal threat is a matter of style as well as statistics. He scores like a striker: alert, fast, lethal in the box and a pest in the air despite standing only 5-foot-10 in his cleats.
Still, since 2011 corner flags have had little reason to cower before Cahill. He found the net 16 times for Everton in the calendar year 2010 - then endured a 33-game scoreless streak across two seasons between December 2010 and January 2012. And before Saturday, his only goal for the Red Bulls came against the Portland Timbers last August - an arid spell of 19 fixtures.
These scoring droughts are not simply down to the gradual physical fade that's to be expected of a player with a long injury history who will turn 34 this year. It's also because the Red Bulls haven't wanted or needed Cahill to play as a surrogate striker. With Henry on the roster, scoring and creating is not a problem. New York was the highest-scoring team in the Eastern Conference last year and the same is true so far this season.
But the team does concede more often than its rivals, so it requires Cahill's piranha bite to help shield that porous defense. Especially when one of his midfield co-workers is Juninho, a 38-year-old who's an artist, not an artisan. Juninho's suspension on Saturday may have given Cahill more license and confidence to push forward, even though New York was also without the dogged Dax McCarty. However, thanks to Toronto's general ineptitude there was not much defensive work for the visitors to do at BMO Field.
Whether it's worth paying a CEO-sized salary - $3.6m last year, the fourth-highest in MLS - to a player if you're going to use him as a worker ant is another question. On Saturday, though, we saw the complete Cahill.
Goal of the day
Marco Di Vaio, Montreal Impact vs. Chicago Fire
He will be 37 in July but the Italian striker is the ultimate home-field advantage for the Impact: four games in Montreal, four goals. Di Vaio's sharp control, swift turn and perfectly-placed low shot sealed Montreal's 2-0 victory over Chicago at Stade Saputo.
The Fire was already a goal down and a man short after Jeff Larentowicz was harshly sent off for denying a goalscoring opportunity that was far less clear-cut than referee Fotis Bazakos seemed to think.
While Di Vaio's bobbling effort lacked power, it had the element of surprise and went in off the post, just beyond goalkeeper Sean Johnson's reach. The striker was set up by another Italian, Daniele Paponi, who was six years old when Di Vaio made his professional debut.
Montreal's win returned the team to the top of the Eastern Conference standings, though the Houston Dynamo can take first place with victory over the Colorado Rapids on Sunday.
Stat of the day
3 - first half goals for the Columbus Crew
Columbus fan? Stuck in traffic getting to the game? It's usually not a problem. Take your time, because the team usually does. Before Saturday, only one of its nine goals in 2013 came in the first 45 minutes. That all changed when D.C. United came to Ohio on Saturday, though you could still have turned up almost an hour after the scheduled start and not missed any action.
Robert Warzycha's team was 3-0 up at the interval but kick-off was delayed 50 minutes because the giant loudspeaker in the Crew Stadium scoreboard caught fire.
"The Columbus Fire Department made an immediate response and promptly extinguished the small fire, and no injuries were reported during the delay," the club said in a statement. The cause of the blaze has yet to be determined.
Perhaps it was a small consolation for the visitors that there was no sound system during the match, because announcing the scoreline would only have enhanced their embarrassment. Dominic Oduro gave Columbus an early advantage before United had a goal contentiously ruled out for offside midway through the half.
Three minutes later, Brandon McDonald's failure to track Josh Williams at a corner was costly as he steered the ball beyond Bill Hamid. Then McDonald felled Jairo Arrieta inside the area and Federico Higuain thumped in the resulting penalty kick.
Dwayne DeRosario was unable to rouse a D.C. side missing the injured Chris Pontius and Nick DeLeon. Ben Olsen's team has not won since the second week of the campaign, is on a five-game losing streak and has a tough-looking set of fixtures in May.
It's not only flaccid defending that needs to be solved: United is yet to score on the road. The club is reaching the point where its issues cannot simply be written off as a bad beginning that owes much to injuries and poor luck. The problems seem more fundamental.