Imports of Importance: The German influence on the U.S. World Cup team
The call came late at night on Nov. 1, 2007. Jermaine Jones, the U.S.'s midfield enforcer, may be one of the World Cup's fiercest players, but the voice on the line floored him faster than any tackle on a soccer field. For 20 years Jones had lost contact with his father, Halbert, a U.S. serviceman who'd divorced his German wife, Barbara, when Jermaine was five. For 20 years, Jermaine had been the de facto dad to his younger siblings, Natasha and Kevin, all the while wondering what happened to the man from Mississippi who gave him his first soccer ball. "The biggest dream," Jones says, "was to find my father."
Now, on the eve of his 26th birthday, Jermaine's wife, Sarah, told him he'd be receiving an important call. And so, even though he had a game the next day, Jones stayed up until his phone rang.
"Hi, Jermaine," came the voice.
"Who is this?" he replied.
"It's your dad."
They spoke for three hours that night, the tears rolling down the faces of both men. There was so much to say. Jermaine talked about his thriving soccer career in the German Bundesliga, his own children (he and Sarah have five) and his wife, who'd found Halbert through the U.S. embassy in Berlin as a birthday present for her husband. Halbert talked about his life as a long-distance truck driver and finally revealed the answer to the question that Jermaine's mother had kept secret for 20 years: Why did he leave? In 1987, Halbert was convicted for his role in a heroin- and cocaine-smuggling ring and sentenced to 52 years at Fort Leavenworth.  
Released after seven-and-a-half years, he had remarried and started a new family in Southern California. He apologized to Jones that night, and the pair arranged a reunion in Miami that Christmas. "Having him back is amazing, not only for me but for my family," says Jermaine, who would further connect with his American side in the subsequent years. In 2009, having played only in friendlies for Germany, Jones filed a one-time switch with FIFA to represent the U.S., and soon he was getting Stars and Stripes–themed tattoos. In 2010, Jermaine and Sarah purchased a house in Encino, Calif., from actress Tori Spelling. When they stay there during the European offseason, Halbert comes over and barbecues for everyone. Not long ago neighbor Maria Menounos invited the Joneses to a party where they met Donald Trump.
"Now we spend all our free time in Los Angeles," says Sarah, who brought all five of their kids to Brazil for the World Cup, where the U.S. opened with a wild 2-1 win over Ghana on Monday. "This American life is everything Jermaine ever wanted."
Long before he won the 1990 World Cup as a player for West Germany, U.S. coach Jurgen Klinsmann saw a daily reminder of America in his native country. At age 14 he moved with his family from Germany's southern countryside to nearby Stuttgart, where they started a bakery. "Stuttgart has always had an American military base," says Klinsmann, "so I was always surrounded by the fact there are a lot of Americans in that place." Later, when Klinsmann joined Stuttgart's Bundesliga club, one of his teammates was Alexander Strehmel, a German-American defender who played eight times for the German national team.
The Cold War may be over, but its effects are alive and well on Klinsmann's U.S. World Cup squad, which includes five German-Americans: midfielders Jones, 32, and Julian Green, 19; and defenders Fabian Johnson, 26, Timmy Chandler, 24, and John Brooks, 21. From a demographic perspective, it makes perfect sense that the U.S.'s military influence in Germany would extend to the soccer field. When Jones was born in 1981, more than 248,000 American troops were stationed in Germany (compared to 40,304 at the start of 2014). One can only imagine the soccer heights the U.S. might scale if it had a similar military presence in Brazil, but alas, there were only 222 U.S. troops there in 1981.
All five of the U.S.'s German-Americans—and all six who were on the 30-man preliminary World Cup roster—have an African-American serviceman father and a white German mother. Explains Jones, "When you see a half-American guy's name in Germany, the first thing you ask is, Are you American-German? And he will say, Yes. The next question is, Was your dad a soldier? Yes. Then, Are Mom and Dad still together? No." With a wry laugh he adds, "It's always the same."
Well, most of the time. Each player has his own story. Johnson's father, Charles, a former pro basketball player for Bayern Munich, and mother, Sylvia, still live together in Munich. Green remains close with his Tampa-based father, Jerry, and lives with his mother, Ursula, near Munich, where he plays for Bayern's second team. Chandler says he doesn't have contact with his father, Jerome, but adds that he feels closer to his American side since choosing to play for the U.S. in 2009. And Brooks sports tattoos on both elbows: One depicts Berlin, home of his mother, Manuela, and one depicts Illinois, home of his father, John Sr., to whom he speaks regularly.
Three of the German-Americans had a major impact on the U.S.'s victory over Ghana. Jones was the Man of the Match, covering huge swaths of space and snuffing out several Ghanaian attacks. Johnson did yeoman's work to earn the corner kick that led to the U.S.'s game-winning goal in the 86th minute. And Brooks merely scored that goal with a thundering header after coming into the game as a substitute for the injured Matt Besler. The image of Brooks's celebration—running in utter disbelief before falling face-first to the ground—will remain etched in the U.S. fan consciousness forever.
Klinsmann is hardly the first U.S. coach to recruit the sons of U.S. servicemen to the Stars and Stripes, of course. German-American defender Thomas Dooley played for the U.S. in two World Cups and captained the 1998 team, while Dutch-American forward Earnie Stewart made 101 U.S. appearances while competing in three World Cups from '94 to 2002.
But Klinsmann has taken the pursuit of dual nationals to a new level, chasing players who could have chosen to represent Germany, Mexico, Norway (midfielder Mix Diskerud) and even Iceland (forward Aron Jóhannsson). The rules are relatively simple: A player is tied to a country for good once he has played for its senior national team in an official (non-friendly) competition. Those who have participated in official youth games for one country can file a one-time switch to play for another country's senior team as long as they have citizenship.
When Klinsmann ended his playing career in 1998, he moved to Orange County, Calif., where he still lives with his American wife, Debbie, and their two children, Jonathan, a goalkeeper in the U.S. under-18 pool, and Laila. Klinsmann (who coached his homeland to third place at World Cup 2006) argues that Germany is still significantly ahead of the U.S. when it comes to player development.
In Germany, he says, "you grow up in a system where the game is played 11 months a year and where training sessions and games are very consistent. You're getting educated by coaches who come from generations of the sport. Your social environment is driven by this sport only, so it gives it more importance, more urgency, more focus. With the kids who grow up in a more soccer-driven country, their connection is always from the want of becoming a pro."
Klinsmann's pursuit of foreign-raised dual nationals has raised several questions, though, some more legitimate than others. To wit:
Are these guys really Americans?
Some of Klinsmann's German-American players say they have seen comments on Twitter suggesting that they aren't real Americans. To this they can only shake their heads. The same goes for U.S. Soccer president Sunil Gulati. "The thought that the sons of American citizens who are overseas because they are serving their country in the armed forces have less of a right to play for the United States than someone else is just absurd," he says. "That sort of thinking is everything America shouldn't stand for. [These players] were American citizens the day they were born."
How do they fit into the U.S. team?
Former U.S. defender Alexi Lalas, now an ESPN analyst, says he has no problem with dual nationals on the team, but he does want them to care deeply about the U.S. and fight for its colors, rather than be there as mercenaries who simply couldn't get to the World Cup with Germany. He also thinks a foreign-raised player had better be an upgrade over any U.S.-bred option to deserve selection. 
While it's still common to hear the U.S.'s German-American players speaking to each other in German, they insist there hasn't been any real tension with their U.S.-raised teammates. "From the beginning you feel like you are a part of this group," says Johnson, who started alongside the likes of Mesut Özil and Sami Khedira on the German squad that won the 2009 European Under-21 championship before he filed for a one-time switch to the U.S. in '11. "The whole team and staff helped me out."
What does it say about the sport's development on U.S. soil?
Over the years U.S. Soccer and (more recently) MLS clubs have spent millions of dollars to improve the incubators of young domestic soccer talent. If the national team's coach is still searching abroad for better players with a U.S. passport, it shows there's still a ways to go. "Obviously we have a number of players [on this team] who didn't go through the development process here in the United States," Gulati acknowledges. "It's pretty hard for us to say that the American development system has led to their success."
For his part Klinsmann likes to say the U.S. talent pyramid is still differentiated by college soccer and a greater desire by young players to earn scholarships than to turn pro someday. Yet there's an irony here: Klinsmann's increased push for dual nationals has turned the national team's recruiting efforts into something that looks a lot like big-time college sports.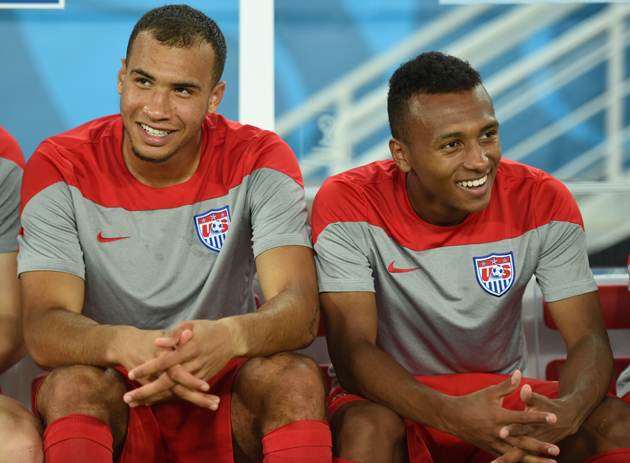 Andi Herzog, the greatest soccer player in Austrian history, is Klinsmann's top assistant coach on the U.S. team. The two men were once teammates at Bayern Munich, and Klinsmann invited Herzog onto his staff not long after Klinsmann took the head job in 2011. When Herzog speaks, he sounds like the Oscar-winning- Austrian actor (and Quentin Tarantino favorite) Christoph Waltz, who knows how to deliver a good line. So too does Herzog, the point man for the U.S.'s recruitment of Julian Green. "He's an extraordinarily good player," Herzog said in late March at a hotel bar in Vienna, where he lives. "I texted him a lot. I called him. I saw him play three or four times. But one day I thought maybe all the work might be for nothing."
As a teenager who has risen through the ranks at Bayern Munich, Green still had a potentially bright future with the German national team, which meant it wasn't easy selling him on the U.S. (and the extensive travel across the Atlantic). But Herzog worked Green hard, and he felt good about his chances when the then 18-year-old appeared to enjoy training with the U.S. squad in March. In front of the team, captain Clint Dempsey gave Green a U.S. jersey with his name on it.
"At the end of camp he had to sign the paperwork to make the one-time switch, but it was a little too much for him," says Herzog. "He said, 'No, I have to talk to my agent.' I got the feeling it was maybe a bit too much pressure."
Then Herzog heard the German federation was pushing Green as well, and for a moment he thought the U.S. might lose him. More texts to Green: I want to see you in our team. Ever coy, the teenager sent back a smiley face. Finally, Green and his agent spoke to Klinsmann, who sealed the deal. If he continues to progress, Green could be a difference-maker for the U.S. at World Cup 2018 in Russia.
The Best of Jurgen Klinsmann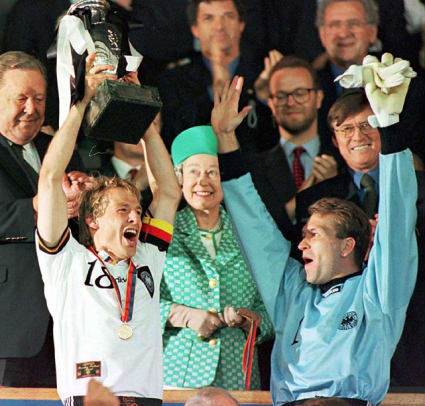 Klinsmann's star power in Germany certainly doesn't hurt his recruiting efforts, nor does his recent U.S. contract extension through 2018. How popular is the 1990 World Cup winner with young German players? Terrence Boyd, a German-American forward who was among this U.S. team's final cuts before heading to Brazil, remembers with awe the time in 2005, at age 14, when he was part of the flag march before a friendly in Bremen between South Africa and Klinsmann's Germany. "At that game Klinsmann walked by me," Boyd recalls. "I was like, Oh my God, Klinsmann shook my hand!"
The next recruiting target for Klinsmann and Herzog is Gedion Zelalem, a precocious 17-year-old attacking midfielder who has already played for the first team at Arsenal. Born in Germany to Ethiopian parents, Zelalem lived from age 9 to 15 in the Washington D.C. area. If his father, Woldyes, becomes a U.S. citizen before Gedion turns 18 next January—and sources say Woldyes is attempting to do so—then Gedion would automatically become a U.S. citizen per the Child Citizenship Act of 2000.
"Gedion is another special talent," says Klinsmann. "He was in the same [U.S. under-15] camp as my son two years ago, and they spoke German. We've followed him throughout this whole stretch and are constantly in touch with him. We watch his games with the [Arsenal] under-19s. We are in touch with [Arsenal executive] Ivan Gazidis and [manager] Arsene Wenger. Our interest is huge in the kid."
Not long after he bought Tori Spelling's home, Jermaine Jones added a new, script l.a. tattoo across his chest, but instead of getting two angel wings to complete the City of Angels theme, he opted for an angel wing and a devil's pitchfork. "It's like me," he says with a smile. "I can be an angel, but I can be a devil, too."
Jones remains legendary within the U.S. team for his performance during a long training camp in January 2012, which included mostly MLS players in their off-season. Serving an eight-game club suspension in Germany for stamping on an opponent, Jones joined the U.S. team in L.A., where he promptly took some teammates out for a long night of bonding over bottle service at an area club. Jones swears he got permission from the coaching staff to lead a "team outing," but nobody had told him a fitness test was scheduled for the next morning. Jones's freakish athleticism being what it is, he aced the test, outperforming everyone else on the team. "I had to do well," he says. "I was the guy who asked [to go out]."
Living on the edge is what Jones does. Many U.S. fans fear that his penchant for cards—50 yellows and four reds in his last five league seasons—will lead to an ejection in Brazil, but Klinsmann insists Jones's aggression is an asset, not a liability. "I am a guy who can't lose," Jones says. "So if I have to play hard, if I have to play nasty sometimes, then I do it. Maybe it comes from when I was young and had to protect my family."
On June 26 in Recife, the U.S. will meet Germany in their final game of the World Cup group stage. Klinsmann, who never got U.S. citizenship but has lived in the States for 16 years, says he'll sing both national anthems. As for Jones, he says there won't be any conflict in his mind once the opening whistle blows: "I will always have the half-side of Germany in my heart, but all of us half players—and the coach, too—we will try to win this game for America. We want to get to the next round."
If it takes beating his birth nation to get there, then so be it.
GALLERY: Prominent dual-nationals in USA history
Notable dual-nationals in U.S. soccer history