Brazil falls short, but its World Cup provides unforgettable theater
RIO DE JANEIRO -- If you build it, they will come, was the plan.
"They" were jobs, foreign tourists, a fillip to the economy, and finally, a place on the world stage for Brazil as a vibrant, modern, efficient nation. Some of that has or still may come true, some of it may not.
On July 13, 2014, at the Maracana field of dreams, "they" were supposed to be thousands upon thousands of yellow-and-green clad Brazilian fans, a multitude come to exorcise the ghosts of fateful goalkeeper Moacir Barbosa and the rest of the team of the 1950 World Cup. That Brazil team lost 2-1 at home to Uruguay in the last game of the tournament at this same stadium in front of some 200,000 people, and, as the story goes, sent a nation spiraling into a psychological trauma from which it would take years to recover.
And so they built it. In fact, they built (or rebuilt) 12 of them.
What "they" were definitely not supposed to be was a 100,000-strong horde of Argentinian wildlings from beyond the wall, camping on the beach at Copacabana, storming the sambodromo citadel with their battered camper vans and trucks. Nor were "they" supposed to be thousands of oak-thighed Germans, fresh from their bloody slaughter of the host nation, roaring songs of praise to their captivating team – worthy world champions and the first European team ever to win the World Cup on South American soil. But to the sound of breaking Brazilian hearts, that was how it turned out.
On Top of the World: Germany tops Argentina, claims 4th World Cup title
This was a worthy final, always compelling, occasionally even thrilling. Germany, as deadly as ninjas when scoring seven in its semifinal five days ago, controlled possession in the first half, and bent the Argentinian defense as far as possible without it breaking. Yet while Brazil had descended into gibbering emotional meltdown against the same foes in Belo Horizonte, these brave hermanos showed here they are made of sterner stuff than their rivals. Argentina gave a lesson in how to defend, holding a deep line and making sure there was no space for Thomas Muller or Mesut Ozil to get in behind the fullbacks. It worked to perfection. Almost.
Germany, meanwhile, simply got on with doing what they have learnt to do so well – win. Even when Alejandro Sabella's team had chances – Gonzalo Higuain hearing the thundering hooves of German horsemen behind him and missing horribly when clean through in the first half, Lionel Messi screwing a shot achingly past Neuer's goal at the beginning of the second – Germany remained unruffled, unhurried, continuing to work its way through the Argentinian ranks, pressing its collective foot ever more gently on their necks.
Joachim Low's side came closest in regular time when Benedikt Howedes headed against the post at the end of the first half and again, as the light drained from the sky, when Toni Kroos rolled a terrific chance wide near the end of 90 minutes.
In the stands the wildlings were in full, raucous voice throughout. They bounced up and down during their country's wordless anthem, and they kept bouncing up and down for much of the rest of the game. "If you don't jump, you're a German," they sang, before switching into their unofficial World Cup anthem, Decime que se siente ("Tell Me How It Feels"):
"Brazil, tell me how it feels, to have your daddy in your house… we'll never forget how Diego dribbled past you… how Cani (Claudio Caniggia, who scored the goal that knocked Brazil out of the 1990 World Cup) killed you off… we're going to see Messi… he's going to bring us the Cup… Maradona is better than Pelé."
The Brazilians (née Germans) in the crowd were not about to take this lying down. "A thousand goals, a thousand goals, only Pelé has a thousand goals," they bellowed. When Higuain's first half strike was disallowed for offside, the locals celebrated as wildly as though their own team had been reincarnated and Neymar had just scored the winning goal.
Argentina, which had played a draining 120 minute semifinal against the Netherlands just four days ago, dug deep, calling on remarkable reserves of stamina and courage as the sun dropped below the horizon and the evening grew cool, even shading the second half before fading, exhausted, in extra time. By then it was all Germany, and Messi & Co. could hold out no longer.
When Mario Gotze finally volleyed the winner past goalkeeper Sergio Romero with just seven minutes left in extra time, the Brazilians roared out "a thousand goals, a thousand goals, a thousand goals" one last time. The wildlings had been repelled.
Germany's World Cup title a result of revamped development, identity
And then it was over. "Sadness has no end, but happiness does. Happiness is like a drop of dew on a petal, it glistens quietly," wrote the great Brazilian poet and songwriter Vinicius de Moraes. The happiness of this most joyful, most tragic (eight construction workers died during tournament building work, and last week an unfinished bridge, part of the competition's urban mobility works, collapsed in Belo Horizonte, killing two people) of World Cups has come to an end, and we are left with only our memories.
And what memories. The World Cup and sporting events like it feed and sustain the past like a sporting madeleine, bringing it to life once more. Every fresh game, every new sway of the hips from a Messi or an Arjen Robben, every dribble and every shot and every save takes us back to the World Cups of the past, the World Cups of our childhood.
Lionel Messi's complex legacy stays in crosshairs for everyone but himself
Close your eyes and hold your breath and it is not Messi scampering clear of the German rearguard in the eighth minute at the Maracana but Maradona weaving away from England's ponderous defense at the Estadio Azteca in Mexico City in 1986; It is not Miroslav Klose, leaden footed but deadly, jumping for the ball in the Argentinian penalty area, but Gerd Muller putting the Netherlands to the sword in Munich in 1974; It is any of the protagonists that have played a part in past chapters of this great Germany vs. Argentina World Cup rivalry, from Maradona himself to Andreas Brehme to Jorge Valdano to Rudi Voller to Karl-Heinz Rummenigge and on and on and on.   
They stand guard over the past and watch over the present, the old soldiers. A new recruit, the late Alfredo di Stefano, joined their ranks this week. Wherever he is, he will have stood and cheered every lung-bursting Argentinian dash, every crunching challenge from Javier Mascherano and Pablo Zabaleta, every save from Romero. And he will have wept to see his countrymen standing desolate on the pitch at the end, their energy finally spent.
The sweet balm of memory brings more recent images too, snapshots of the drama of this past month: The saves of Keylor Navas and Guillermo Ochoa; the goals and sleight of foot of James Rodriguez; Robin Van Persie's arching, leaping header against Spain; Luis Suarez's cannibalistic fury; Brazil's tears; Germany's symphonies of passing and movement, Argentina's stout hearts; that sturdy modern day Paul Bunyan, USA midfielder Kyle Beckerman, and a host of others.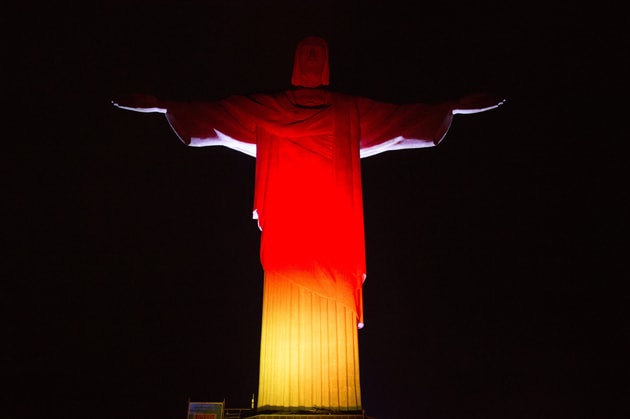 Before the end, as the players harried and scurried and chased around the baying amphitheater, the giant stadium TV screens flashed up an image of Christ the Redeemer, that great symbol of Brazil's sometimes thrilling, often harrowing Mega-City One. Behind the statue, perched high on its rocky outcrop overlooking the city and beyond, the molten orb of the sun slid across a glowing, copper sky.
Everyone in the stadium, Germans, Argentinians, Brazilians and everyone in between, caught their breaths. Amidst the ear-popping Euro trance and the noxious World Cup anthem of Pitbull and his pals and all the FIFA organized corporate surrealism – it would not have been a surprise to see the teams being led onto the field by a twerking Miley Cyrus hand in hand with the Dalai Lama – here was something real, something that could symbolize this magical month, something befitting the sterling efforts of the players on the field.
Suddenly it did not matter that the colors of this World Cup had been supposed to be green and yellow but had turned out to be red, yellow and black (and almost blue and white).
Suddenly, all that mattered were the memories of this unforgettable month in Brazil.