NWSL boasts elite talent, but is it set up to avoid downfalls of past leagues?
In just its second year of existence, the National Women's Soccer League already attracts a who's who of top professional players from around the world. From world-class goal scorers like Abby Wambach, Alex Morgan and Christine Sinclair to top-level goalkeepers like reigning FIFA Women's World Player of the Year Nadine Angerer and Hope Solo, the NWSL talent pool is quite rich. 
The on-field product has never been the problem with women's soccer in the United States, though. Structural and financial dynamics have been the downfall of past women's leagues, and the question remains whether NWSL, whose playoffs kick off this weekend, can avoid the same fate. The answer, naturally, is complex.
Free live streaming on YouTube allowed the NWSL to gain some attention and momentum in its 2013 inaugural season despite no national television broadcasts before July. As they did in the defunct Women's Professional Soccer and the Women's United Soccer Association, the players showed the quality a league in the U.S. could attract, even as it barely existed.
High attendance and great support for women's sports in general compared to the rest of the world already put the American league toward the top of the list. The league's aspirations are at a crossroads with it's cost-cutting model, though.
WAHL: Anti-turf Women's World Cup movement builds momentum
Besides the 26 Americans, eight Mexicans and 16 Canadians allocated to the league, whose salaries are paid by their respective federations, most players' wages still don't offer year-round stability. Much like in Major League Soccer, the gap between the highest- and lowest-paid players is large.
"Some of the rookie players or some of the players that haven't quite established themselves, whether it be internationally or at league level, are still on pretty low wages, but I think for the six months that they're here, they're livable," Seattle Reign head coach and general manager Laura Harvey told SI.com. "We, as a club, are true believers that you'll get the best performance out of players if they're happy, and we try and do things off the field for them that help make their lives easier, from providing lunch at training to washing their kit for them — things that then they don't have to think about it. They literally just turn up and train."
These are steps in the right direction that some teams have taken, but there still exists a large philosophical chasm between keeping costs as low as possible and having a successful league of full-time professionals. After all, owning a club is only a profitable venture for the select few global superclubs, none of which are primarily women's clubs.
"If they keep running scared over spending, it's just going to fizzle, especially if the U.S. doesn't do well at the World Cup," said one former women's soccer executive. "I really think the whole point of having a team is doing everything you can to win, and it's that attitude that breeds success in everything. That should be the first goal: align a budget that you think makes that happen, then evaluate if you can afford it."
NWSL facilities and infrastructure cover a wide spectrum from two MLS-owned teams with a full range of amenities to standalone owners scraping together their resources for their first attempts at owning a team.
Only the Portland Thorns and Houston Dash, whose owners also operate the Timbers and Dynamo, play in their own stadiums. FC Kansas City, Sky Blue FC, the Western New York Flash and Washington Spirit play in soccer-specific facilities that they rent. Seattle and the Chicago Red Stars are in multi-use facilities (the Red Stars play at Benedictine University, 30 miles from downtown Chicago).
"Being part of the MLS in some of its earlier years, I see a lot of similarities to the NWSL … as far as players' pay and dealing with housing issues and travel and all that," said Brian Ching, Houston's managing director who played 12 years in MLS and at the 2006 World Cup for the U.S. "In the beginning, MLS was playing in high-school stadiums at times, and that's kind of where some of these owners are with their teams."
Most NCAA Division I colleges, which provide the majority of NWSL's players through its annual College Draft, maintain better facilities than the professional clubs they feed. That's also similar to early days in MLS.
"For 90 percent of my career, most college teams probably had better facilities than I had as a professional athlete in the MLS. Those things have changed, and those things take time," he said. "I think that, given time, the NWSL can be an extremely successful league. Having said that, I definitely feel that more MLS teams or more really deep-pocket owners need to get involved and really try to help grow the game."
Chris Hummer, Washington's general manager in 2013 before leaving to focus on other soccer business ventures, said the league's current trajectory elicits major questions about the NWSL's future goals, even though improvements will likely continue each year.
"The standards just need to be higher," Hummer said. "Is this really what it means to be a pro? Everyone wants a pro league for women, but if the only goal is sustainability, is that really worthwhile at these wages and these conditions? … Everyone wants to suck it up so the owners don't lose too much money, but there has to be a limit. Will that lead to growth or will the frustration of constant compromise become too much?"
NWSL executive director Cheryl Bailey said she appreciates that every team runs at a different pace, from its infrastructural giants with MLS owners to the others just learning what it takes to survive as a professional organization.
"There are a lot of plusses that come with that, but there are also some challenges that come with that, no doubt, when you're trying to have some consistency across the league in terms of standards," she said. "For the first couple of years, we've allowed those teams to try to find the best that they have within their particular markets. … We're at a point in time now where we have to take a look at the professionalism within the league itself and to continue to strive higher and higher for the standards of expectation we have."
One executive close to U.S. Soccer's oversight of the NWSL said the federation should enact tighter requirements to ensure owners are brought up to current professional standards.
"U.S. Soccer, if they want this thing to stick, has got to put harder-edged restrictions around parameters, facilities, what ownership groups need to maintain their team and how they're going to operate the team and the way the players are treated, the professionalism of the sports organization," the executive said. "The league's doing a good job of building the central revenue in a way that they haven't before. The cost basis is a lot lower than it has been with U.S. Soccer's commitment. So there are certainly a lot of positives and a lot of reasons for optimism that we can sustain, build and grow this thing."
NWSL expansion possibilities include bringing more MLS franchises into the fold. Sky Blue negotiated with the New York Red Bulls about a potential partnership in the last offseason, but those discussions ended without an agreement. Ching said Houston fields questions on an ongoing basis from others interested in branching into the NWSL. At the same time, unaffiliated ownership groups have also expressed interest.
Bailey said the current owners would meet following the 2014 season to talk about expansion and other concerns. With the data available from two years of NWSL play, they should be able to make rational decisions easier now, she said.
Ching said aligning the NWSL with MLS, whether completely or as further team-by-team partnerships, would make it easier to sustain the league.
"Obviously, the teams that are affiliated with the MLS teams have an easier time of it just because they are in the business of soccer already. For us, it wasn't like we had to go out and find a place for the team to play and pay rent on that," he said. "I'm not saying that [unaffiliated franchises] can't be successful and they haven't been successful, because some of the teams have done a good job with that, but it just makes the task that much more difficult."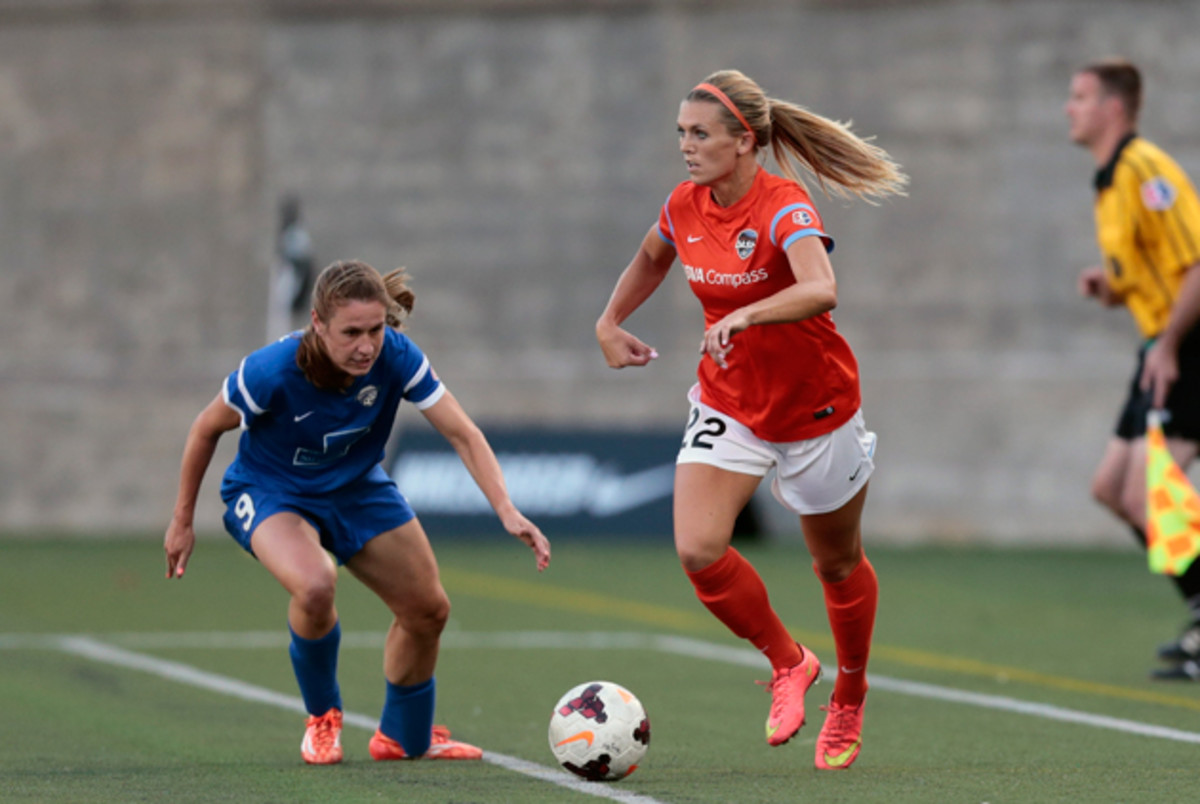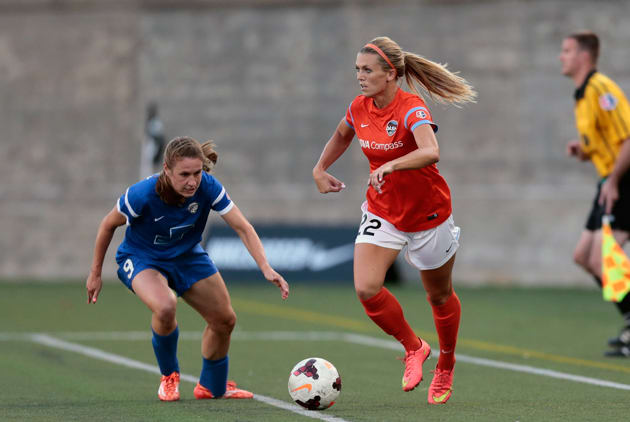 That's not to say MLS involvement is the only way to succeed. The Seattle Reign won the regular-season title, and Washington made the playoffs and breaks even financially, although neither franchise owns its own stadium or partners with any existing men's team. Clearly, success can be achieved without existing infrastructure, even if initial costs are higher.
Seattle also provides an example of how successful foreign talent can be when combined with some of the best homegrown players. Scottish playmaker Kim Little and Japanese World Cup winner Nahomi Kawasumi joined the team in the offseason, and Welsh captain Jess Fishlock already played alongside Solo and Megan Rapinoe, after the league made another international roster spot available to each team.
"The women's national team players, I think, will always be our biggest products, but the international players that have come in … are taking the league onto another level," Harvey said.
The Reign and Spirit both averaged around 3,500 fans per game during the 2014 regular season. They came third and fourth, respectively, in the attendance table behind — as expected — Houston (4,650) and Portland (an astounding 13,362).
Even if other MLS teams are interested in joining the fold, Sky Blue president and CEO Thomas Hofstetter said he doesn't think the league should expand beyond a 10th team for the time being. His team also participated in WPS, along with Chicago, Boston and Western New York, and averaged just 1,668 fans in 11 home games, including a single-game league low of 582.
This will be one of the most delicate areas moving forward for a league controlled by the federation that also has investment from MLS. Those who were part of the failed women's leagues have become wary of diving in without testing the waters first, and those franchises also seem to still be behind the learning curve.
BIRD: How can U.S. youth development be accelerated?
"We're not in Year 2. For me, we're in Season 5. That's honestly how I look at it," Hofstetter said. "You do have to look at new ownership groups versus the old ones. If you look at Boston, Chicago and us, we started differently, and we still carry some of our baggage from the past with us."
That baggage includes an intimate knowledge of what happens when teams overstretch the bounds of reasonable spending.
"You can't say on the one side — and this is what happened in WPS — you have to have a sustainable business model and economic status to make this league sustainable, and then on the other side enforce very rich, high-end requirements on standards as it relates to the fan experience or operationally," Hofstetter said. "For [MLS teams], there's very little incremental cost for a women's professional soccer team. For them, they focus very much on the revenue generation. A team like us, everything is incremental cost. Every single dollar that we have to spend more matters."
At least on the field, the NWSL has something MLS doesn't: players making the jump to the U.S. in their prime. FIFA Ballon d'Or winner Nadine Angerer plays in Portland, as does up-and-coming Spanish star Verónica Boquete.
MLS has excellent infrastructure and is trying to improve the quality of its players; NWSL's problem — and WPS and WUSA before it — is close to the exact opposite.
"The signings of Frank Lampard and David Villa [at New York City FC] and all that is showing where the league wants to go," Harvey said. "The NWSL is already here — it already attracts the best players in the world."
She said continuing to draw that top talent is the way forward, while also ensuring NWSL is a prime destination for U.S. national team players. The next wave of player and fan attention could come after the Women's World Cup in 2015, hosted in a country that provides a large number of NWSL players in Canada, followed closely by the 2016 Summer Olympics in Brazil. Favorable time difference to Brazil should provide multiple viewing opportunities, as it did for the 2014 World Cup.
After the 2011 World Cup, fans packed WPS stadiums to see those stars in their own backyards. Before the Olympics could provide a second surge, the league folded. As long as the NWSL remains sustainable for two more years, the support it receives following those two tournaments could be crucial, especially on the lower rungs of the attendance ladder.
"That's something we're definitely looking forward to," Hofstetter said. "I think we'll have two good years and two good chances."