Energized Brek Shea still in club limbo after USA call-up, transfer deadline
Brek Shea often finds himself feeling a bit torn when Stoke City takes the field. It can resemble a "lose-lose situation," he says.
Turn away, and he misses out on the excitement of seeing the club he joined 19 months ago compete in soccer's highest-profile league. And he has friends wearing those red-and-white stripes. But watch, and he's forced to confront the pain unfiltered.
"It's frustrating. I'm not out there playing. I should be out there playing," he told SI.com.
Shea, 24, has appeared in five games for Stoke's senior squad – most recently in November 2013 – and there almost surely won't be a sixth. His only recent action has come with the reserves and he hasn't trained with the Premier League Potters in weeks.
"Basically, [Stoke manager Mark Hughes] said he doesn't have me in his plans and he wants to work with the guys in his plans," Shea said. "I'd rather him tell me than not tell me. It was kind of obvious, anyway. It wasn't a surprise. I'd rather him be honest and give me the chance to sort something out for myself."
STRAUS: Klinsmann turns to youth to face Czechs
Shea is working on it, even now that the transfer window has closed, and Wednesday's U.S. national team friendly against the Czech Republic has afforded him two welcome opportunities. The first came Saturday, when the need to run errands prior to Sunday's flight to Prague removed the angst of having to decide whether to watch Stoke upset Manchester City without him. He was happy following along on Twitter. The second will come at the Stadion Letná, where a healthy and hungry Shea should make his first international appearance in nearly six months.
"I just want to show the national team fans, the people back in America, and coaches here, that I'm still here and I'm looking to play," he said. "Things haven't gone my way but I feel strong and I feel fit. I'm excited to get into camp and to prove that and to show everyone -- if I'm given a chance."
U.S. Soccer does Landon Donovan right with October friendly sendoff
A chance is about all Shea is seeking after more than a year of disappointment, obstacle and injury – some of which was self-inflicted. He knows he lacks leverage. But he remains confident. It's been a frustrating road for the Texan attacker, an increasingly accomplished artist off the field who's proven that, in the right circumstances, he can paint some pretty pictures on it.
Shea was an MLS MVP finalist in 2011 and a promising international prospect. He was part of the U.S. squad that triumphed at the Estadio Azteca in 2012 and kicked off World Cup qualifying that fall. He then left FC Dallas on a $4 million transfer in January 2013. But since then, Shea has discovered that the English experience was far tougher than he imagined.
"It was an adjustment – a hard adjustment," Shea said. "It's very different, first with the weather being so grey all the time and then you have to realize how big soccer is over here. Every little thing a player does is magnified times 10 and that can get kind of annoying. I had a few incidents on social media I learned from early on. I think I've gotten the hang of it. I'm used to it. I've adjusted."
Shea tells a story about the day he made his debut at Stoke's Britannia Stadium. He was among the reserves warming up along the sideline when the coaching staff called him over. The Potters trailed West Ham United, 1-0, as Shea made his way toward the scorers' table.
"I started jogging over and the fans in our home stadium started yelling at me that I wasn't sprinting. 'You're not excited to play.' Actually I can't use the words they were saying. It's my first game and they're already treating me like this and I haven't even played," Shea said. "You can be a hero one minute and the complete opposite the next."
MORE: USA to face Honduras, Ecuador in October
He'd come from a culture where camaraderie was celebrated and where playing in Europe was the stuff of dreams. But the Premier League's slick packaging doesn't reveal the challenges underneath the surface. Shea was slow to adjust and as he dealt with a broken foot and then an injured groin, the frustration mounted. Meanwhile, the coach who brought him to Stoke, Tony Pulis, left the club.
"It's more like a 9-5 job over here. In America, you're having fun and you're with a group of friends. It's still very serious – you want to win – but you have that camaraderie," Shea said. "From what I've seen here, it's just different. It's a job. You go in and you go home and in MLS, you have a team barbecue once a week. You hang with people outside the facility. You don't really do that here. Everyone has their family, their own friends."
He recalled fondly his days in Dallas.
"When we went to the MLS Cup final [in 2010], the whole team was crazy," he said. "Everyone hanging out with everyone off the field – everyone was friends with everyone. I remember [former FCD and U.S. defender] Heath Pearce saying, 'You'll never be on a team like this again.' Another player, Eric Avila, and me were both, 'What are you talking about?'"
Shea struggled to find his niche. He painted – his Left Foot Studios project is a presence in both the art and youth soccer scenes in Dallas – and looked forward to the 2013 CONCACAF Gold Cup, when he'd see his first consistent action in months. Shea, feeling "normal" for the first time in a while, made his mark. He played in all six games and scored the only goals of the group-stage defeat of Costa Rica and the final victory over Panama.
"The camaraderie in that tournament and that team, I think that's why we won," he said.
Two days after lifting the Gold Cup, Shea sprained his MCL during Stoke's friendly against the Philadelphia Union. He missed most of his first preseason under Hughes, started a League Cup match vs. third-tier Walsall, was removed at halftime and made only two more appearances that fall. A subsequent stint at Barnsley ended in acrimony.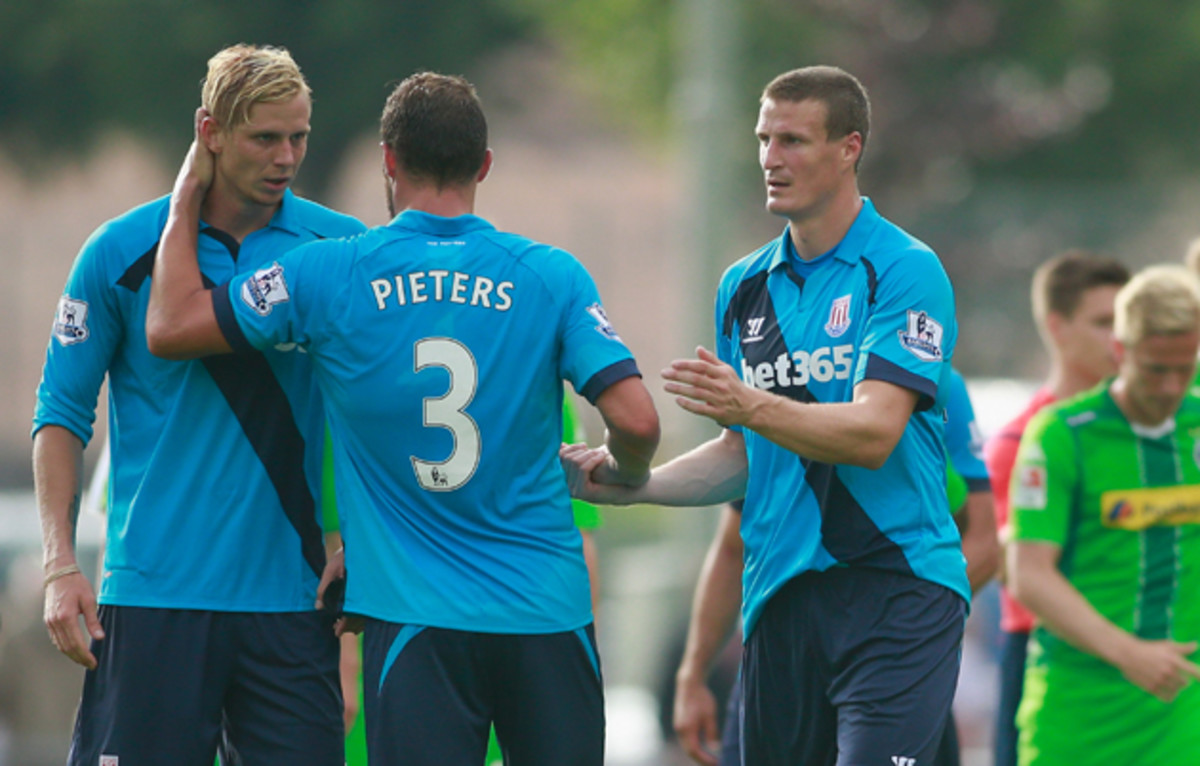 Shea played eight games for the Championship club in two months but saw his loan cut short following an incident at Huddersfield. After coming to the aid of teammate Stephen Dawson during a confrontation with Barnsley's traveling support, Shea directed an obscene gesture toward an abusive fan. Twice, Dawson advanced toward his antagonists and twice, Shea pulled him back. Then, the finger. It was a mistake, especially in a sporting culture where everything is "magnified times 10." Shea apologized unreservedly, but the damage had been done.
"These were our own fans. I didn't really understand what they were doing," he recalled. "In the end I was looking out for a teammate. Obviously, I shouldn't have done it. But it got blown way out of proportion. I still get stuff from Barnsley fans on Twitter. You can see how much it means to them."
He was on the outside looking in at Stoke after that and, much to his chagrin, was left off the 30-man preliminary World Cup roster. Shea returned to Texas over the summer, put together an art show in early July that benefited the Cancer Support Community of North Texas, spent time with youth players and watched the World Cup.
Meantime, rumors swirled. He trained with Orlando City, which is ascending to MLS next year. Would Shea consider a return to MLS? Would anyone else in Europe give him a chance? He has three years remaining on his contract with Stoke and is convinced he still has the skill and style to change a game – if he can get one.
The possibility of an August move was there. There was interest in Germany, notably from 1860 Munich and FC Nürnberg, which pleased U.S. coach Jurgen Klinsmann. Cypriot power APOEL Nicosia considered Shea when searching for reinforcements for its upcoming UEFA Champions League campaign but wound up settling for Norwegian veteran John Arne Riise.
STRAUS: Julian Green seals loan move from Bayern to Hamburg
Loan deals can be complicated and with a move abroad now impossible before January, Shea's best option is a short-team deal with a Championship club. He said he's ready and willing and that he's even put his paintbrushes away in recent weeks in order to focus on forging a new future.
"I would say that I do play my best when I'm having fun and when I'm comfortable. I think it shows," he said. "But I think this year I've come back from the summer knowing what to expect, having been here more than a year and knowing what it's like, the lifestyle. I think I'm a lot more prepared this year."
Shea now lives in Manchester, and although he still doesn't have cable, he's found friends, restaurants and shops – "a comfortable system" – that have helped him adjust. He's been energized further by Klinsmann's invitation. It's an opportunity to remind everyone of the player he really is. Wearing a U.S. jersey will represent a welcome taste of home. But as excited as he is to play for his country, he's willing to put off a permanent return.
"When I was younger, the first European club that jumped at me, obviously I wanted to sign. We see the highlight shows and it looks like the greatest thing in the world. Now that I've been over here and seen it, I realize you've got to fight for the right opportunity, the right team, the right players – instead of just the first opportunity," he said.
"I'd be excited to go back [to MLS] because that's where I made my name and I had success there, but I want to prove that I can play here. If I left without doing that, I would be very frustrated with myself," he said. "I want to give it another shot."