Inside the SuperClubs: Bayern great Beckenbauer recalls time in USA
All week Planet Futbol will delve into the SuperClub that is Bayern Munich, covering the German franchise's celebrated past and present while profiling some of its legendary players and biggest names. This is the third part of the series.
PORTLAND, Ore. — On a gorgeous August day, the greatest German soccer player in history is back in the Pacific Northwest, flashing a wide smile as he thinks back to a game he played for the New York Cosmos here in 1977.
"It was the first Soccer Bowl!" says Franz Beckenbauer, whose eyes still glint with the memory at age 69. "It was Pelé's last game in the league."
Inside the SuperClubs: How Bayern Munich emerged as a world power
The Cosmos beat Seattle in that game 2-1, and it was just one of many highlights for Beckenbauer during his five-year American adventure. During our first interview for SI, back in 2005, Beckenbauer pulled out a black-and-white photograph of him sitting by a swimming pool with some of his Cosmos teammates back in the 1970s. When you spent your days playing with the most memorable soccer team in U.S. history and your nights hanging at Studio 54 with Pelé and the gang, well, life was good.
"It was the greatest time of my life," says Beckenbauer. "I could walk down 5th Avenue and some Europeans or South Americans might say hello, but the Americans didn't know about me. All my teammates lived in Hoboken or Fort Lee [in New Jersey], but a friend of mine said, 'Don't go there. Stay in Manhattan.' And he was right. I stayed in the Central Park area, and it was the best time of my life."
Bundesliga titles (1968-69, 1971-72, 1972-73, 1973-74, 1981-82)
European Cups (1974, 1975, 1976)

World Cup (1974)

European Championship (1972)

Ballon d'Or (1972, 1976)
NASL titles (1977, 1978, 1980)
NASL MVP (1977)
FIFA World Cup All-Time Team (1994)
Beckenbauer's career, of course, has been the stuff of legend. Five Bundesliga titles. Three European Cups. Two World Cup titles, one as a player (in 1974) and one as a manager (in '90). Three NASL crowns with the Cosmos.
He also served as a director to bring Bayern back from a crisis in the early 1990s, and then he merely led the organization of the successful World Cup 2006 in Germany. Beckenbauer was also a member of the FIFA executive committee, but a couple years ago he decided to dial things down. He still had two children at home, and he wanted to get off the road for a while.
• BIRD: Bayern Munich goalkeeper Manuel Neuer is in a class of his own
"I had years when I was traveling 230 days in a year," he says. "It was too much. Giving up those positions—FIFA, UEFA, the German federation, president of Bayern Munich—was the best decision I ever made. But I have many, many things to learn still, and I am commentating on television. Things I like to do."
What's more, he recently organized and staged the first "Camp Beckenbauer" in Austria, which seeks to be a sort of Davos for the soccer set. The first edition was a success.
When Beckenbauer looks at MLS today and compares it to the NASL of his day, he doesn't see the same thing.
• ​MORE: Bayern captain Lahm to miss three months with ankle fracture
"It's night and day," he says. "We were like the pioneers. By 1977 we had all the great stars [outside the Cosmos] like Johan Cruyff, Gerd Müller, George Best. They all played once in America. But we played on artificial turf and on baseball fields with lines. Now you have your own stadiums. It's different. Soccer is part of the sports now in the U.S."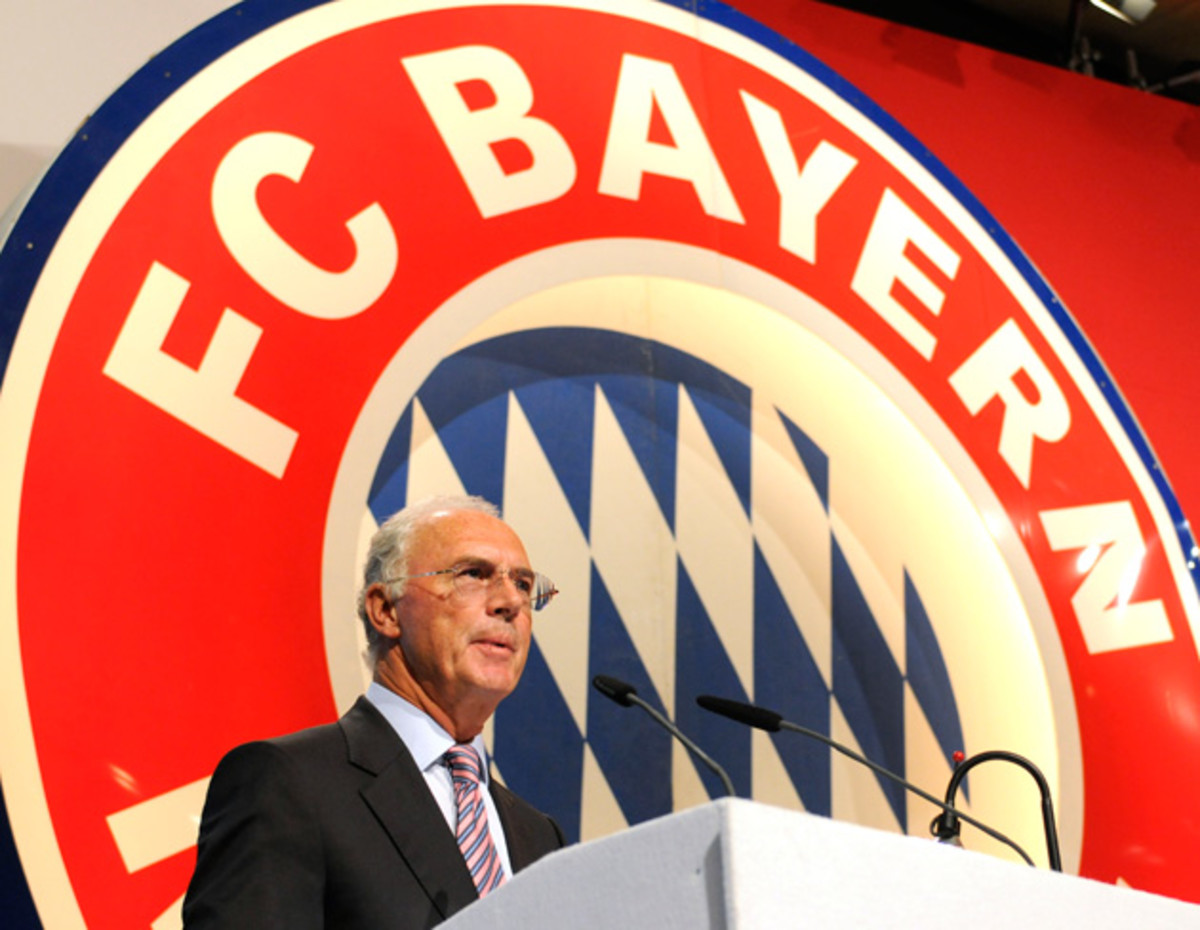 But as soccer has grown in the U.S., so too has Bayern in recent years. It's worth pointing out that when Beckenbauer first joined Bayern it wasn't yet even part of the Bundesliga. Only after he joined the team, and other stars arrived, did Bayern start to become what we think of it today. For his part, Beckenbauer pinpoints World Cup 2006 as the launchpad for the modern Bayern Munich.
"The big change was 2006, not only for Bayern but for the rest of the league," he says. "They get new stadiums and rebuild the stadiums. Then from this moment you have a lot better possibilities. You have more money for the players. The Olympic Stadium was a beautiful stadium, but it was a track-and-field stadium built in the early 1970s. Now we have a totally new modern stadium and many world-class players come to Bayern."
GALLERY: Bayern Munich through the years
FC Bayern Munich Through the Years
1900
A Munich gymnastics club refuses to let eleven of its members join the German Football Association, so those eleven form Bayern Munich as a standalone football club that same evening.
1965
Franz Beckenbauer and Bayern Munich enter the Bundesliga for the first time, having been passed over for the initial collection of teams in favor of 1860 Munich. They win the DFB-Pokal (German Cup) in their first season and finish third in the league.
1967
The club captures its first European trophy, winning the 1967 Winner's Cup with an extra-time victory over Glasgow Rangers.
1970
Udo Lattek is hired as head coach. In two different stints in charge of the club, Lattek (seen here in '87) would coach for more days (over 3,000) and win more trophies (10) than any other coach in the club's history.
1971
The club moves from the Grunwalder Stadion to the Olympiastadion, which had been built for the 1972 Summer Olympics. It would be Bayern's home for 35 years.
1972
Bayern Munich defeats Schalke 5-1 in the first live televised match in Bundesliga history, winning that season's league title as a result.
1974
The club wins its first European Cup (now Champions League), 4-0 over Atletico Madrid. It goes on to win the competition the subsequent two years as well.
1974
The club signs Karl-Heinz Rummenigge. The striker would go on to score 162 goals for the club and is currently the CEO of the corporation that owns Bayern Munich.
1976
The club wins its first international trophy, defeating Brazilian club Cruzeiro to win the Intercontinental Cup (now abolished).
1987
Jupp Heynckes is hired as head coach. He would win two Bundesligas and two Super Cups.
1993
Norwich City defeats Lothar Matthaus and Bayern Munich 2-1 at the Olympiastadion in the UEFA Cup (now Europa League), the only time a British club was able to defeat Bayern at its old home ground.
1996
With Franz Beckenbauer as interim manager, Bayern wins the UEFA Cup final against Bordeaux, the only time they have won the competition.
1998
Ottmar Hitzfeld is hired as head coach. He would go on to coach the second-most total games and win the second-most total honors in club history (both behind Uto Lattek).
1999
Bayern loses the Champions League final in extra time to Manchester United.
2001
Bayern wins its third consecutive Bundesliga title with a stoppage-time goal against Hamburg from Patrik Andersson on a rare free kick from inside the penalty area.
2001
Bayern wins the Champions League after defeating Valencia on penalty kicks at the San Siro in Milan, Italy.
2001
Bayern wins the Intercontinental Cup in extra time against Boca Juniors, thanks to a goal from Samuel Kuffour.
2005
The club moves from the Olympiastadion to the newly-built Allianz Arena, which they share with local rivals 1860 Munich.
2008
The club hires Jurgen Klinsmann (left) as head coach following his success with the German national team at the 2006 World Cup. He is fired 10 months later.
2012
Bayern reaches the final of the Champions League in its home stadium, but loses on penalties to Chelsea. It is the first time the club is defeated by an English team in Munich.
2013
Bayern Munich wins the Bundesliga with six games left, the earliest a champion has ever secured the title. Bayern also sets the record for most points in a season, most wins in a season, and fewest defeats.
2013
Bayern wins the Champions League over rivals Borussia Dortmund with a 2-1 win at Wembley Stadium.
2013
Bayern completes the first treble in German soccer history, winning the DFB-Pokal via a 3-2 triumph over Stuttgart.
2014
Bayern ends a Bundesliga record 54-game stretch without losing by falling 1-0 to FC Augsburg.
2014
Bayern breaks its own record, securing the Bundesliga title with seven matches remaining.
2014
Club president Uli Hoeness, who had reigned since 1979, resigns after being convicted of tax fraud.
2014
The club opens offices in the Unites States in an attempt to expand its international reach.
2015
Robert Lewandowski holds up all five fingers–one for each goal he scored in a nine-minute span in a memorable 5-1 win over Bundesliga foe Wolfsburg.
​