Tenemos Que Ganar: D.C. United's everlasting stadium quest nears end
D.C. United's Nov. 25 tweet contained the news. But Muriel Bowser's hashtag told the story.
Two days before Thanksgiving, the MLS club announced via the social networking site that revised legislation designed to pave the way for the construction of a long-awaited soccer stadium in the nation's capital had been approved unanimously by a city council committee. Bowser, a council member and Washington's mayor elect, quoted the tweet and added, simply, "#Vamos."
It's been the primary soundtrack throughout nearly two decades of pro soccer in D.C., heard several times a game from the bouncing, northeast stands inside RFK Stadium, where the Screaming Eagles and Barra Brava still set the tone:
"Vamos,
Vamos United. 
Que esta noche,
Tenemos que ganar…."
United got it right from the beginning. Most MLS originals took the field in 1996 with cheesy, incomprehensible nicknames and garish uniforms that were obsolete the moment the focus group adjourned. D.C. veered toward the traditional. In fact, "The Tradition Begins" was the organization's original slogan. It was a bold, perhaps arrogant, statement of intent. But United followed through. 
The classy black kits with the white stripes across the jersey and shorts, the early understanding that standing and singing supporters – not suburban families – would shape the future of the match-day experience and a dynamic style of play engineered by the likes of Marco Etcheverry and Jaime Moreno, combined to set a standard that left the rest of the league chasing.
"Que esta noche, Tenemos que ganar," roughly translates to "Tonight, we must win." And D.C. did on most of them.
Q&A: Bruce Arena on Donovan, Klinsmann and future of soccer in U.S.
Three MLS Cup championships in its first four years, along with a U.S. Open Cup, a CONCACAF Champions Cup and the 1998 InterAmerican Cup established United as a dynasty in a league designed to prevent them. But the river of silverware slowed as coach Bruce Arena's juggernaut broke apart and other clubs found their footing. Once a fortress, RFK became a hindrance as rivals tapped into the competitive and financial advantages that newer, soccer-specific stadiums provided.
United's value dropped. Opened in 1961, RFK was a money pit that sapped the patience of successive owners. The club has been losing $7-$10 million per season at the old edifice, according to a recent report commissioned by the city. From George Soros and Phil Anschutz to Victor MacFarlane and Christian Laettner, investors came and went without making a dent in the District dirt.
Long-time United president and CEO Kevin Payne and cautious or ambivalent politicians were the common threads. The club's pursuit of a riverfront site at Poplar Point dragged on for two years and finally fizzled in early 2009 when the city opted not to put public money toward construction. Shortly thereafter, a tentative deal in suburban Prince George's County was scuttled by local officials. United flirted with Baltimore in 2010. That was as much about survival as it was about leverage. Time was running out.
"I've been through a number of these talks," said midfielder Chris Pontius, who joined United in 2009. "When you look at Kansas City, what their stadium's done for their city and their fans, it's pretty impressive. We're a city that has a soccer culture … For us, a club that's been here from the beginning, it would be huge for us in every way."
Supporters waiting for the latest stadium push to fall apart shouldn't be blamed. "The Tradition Begins" has evolved into, at best, "Wake me when there are shovels in the ground."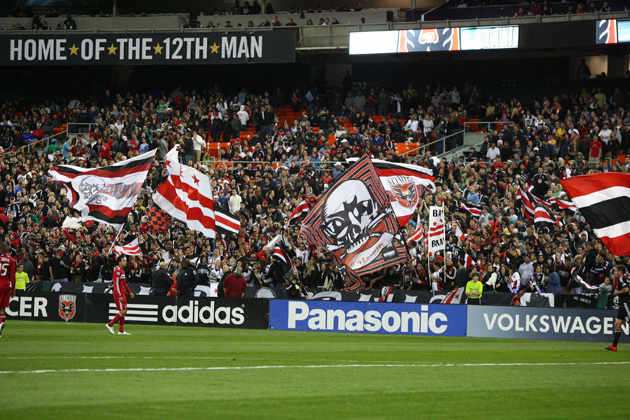 As negotiations progressed between United's current managing general partner, Jason Levien, D.C mayor Vincent Gray and his city administrator, Allen Lew, plenty of potential pitfalls arose. Months of silence followed the $300 million, 2013 agreement that targeted land on Buzzard Point, not far from Nationals Park in Southwest Washington. The city would furnish the real estate and infrastructure while the club paid for the building. But a complex series of land swaps involving several property owners would be required to seal the deal.
Experiencing a LegenD: Reflections on covering Landon Donovan's career
Meanwhile, United was in freefall, on its way to a historically awful season on the field. The front office had been gutted. And the 2014 mayoral election was around the corner. Politics, ego and patronage would be a factor. Several officials expressed concern that the Frank D. Reeves Municipal Center, a government office building that helped revitalize the U Street corridor after it was opened in the mid-1980s by late former mayor Marion Barry, was too valuable to include in a swap with Akridge, the commercial real estate firm that owned land at Buzzard Point. 
Bowser was among them, and her easy triumph in November's mayoral election could have spelled doom for United. But it was the details of Gray's deal that concerned her, not the principle.
While questioning the wisdom behind the swaps, she told NewsChannel 8 last month, "I think it's a very tremendous thing for the council members of the District of Columbia, the mayor of the District of Columbia and the next mayor of the District of Columbia to say that we're willing to put up public dollars, a public investment, to make sure we keep soccer in the District of Columbia … I want soccer. I want D.C. United."
That must have been music to the Barra Brava's ears. Vamos.
The Reeves Center swap was removed from the bill and on Dec. 2, the council voted unanimously to spend up to $150 million for land acquisition and basic infrastructure. The source of that funding was the subject of a showdown between Gray and council chair Phil Mendelson. Here, at last, was the trap door. Then on Thursday morning, Gray and Mendelson moved past their initial "dustup" and agreed to a new supplementary budget that would provide the money.
"The important thing is that we need to focus on soccer," Mendelson told reporters.
After MLS Cup battle, complex tug-of-war begins off field with CBA talks
Now, all that stands between the club and a genuine home of its own is a final legislative session scheduled for Dec. 17. Compared to the potential obstacles already avoided or overcome, that vote is a formality. Time and again, at so many points where past promise would have gone unfulfilled, the city and club have focused on soccer. D.C. United very well could be playing in a new, 20,000-seat stadium in 2017.
"We see a pathway, and we also know we're going to have to use our machete to get there," Levien famously said in the summer of 2012 when he and his partner, Indonesian media and sports magnate Erick Thohir, assumed majority ownership of United from Will Chang, who maintains a minority stake.
Levien, a former attorney, sports agent and NBA executive, seemed to possess the sort of charisma and conviction that gets things done. Now 43, he knew D.C. from his days as a Georgetown University student, a Democratic political strategist and a lawyer at Williams & Connolly, and he traveled straight from the ownership announcement at the W Hotel to meet with Mayor Gray.
"I had a long talk with him and said, 'Listen, we just closed. We just announced it. How do we get to 'yes'? How do we get this done?'" Levien told SI.com. "Our ownership group's reputation was on the line the moment we came in and said we were going to find a new home for D.C. United, that we were going to refresh the brand and take it to another level in terms of innovation and have D.C. United jump back into the lead in Major League Soccer in terms of being cutting edge and being at the forefront of what's happening in the sport. We had a lot invested in doing that."
Gray's point man and primary negotiator was Lew, the no-nonsense New Yorker who had worked for the city in various capacities and helped drive construction of both the baseball stadium and the $811 million Washington Convention Center. In Levien, another New York City native, Lew saw a kindred spirit.
"This is an ownership group that seemed to be very much interested in solving the stadium issue for D.C. United and instead of all the back-and-forth, the going to Baltimore or somewhere else, it was just, 'Let's put our cards on the table. We want to stay in D.C. and that's why we want to do a deal,'" Lew said. "I'm really not a big fan of B.S. And I think most of us have limited time. I don't have a lot of time for idle chit-chat."
Levien's cards read as follows: United wasn't going to entertain overtures from Maryland or Virginia, and the club, backed by Thohir, was going to fund construction of the city-owned stadium to the tune of approximately $150 million. United also would absorb any overruns. Lew was intrigued by the opportunity to spur development on Buzzard Point, which could be described kindly as "industrial." Like Gray and Bowser, he appreciated soccer's stature in the cosmopolitan capital even though he wasn't raised with the sport.
Klinsmann, U.S. Soccer officials reveal plans for youth development
"The world is getting so much smaller, and this city, particularly in the last 10 years, has transformed into more of a world-class city, with much more cultural diversity from different parts of the world," Lew said.
He'd seen development surge around Verizon Center, the NHL and NBA arena built in 1997 under a similar public-private partnership, and appreciated the fact that Levien was committed to cooperating.
"Jason is someone who stays calm and focused and doesn't get all riled up," Lew said. "Some people, when they're negotiating, they feel like they have to disagree with you. He doesn't have that. He understands what you're trying to do and once we figured out what we were both trying to do, I believe, and he does also, that a really good deal that's a win-win is the only kind of deal that's going to be a long-term relationship. If it's anything like a win-lose deal, the other party is always going to be looking to get out of it or unravel the deal."
Gray unveiled the initial term sheet at a news conference in July 2013. But stagnation followed. While the gears of government turned ever so slowly, the team appeared to be crumbling faster than its old concrete stadium. The 2012 season ended with a run to the MLS Cup semifinals, but an overhaul was coming. Payne, the face of the club since day one, left for Toronto FC. Executive VP Stephen Zack and senior director, ticket operations and customer service Fred Matthes, both United originals, were cut loose as well, along with several others.
The club stayed quiet as the 2013 campaign emerged dead on arrival. It was in no rush to spend money amid so much red ink and there appeared to be little motivation to replace departed staffers. By the time Gray and Levien met the media in July, United was in the MLS cellar at 2-14-4. Coach Ben Olsen's team stuck together and won a shocking U.S. Open Cup title that fall, but finished the season with only three regular season victories. Chief marketing officer Doug Hicks, who'd been with the club since 2001, was one of several veterans laid off in the ensuing weeks.
Meanwhile, fans wondered whether United remained a priority for ownership. Levien returned to the NBA in late 2012 as the CEO of the Memphis Grizzlies, and in October 2013, Thohir took over Inter Milan. The mood inside RFK soured as Levien's former lieutenant, attorney David Mincberg, wielded the axe and as speculation mounted that COO Mike Williamson would move to Italy to assist in Thohir's new venture. Average attendance last year fell to 13,646, the lowest in club history.
"I'm focused on being a doer and results person and at some point the talking needed to stop," Levien said when asked to explain the awkward transition. "We needed to deliver. We needed to deliver a new home for the team. We needed to deliver a better product on the pitch. I think it was quiet on the surface and if I can use the swimming analogy, we were kicking very hard under the surface trying to make things happen. It wasn't a lack of interest or passion or work effort. We were doing all those things. Let's let the results speak for themselves."
MLS to expand playoff field to 12 in 2015, will add extra knockout games
This year, it all came together. Levien made a brave decision that many outside RFK considered a gamble – he let Olsen and GM Dave Kasper keep their jobs.
Armed with a unique double-dose of allocation money thanks to the last place finish and Open Cup triumph, the pair set out to rebuild the roster, focusing on adding proven MLS talent to a relatively young core.
Levien flew to California himself to woo U.S. national team forward Eddie Johnson over breakfast, and in February, after Williamson left for Milan, he appointed Tom Hunt as the club's new COO. Hunt and Levien got to know each other while working for the Sacramento Kings.
Hunt, who left the parent company of the Washington Capitals, Wizards and Mystics to join United, faced numerous challenges. He couldn't sell stadium naming rights or suites and earned no money from concessions. He had to market a rebuilding team and an antiquated building.
"Our share of the voice in this market, I've said it since I got here, is a whisper. It's a huge problem for us. We have to do a better job of getting out there and telling people who we are," Hunt said.
D.C.'s season ticket rolls (full-season equivalents) numbered approximately 4,000 and Hunt said he didn't have the sort of marketing data required to target new customers. Thohir and Levien invested in that and in bolstering the front office. A VP of stadium development and operations and new directors of marketing and community relations were hired after the 2013 season and a director of communications finally came aboard last May.
"I don't think we operate on the cheap. We have the resources that we need. We want to spend smartly," Hunt said. "Every time we've talked to [Levien and Thohir] and talked about our needs, our needs have been met. Every time. We're replacing our turf field, which we absolutely need to replace. That's a $350,000 expense. We're buying new servers. We're looking at all areas of the business at this point, saying 'What could we do here and what could carry over into the new stadium?'"
Both Lew and Hunt said Levien, who lives in New York, was available when needed. Nevertheless, his May 2014 departure from the Grizzlies may have been a blessing in disguise. Stadium talks were set to get serious, and the timing couldn't have been better. United was much improved on the field, 7-4-4 when the World Cup kicked off, and the tournament then galvanized fans throughout the city. Across the World Cup's 64 matches, Washington posted the highest average English-language TV rating in the country.
"The energy is there. This is the right time. Whether it's all the World Cup momentum, it's hard to put into words. Momentum is an incredible thing," Hunt said.
D.C. United shows commitment to Ben Olsen with multi-year extension
United finished the regular season in first place in the Eastern Conference – a remarkable turnaround from the debacle in 2013 – and drew 20,187 fans to its playoff game against the New York Red Bulls. Olsen signed a contract extension in September, and last week, he was named MLS Coach of the year. Average regular season attendance rose nearly 25 percent to 17,030, the highest figure in six seasons. Cynics no longer could claim this was a team and a fan base unworthy of a new stadium.
"We definitely knew that for momentum purposes, for the club pushing it, I think that's something we knew that we could control," Pontius said of the improved results.
Levien looked back on his decision to retain Olsen and Kasper and summed up a significant portion of the club's journey since he took over.
"I took a lot of criticism for that, personally, and I think our whole group did," he said. "I was happy about it, because it showed the passion of the fans. It showed how much people care. But when you step away from that passion, we have decisions to make where we have information and we know the people involved and we've got to go make a decision that's going to benefit the club."
He added, "That was a lot of adversity: loss after loss after loss, shutout after shutout. To keep guys showing up, working hard, was important."
The same can be said for Levien. He's been in frequent contact with Lew, Bowser and the city council and has remained confident through the myriad twists and turns. He now is on the verge of a breakthrough nearly two decades in the making. Akridge, the developer, might balk at the price offered by the District, which may in turn use eminent domain to purchase the remaining parcel of land at Buzzard Point. D.C. officials believe it will get done. There's wiggle room between the $139 million authorized Thursday and the $150 million cap on the city's contributions.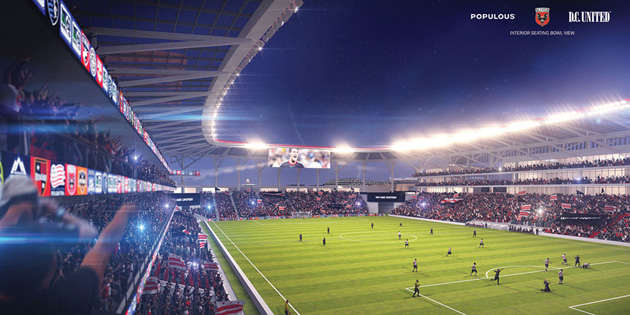 Potential snags remain. Building a stadium isn't easy. Inter represents a massive reclamation project and there have been rumors that Levien is looking to get back into the NBA. United may not be a first-place team next season. But none of those issues have scared off Gray, Bowser or the council. Their enthusiasm for the club is a game-changer.
Levien confirmed he and his partner would stick around to enjoy the fruits of their labor.
"There's no plan to build a stadium and flip the team. As much as we want to be fiscally responsible and we want to make this into an investment, certainly, it's a passion play for Erick. It's a passion play for me. There's a real enjoyment and excitement," Levien said, adding that he and Thohir connect on WhatsApp during United matches.
"Erick was at the [2012] playoff with me, the Red Bulls game where we got snowed out and came back the next night. We were shoveling snow together to try to get the field ready. He loves it. He has a strong connection to the United States. He went to school here. His brother went to college here. He's got a home in L.A. He's not as removed as you would think."
By shovel or machete, they'll get United on the field.
Said Pontius, the club's longest-serving player, "Jason has done a good job, and Erick and Will have put him in the right spot to do that job. We've seen their enthusiasm for us when they come around. It's real. It's real. They really are pushing it, and maybe that's why the stadium is getting closer than ever."