Landon Donovan's MLS legacy grows with MVP trophy naming honor
PHILADELPHIA – Landon Donovan won the MLS MVP award only once during his 14-year career. He was a finalist just twice. But the league, led by commissioner Don Garber, left no doubt Thursday that the recently retired LA Galaxy forward always will be considered its most valuable player. Therefore, from 2015 on, the MLS MVP trophy will be named in Donovan's honor.
"We will have players coming in and out of league for a generation to come, but we are what we are because Landon made the decision to come here," Garber said following a short downtown ceremony. "Landon put us on the map here and his play – both for the league and the national team – said, 'We can get this. We can do this. We can stand toe-to-toe. We're going to be a rising country and a country to be contended with around the world. And that's why we named our MVP trophy after him. Without Landon, there's no MLS where it is today, without doubt."
Experiencing a LegenD: Reflections on covering Landon Donovan's career
Donovan's relentless consistency may have worked against him. He never stood out because he always stood out. Each brilliant season bled into the next and only once, in 2009, was he the top vote getter. Yet there were eight other years in which he compiled more regular season goals and assists than during his MVP campaign. Apart from MVP wins, Donovan holds just about every meaningful record for club and country. And he ended his glittering career last month with an unprecedented sixth MLS championship.
Garber compared Donovan to Wayne Gretzky and Michael Jordan, who claimed a combined 14 NHL and NBA MVP awards. But the comparison wasn't about trophies. It was about impact.
"After my initial disbelief, the phone call from Don and after talking to my family, that's where my mind went," Donovan said when asked about how it felt to be compared to other legends whose names are associated with major awards. "I'm a big hockey fan, and you think about the Hart Trophy, the Conn Smythe. Obviously the Heisman and Bill Russell, all those sorts of things. It's really cool. I think that in the long term, it'll probably be more relevant and more special as this league explodes and continues to do well. For me, I'm just proud. I'm very proud of having an award like that named after me."
There were occasions following Donovan's August retirement announcement when the spotlight didn't feel so comfortable. His mini-farewell tour became a burden at times and a distraction at others. Garber joked Thursday that LA coach Bruce Arena thought announcing the league's "no-brainer" of a decision to name its MVP award for Donovan before the season's conclusion "probably wasn't the best idea." But now that the games are done with, Donovan was happy to bask in the honor.
"Today felt totally different for me," he said. "Seeing all the people that have been there from day one, it makes you appreciate what you've put into it because when you're in this day-to-day, you sort of lose sight of that. When you realize what you put in from day one, and you get to this place, it's really cool."
2015 MLS SuperDraft: As It Happened
Donovan's parents, sister, nephew and girlfriend were among the speakers in a video tribute played during the event. The former player clearly was moved by their inclusion and made several references to the "sacrifices" required to put him in position to succeed.
"They deserve something like this as much as I do and I'm glad – I'm really glad – that this was done."
So now what?
Donovan appeared a lot slimmer than a man who made several references to the prospect of eating whatever he wanted during retirement.
"I lost weight, man. I don't know what happened. It think you lose a lot of muscle, you know? Give me a few months," he said.
Landon Donovan's 57 USA goals: By minute, location, opponent
During that time, and perhaps for longer, he'll plot the next phase of his life. Donovan is 32. Options are plentiful. He said he's been playing golf and tennis while reveling in the fact that training camp isn't looming.
He referenced the possibility of taking college classes and said he looks forward to watching some of his matches on video now that "all the pressure's off." Soccer never will be far away.
"I grew up with this league and I love this league and I want to continue to be a part of it. That, for me, is easy. The question is, what kind of formal involvement will I have, if any," he said. "There's fortunately been significant interest, and that's great. I need to make sure that whatever I do next, I'm passionate about – as passionate as I've been about playing."
Said Garber, "He should take some time to figure out what he wants to do. He's a very young man and he's got a life head of him to figure that out. He's had no shortage of challenges to figure out in his life and that in itself is something I hope he can do, to take time and have a Landon 2.0 – relaunch himself when he's ready to do that."
Rapid fire with Landon Donovan: Top opponent, goal, advice and more
Donovan will remain in Philadelphia on Friday and participate in a discussion session at the annual National Soccer Coaches Association of America convention, which takes place annually alongside the MLS draft. He said he enjoyed spending time at the hotel adjacent to the convention center on Wednesday evening, circulating among representatives from other clubs who now feel more like colleagues than competitors.
And he took an opportunity to fulfill yet another childhood dream on Thursday as he was called to the podium by Garber to open the draft. Donovan didn't play in college and initially was acquired by MLS on loan from Germany's Bayer Leverkusen. He missed out on the draft-day thrill as a teenager. So this time he took the stage, wished the assembled draft prospects the best of luck and said, "I'm a sports fan and I've always wanted to do this: Orlando City, you're officially on the clock!"
He then stepped away, passing the torch and leaving the 20th MLS season to kick off without him. But perhaps one of the players whose name was called Thursday will win the award bearing Donovan's name. He'll be Donovan's heir in more ways than one.
"He created special moments that began to etch our sport in the social consciousness of our entire nation, providing a platform for our league to be one of the great impetuses for growing a soccer nation," Garber said. "[The honor] was about trying to establish a permanent, lasting legacy that will be around long after many of us in this room are no longer associated with Major League Soccer."
GALLERY: Classic Landon Donovan photos
Landon Donovan Classic Photos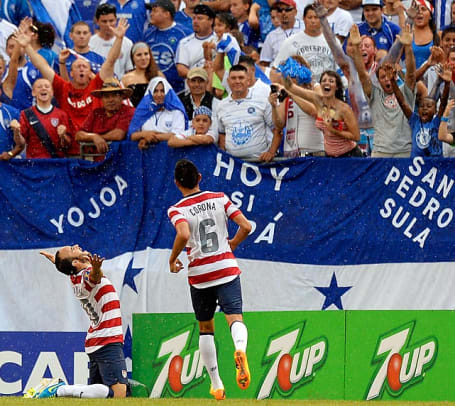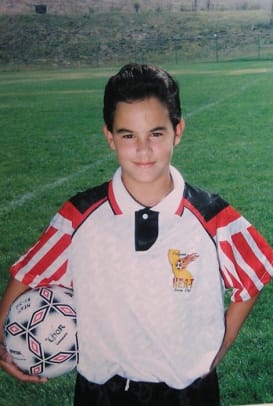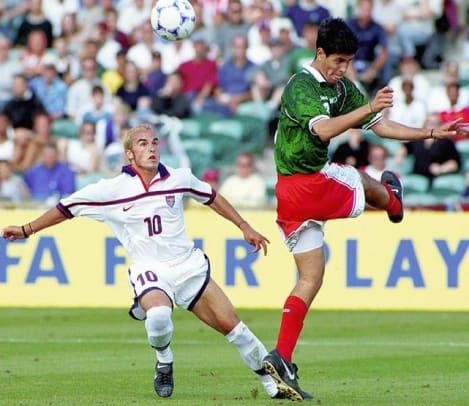 ​