Walter Bahr's memories of late 1950 World Cup teammate Frank Borghi
You'll have to give 87-year-old Walter Bahr some credit for having a wry sense of humor on a tough day when he lost his old friend, Frank Borghi, the goalkeeper on their 1950 U.S. World Cup team. Yes, that team, the one that beat England 1-0 in perhaps the greatest upset in World Cup history.
Borghi died in St. Louis on Monday night at age 89, and when Bahr was told that he's now the last surviving member of the 1950 team, he said from his home in western Pennsylvania: "Well, that's not quite true. I'm half-dead."
Legendary U.S. national team goalkeeper Frank Borghi dies at 89
Bahr has seen several of his old '50 teammates leave us in recent years: Harry Keough and Clarkie Souza a month apart in 2012, Gino Pariani in 2007, Nick DiOrio in 2003. When he learned of Borghi's passing on Tuesday, he tried calling Borghi's wife, Rose Marie, but nobody answered. He said he'd try again later.
"Frank was one of the nicest people you'd want to meet, and he was an outstanding goalkeeper," said Bahr, who coached the Penn State men's team from 1974 to '88. "Frank had an ability to play the whole goal area, and he was sharper than most goalkeepers in coming off his line. Lots of people gave the credit for that ability to his baseball talents."
Indeed, Borghi was good enough to play catcher for two years in the St. Louis Cardinals organization.
More than a good goalkeeper, Bahr said, Borghi was a terrific teammate: "He was always one of the best goalkeepers for cheering players up after a game if someone had cost us a goal. Frank would never complain, and he never put the blame on anyone else."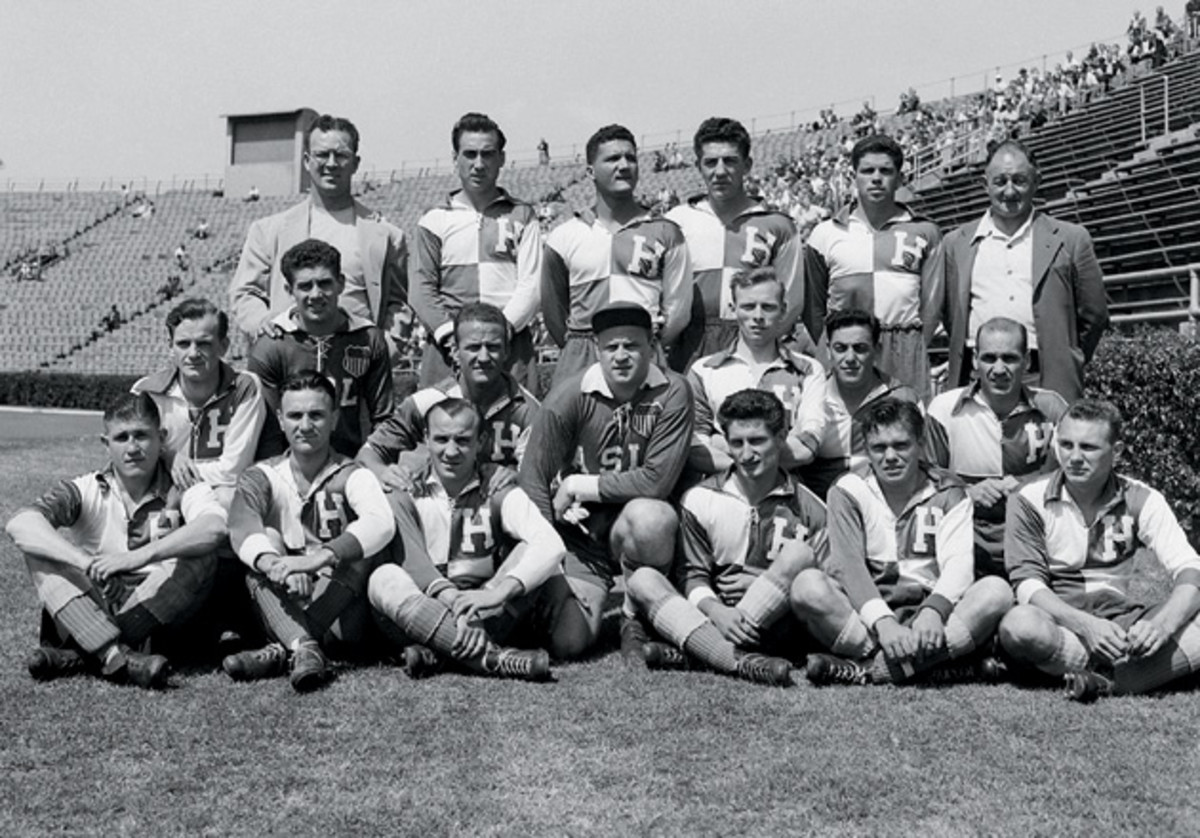 Borghi, who would go on to own a funeral home in St. Louis, had already led an amazing life long before the 1950 World Cup. During World War II, he won a Bronze Star and the Purple Heart, according to the St. Louis Soccer Hall of Fame. Bahr told me I should look up the World War II story about Borghi and another famous St. Louis resident, the Hall of Fame sports broadcaster Jack Buck. And so I spent part of the afternoon in the SI Library tracking down Buck's memoir, That's A Winner! (Sagamore Publishing, 1997).
In March 1945, during the final months of the war, Buck writes that he was assigned to K company, 47th regiment, 9th infantry division, and trucked to the front near the town of Remagen, Germany. On March 15, Buck was wounded (though not severely) by German shrapnel in the left arm and leg. A medic bandaged the wound and called for a jeep to pick Buck up.
In 1975, long after he became a famous broadcaster, Buck was the emcee at a banquet in St. Louis where Borghi was being honored. Buck writes:
"We were seated at the head table, and we talked about the 9th infantry division. I asked him what regiment he was in, and he said the 47th. I said I was also. I asked him what regiment he was in, and he said the 47th. I said I was also. I asked him what company he was in, and he told me he was in K company. So was I. I asked what he did in K company, and he told me he was a medic. I asked how many medics there were in K company after we crossed the Remagen Bridge. He told me he was the only one, because the other medic had been wounded. We determined that he was the medic who bandaged me the morning I was hit. That's unbelievable."
Frank Borghi saw duty in North Africa, Sicily, Normandy and Germany. And though he was involved in one of the greatest upsets in sports history, it probably wasn't the most remarkable thing he achieved. He's survived by Rose Marie, seven children and an untold number of admirers, friends and teammates like Walter Bahr.