USMNT misses chance to fully change tone, course with Switzerland lapses
Early in Jurgen Klinsmann's tenure as the U.S. men's national team coach, his team got some historic results in away friendlies. A 1-0 win at Italy. Another 1-0 win at Mexico. It was easy to say they were just friendlies, that results in these games don't matter, and to a large extent that was right.
But those weren't totally meaningless games. They set a tone for Klinsmann's U.S. outfit and an expectation that the U.S. would be a team that was hard to play against, a team that on any given day could beat any opponent in the world. That tone carried through to World Cup 2014, when the U.S. survived a difficult group and continued being hard to play against, a tough out, even if the Americans were often outpossessed and outplayed.
USA improves, but indiscipline, late concession lead to Switzerland draw
​The U.S. didn't play badly in its 1-1 tie against Switzerland in Zurich on Tuesday. In fact, there was more to like in this game than in many recent ones. Brek Shea hit a world-class free kick to put the Americans ahead late in the first half. Klinsmann put more players in their natural positions, like Gyasi Zardes (up top) and Alejandro Bedoya (wide right), and voila! Bedoya may have been the U.S.'s best player.
Even though Michael Bradley continued to be deployed too high up the field, at least he had two teammates in front of him to work with and fullbacks who got forward from time to time to deliver crosses.
As a result, this could have been a tone-changing game for the U.S., a chance to reestablish some of that mojo that we saw early in Klinsmann's tenure.
But instead of being hard to beat, the U.S. beat itself in the second half. Jozy Altidore picked up a foolish red card—you can't scream Eff You at a referee, as a veteran like Altidore should know—and from that point a talented Swiss team dominated the game.
Chances came. In the end, it was hard to tell which was more discouraging: Valentin Stocker's 80th-minute equalizer off a set-piece, which seemed almost inevitable, or the image of Timmy Chandler, having played Stocker onside by three yards, raising his hand in a limp appeal to the referee for offside.
Insider Notes: Bedoya bucks trend, USWNT WC roster, Adu in Finland
In the last eight games, the U.S. has allowed eight goals in the 80th minute or later. It happened again on Tuesday, another instance in the pattern of the U.S. being at its worst during crunch-time, and it has become the dominant tone of the U.S. team during the period following World Cup 2014. You can try to explain it away by citing the multiple substitutions that take place in the second halves of friendlies, but that would be missing the point.
If your team has an identity, you could put anyone in that shirt out on the field and the expectations would and should be the same.
On Tuesday, the U.S. had an opportunity to change the tone. It became a missed opportunity.
Re-living USA vs. Switzerland: 1994 World Cup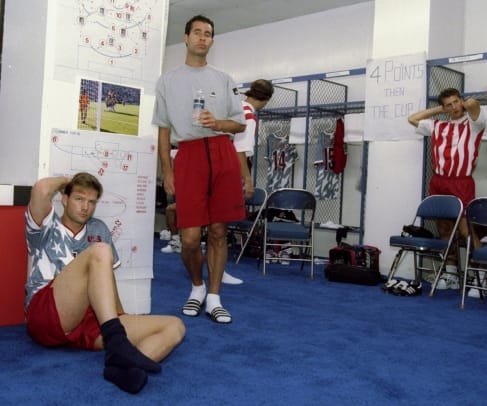 ​