MLS Power Rankings Week 5: 'Caps overcome LA; Porter-Pareja fracas
The Vancouver Whitecaps continued their impressive season last weekend by defeating a team that frequently haunts them in Major League Soccer. On the other end of the table, the Colorado Rapids and Philadelphia Union continued their winless streaks, with Colorado's reaching an astounding 18 games dating back to last season.
Everything in the middle remained predictably unpredictable, as teams jostled for position both in the standings and in opponents' minds for future meetings. Entering the second month of the season, it's nearing the time when patterns will become difficult to break.
Here are a few thoughts after the fifth week of MLS play:
Orlando City SC needs a finisher
Kaká has been one of the best players in the league for a team playing some of the most attractive soccer in MLS, creating multiple scoring opportunities per game. Underneath him, Amobi Okugo continues to do the thankless work of an underrated defensive midfielder. In the attacking third, though, is where the Lions suffer.
NASL seeks to outgrow 'minor league' label as fifth year kicks off
​Kaká has created more chances than any other player, as his 14 key passes leads the league. The 32-year-old Brazilian also leads his team with two of its four goals in five games. Orlando has been outshot in just one match in 2015—oddly, it was the one in which it scored two goals—but has the second-worst percentage of its shots on target in the league.
Perhaps the lesson here is that Kaká is an early candidate for MVP, but the more likely scenario is that the Lions just need a forward to start banging in goals.
Pedro Ribeiro, Danny Mwanga and Carlos Rivas have all started, but only Ribeiro has scored and forced an own goal from Houston Dynamo goalkeeper Tyler Deric, and now he's out injured.
Cascadia is on the rise
Quality play, big-name players and entertainment value, backed by some of the most vocal and colorful supporters in the league, make the Pacific Northwest a cauldron for the game in North America. All three Cascadia teams won difficult home contests last weekend, and teams on the I-5 corridor have scored the most goals at home in the league through three matches each.
Critiquing every MLS uniform, head to toe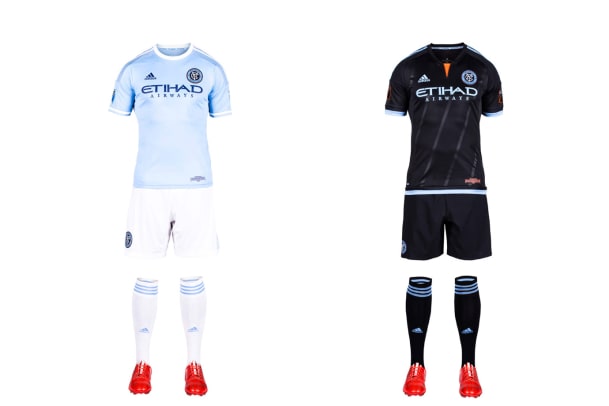 Vancouver has quickly climbed to the top of the Supporters' Shield standings, beating a team in the LA Galaxy that it has struggled to compete with for much of its MLS existence. The Seattle Sounders continued to get big production out of their Designated Players, with Obafemi Martins coming through on another creative goal in a win against the Houston Dynamo.
The Portland Timbers remain something of a wild-card team, still looking for a steady run of results despite a fairly consistent level of play.
They handed FC Dallas its first loss of the season—but also dropped points late against the Galaxy and Whitecaps in prior weeks. Once they figure it out, though, look out: the Timbers again seem to be built for success over the long haul of a season, even if they need some time to figure it out at the start.
It's nice to see some real emotion in MLS games
The debacle between managers Caleb Porter and Óscar Pareja that took place in lieu of the traditional post-match handshake on Saturday is the latest example of raw sentiment spilling into living rooms across the country from viewers' television sets. This kind of stuff is great for the league.
Watch: Caleb Porter, Oscar Pareja exchange words after Timbers win
Porter seems to be involved in his fair share of these moments, and this one adds to his highlight reel of capers that already involved Pep Guardiola, Bruce Arena and Carl Robinson.
It's refreshing to see a coach not restrained by the stitching on his designer suits—somebody whose real-time reactions overwhelm the suffocating notion of "class" that permeates so much of American sports.
Soccer is a passionate game that cannot, and should not, be sterilized if it is to truly be unleashed in the U.S. Players and coaches must have their space to be real, as that kind of untempered fire and passion will only increase the league's reach. Emotion is what fans tune in to see, along with the ever-improving play on the field.
MLS has improved, even since the end of last season
That on-field substance has palpably ameliorated since 2014, minus the week the league didn't take off for FIFA international dates. It's becoming more difficult—and I've been as guilty as any in the past—to shoehorn all MLS teams into the same category with regard to their identities and level of play.
The league is slowly becoming less homogenous, with academies growing roots and better players regularly joining from overseas. Some have cultivated obvious styles of play under current management—Vancouver, Portland, Orlando, the Columbus Crew and San Jose Earthquakes—while others still fight to find themselves, but the tactical nuance is generally improving.
The big danger is becoming satisfied with minimal growth and settling for pure entertainment value rather than true quality, such as in the Premier League and the mishmash between Sporting Kansas City and the Union on Sunday. It's always difficult to draw broad-form conclusions on just a few weeks of play, and plenty of space for continued growth remains, but the improvement in MLS has been obvious in 2015 more than any other year.
Week 5 Best XI
GOALKEEPER: Bill Hamid (D.C. United)
DEFENDERS: Kendall Waston (Vancouver Whitecaps), Clarence Goodson (San Jose Earthquakes), Nat Borchers (Portland Timbers)
MIDFIELDERS: Roger Espinoza (Sporting Kansas City), Diego Chará (Portland Timbers), Kekuta Manneh (Vancouver Whitecaps), Javier Morales (Real Salt Lake), Harry Shipp (Chicago Fire)
FORWARDS: Sebastian Giovinco (Toronto FC), Shaun Maloney (Chicago Fire)
1. Vancouver Whitecaps
PREVIOUS: 1
RECORD: 4-1-0 | This week 2-0 vs. LA
MLS's early leading scorer, Octavio Rivero, struck again as the Whitecaps defeated LA for just the second time in franchise history.
2. Seattle Sounders
PREVIOUS: 4
RECORD: 2-1-1 | This week 1-0 vs. Houston
Seattle held off to win on Obafemi Martins' spin-and-shoot against the Dynamo, which came less than 20 minutes before Gonzalo Pineda saw a straight red card.
3. New York Red Bulls
PREVIOUS: 3
RECORD: 2-0-1 | This week Off
A bye came at an inopportune moment for the Red Bulls, who now have to wait a week after winning two in a row — including one against their next opponent, D.C.
4. FC Dallas
PREVIOUS: 2
RECORD: 3-1-1 | Last week 1-3 at Portland
In a tough Providence Park environment, Dallas stumbled for the first time this year, and manager Óscar Pareja showed his frustration in instigating a post-game fracas with opposite number Caleb Porter.
5. Real Salt Lake
PREVIOUS: 8
RECORD: 2-0-2 | This week 1-0 at San Jose
After narrowly defeating Toronto a couple weeks ago, Salt Lake came away from Avaya Stadium with another one-goal victory, thanks again to Javier Morales.
6. D.C. United
PREVIOUS: 9
RECORD: 3-1-0 | This week 1-0 at Orlando
After a massive effort from Bill Hamid in goal, D.C. stole all three points at the Citrus Bowl through Luis Silva's 91st-minute free kick.
7. Los Angeles Galaxy
PREVIOUS: 5
RECORD: 1-2-2 | This week 0-2 at Vancouver
The Galaxy have lost twice in a row for the first time since June 2013, when it happened two times in the span of a month.
8. San Jose Earthquakes
PREVIOUS: 6
RECORD: 2-3-0 | This week 0-1 vs. Salt Lake
Two losses bookend a couple wins for the Earthquakes, who have struggled to find a consistent level of form so far in 2015.
9. Orlando City SC
PREVIOUS: 7
RECORD: 1-2-2 | This week 0-1 vs. D.C.
For the second week in a row, Orlando lost on a stoppage-time set piece; the Lions are forming an unfortunate habit of being the better team in games, yet failing to win.
10. Columbus Crew
PREVIOUS: 10
RECORD: 1-2-0 | This week Off
Columbus took a week off before flying coast-to-coast for upcoming matches at Vancouver and New England three days apart this week.
11. Portland Timbers
PREVIOUS: 14
RECORD: 1-1-3 | This week 3-1 vs. Dallas
It took Portland five matches to find its first win of the year, which seems like a while but is still shorter than the eight-match winless streak with which the Timbers opened the 2014 season.
12. Sporting Kansas City
PREVIOUS: 15
RECORD: 2-1-2 | This week 3-2 vs. Philadelphia
Dom Dwyer's first goal of the year and two stoppage-time goals completed a crazy game in which Sporting KC trailed twice but prevailed over the struggling Union.
13. New York City FC
PREVIOUS: 12
RECORD: 1-1-2 | This week Off
After its week off, NYCFC plays a bizarre home-and-away series against Philadelphia within a five-day span.
14. Chicago Fire
PREVIOUS: 18
RECORD: 2-3-0 | This week 3-2 vs. Toronto
Things can change quickly in MLS, and the Fire's second win in two weeks against likely playoff bubble teams move it up to fourth in the Eastern Conference at this early stage of the season.
15. New England Revolution
PREVIOUS: 16
RECORD: 2-2-1 | Last week 2-0 at Colorado
Looking for something of a career rejuvenation, Juan Agudelo scored his first goal of 2015 on a neat flick with the outside of his foot early in a win over the Rapids.
16. Houston Dynamo
PREVIOUS: 11
RECORD: 1-2-2 | This week 0-1 at Seattle
Despite being a man up for the last 34 minutes and outshooting the Sounders 16-5 (10-2 in that final span), the Dynamo couldn't come up with a point on the road in Seattle.
17. Toronto FC
PREVIOUS: 13
RECORD: 1-3-0 | This week 2-3 at Chicago
Toronto's attack has all the pieces it needs to be successful, but the Reds will have to become more consistent defensively for that to translate to anything in the league table.
18. Montreal Impact
PREVIOUS: 17
RECORD: 0-1-2 | This week Off
Montreal needs its time off more than any other club with a 5,000-mile round trip to Costa Rica looming in CONCACAF Champions League.
19. Philadelphia Union
PREVIOUS: 20
RECORD: 0-3-2 | This week 2-3 at Kansas City
Philadelphia's bizarre relationship with the goalkeeper's union continues, as Raïs M'Bolhi hasn't inspired much confidence with his early 2015 form.
20. Colorado Rapids
PREVIOUS: 19
RECORD: 0-1-3 | This week 0-2 vs. New England
Colorado's winless streak moved to 18 games on Saturday, matching Salt Lake's league record from 2004 to 2005, and it's also been 10 hours of match play since Pablo Mastroeni's team scored a goal.