USMNT roster for Mexico friendly offers opportunity for younger players
United States head coach Jurgen Klinsmann named 22 players to his roster ahead of a friendly against Mexico on Wednesday
United States head coach Jurgen Klinsmann named 22 players to his roster ahead of a friendly against Mexico on Wednesday in San Antonio. The announcement came Sunday evening, after most of the weekend matches finished and most players were on their way to San Antonio.
"Well obviously, it's a huge opportunity playing Mexico in any kind of environment and in any kind of game," Klinsmann said in a U.S. Soccer release. "These are the games where you mature and where you try to express yourself and show what you have, and therefore we are thankful that we can play this game."
The match comes in a unique window, not on an official FIFA date, meaning clubs were not required to release their players to either team. As a result, Mexico and the U.S. selected players largely based in North America.
U.S. dominates New Zealand 4-0, but work remains before World Cup
Both teams will have their full player pools available this summer for the CONCACAF Gold Cup, so this could be a chance for more unknown quantities in the player pool to state their case for inclusion. However, Klinsmann played down the pressure on the fringe players in his squad for this one-off friendly.
"This game doesn't really help you to kind of zoom in because you're restricted to the players that you just have available now," Klinsmann said, "but it's a great opportunity for everyone individually to show where they are right now."
Meanwhile, Mexico manager Miguel Herrera called in a squad entirely comprising Liga MX players, although in-form striker Oribe Peralta was left off for personal reasons. Peralta has scored five goals in Club América's last eight matches.
Here's a look at the U.S. roster for Wednesday's friendly against Mexico:
Goalkeepers
Bill Hamid (D.C. United), Nick Rimando (Real Salt Lake), William Yarbrough (Club León)
After a strong start to the MLS season, Bill Hamid joins the two goalkeepers who saw time in March friendlies in Denmark and Switzerland on this roster. As the experienced hand, Nick Rimando will likely start again, though it wouldn't be surprising to see either Hamid or William Yarbrough play the second half.
It's a unique situation for Yarbrough, who is still being tracked by Mexico manager Miguel Herrera. He's eligible to play for El Tri and cannot be cap-tied to the U.S. until the Gold Cup at soonest.
Neither Hamid nor Yarbrough head into the camp in the best form.
• MORE: Podcast is back | Orlando: USA's new hotbed?
On either side of his second-half appearance against Switzerland, Yarbrough conceded five goals in each of two matches for Club León, which sits near the bottom of the Liga MX table. On Sunday, his team lost 1-0 on a late goal to Chivas de Guadalajara, which sent Chivas to the top of the standings.
Meanwhile, a rare mistake from Hamid allowed the New York Red Bulls to equalize in the 90th minute against D.C. United on Saturday. He couldn't hold a bouncing free kick from Sacha Klještan, and Lloyd Sam tapped it in to steal two points from D.C. at home.
Defenders
Ventura Alvarado (Club America), Matt Besler (Sporting Kansas City), Brad Evans (Seattle Sounders FC), Greg Garza (Club Tijuana), Omar Gonzalez (LA Galaxy), Michael Orozco (Puebla), Brek Shea (Orlando City SC), DeAndre Yedlin (Tottenham Hotspur)
The U.S. will be looking for some stability in the back, having conceded 15 goals in the last quarter-hour of the last 15 matches.
The back line houses one of two players on this roster who play for non-North American clubs, at least when he actually plays there. Klinsmann has used Tottenham Hotspur and former Seattle Sounders fullback DeAndre Yedlin at right back and on the wing, most notably at the 2014 World Cup.
USMNT trends: Results aside, key developments from March matches
He also played higher on the field in both March friendlies for the U.S. Yedlin made his Premier League debut on Saturday after failing to crack the 18-man game-day roster up to that point, playing 11 minutes at right back in a 1-0 loss to Aston Villa.
Omar Gonzalez and Matt Besler return to Klinsmann's team together for the first time since the World Cup, which they entered as the team's No. 1 central defensive pairing. Klinsmann has experimented with various combinations since then, including a three-back system.
Michael Orozco featured in a few of those experiments, and Brek Shea has become a more regular member of the team at left back. Brad Evans, whom Klinsmann played at right back in qualifiers and cut just before the World Cup, has played in central defense for Seattle since the start of the season.
Ventura Alvarado, another Mexican dual national, and Greg Garza also return to the squad after joining the U.S. in Europe last month.
[Editor's note: Orozco was taken off the roster Monday morning and replaced by D.C. United midfielder Perry Kitchen.]
​Midfielders
Kyle Beckerman (Real Salt Lake), Michael Bradley (Toronto FC), Joe Corona (Club Tijuana), Mix Diskerud (New York City FC), Miguel Ibarra (Minnesota United FC), Lee Nguyen (New England Revolution)
The midfield offers a contrast between players at the beginning of their national team careers and those closer to the end. While Minnesota United winger Miguel Ibarra represents the former end of the spectrum, Real Salt Lake midfield general Kyle Beckerman is on the other.
However, Klinsmann emphasized that players always have a chance to get onto his squad if they play well, regardless of their age.
"It's very important that the players understand that even if they're not with us for a long stretch of time, that they're always observed," Klinsmann said. "There's always an open door, no matter what phase of your career you are [in], as long as you show that with your performances."
• MORE: Klinsmann continues to experiment tactically
Beckerman has turned in several steady performances for RSL this year, while Lee Nguyen's return from injury is complete with this call-up. Joe Corona joins him as another option in the No. 10 role, where the U.S. has lacked a presence in recent matches.
The selections offer a number of options for Klinsmann in terms of his system, whether he wants to play one or two holding midfielders or a diamond in midfield. Ibarra is perhaps the most traditional winger listed as a midfielder by U.S. Soccer, but Yedlin, Evans and Shea can all move up from the back line, and Julian Green can also play there.
Michael Bradley seems set to reprise his role as captain in Clint Dempsey's continued absence, while Jermaine Jones doesn't seem far enough along in his injury recovery to return to the team yet.
Forwards
Juan Agudelo (New England Revolution), Julian Green (Hamburg), Jordan Morris (Stanford University), Chris Wondolowski (San Jose Earthquakes), Gyasi Zardes (LA Galaxy)
Dempsey missed the Seattle Sounders' match on Sunday after injuring the thigh opposite to the one he hurt in the last U.S. camp that caused him to leave early. Jozy Altidore also misses out, suspended after his second-half red card against Switzerland (yes, red cards carry over in friendlies).
That opens the door for some other familiar names to return. Younger players Juan Agudelo, Jordan Morris and Gyasi Zardes rejoin the team, and Green leaves an unfavorable club situation at Hamburg to possibly see some minutes at forward or on the wing for the U.S.
NASL seeks to outgrow 'minor league' label as fifth year kicks off
"If you look at the roster, there is no Brad Guzan nor Fabian Johnson, no Jozy Altidore, no Alejandro Bedoya no Clint Dempsey. Mexico is in a similar situation," Klinsmann said, noting the selection restrictions on both teams. "When these players, like Dempsey and Altidore now, are not there, that's the moment for other players to use that space and show what you have."
Green has not played for Hamburg's first team since November, last appearing for the reserves on March 7. Meanwhile, Morris joined the U.S. in Switzerland after scoring a goal and adding an assist for the under-23 team against Bosnia-Herzegovina four days prior.
Agudelo scored his first goal since returning to MLS in the New England Revolution's 2-0 win over the Colorado Rapids on April 4. Chris Wondolowski has three tallies for the San Jose Earthquakes this season.
GALLERY: U.S. Soccer in 2015
The Year in Photos: U.S. Soccer in 2015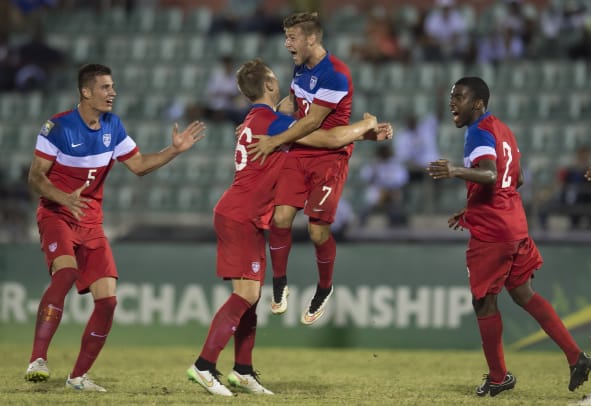 ​