Circumstances have evolved, but USA-Mexico remains a special rivalry
SAN ANTONIO – A sellout crowd of around 65,000 will fill the Alamodome here on Wednesday for a weeknight exhibition game between two teams missing many of their best players. That's the power of USA-Mexico.
"It's like a game in New York City under the bright lights. It brings the media out. Everything's a bit highlighted. It's just a special game. It really is," U.S. midfielder Kyle Beckerman said. "It brings out the best in both countries and it just seems to make it an exciting game, no matter what."
Beckerman's U.S. and Real Salt Lake teammate, goalkeeper Nick Rimando, said prior to practice on Monday that he already could feel the difference. USA-Mexico is no ordinary game, even when the schedule, stakes and rosters suggest it should be.
Amid new faces, unexpected long-term USMNT players keep returning
"It's the biggest game, for sure—for us, for sure. Coming into the game, the lead up to this game, has always been about how big this game is and these two countries in the past—the games, the rivalry, the history between these two," he said. "It gets the juices flowing really quick. I think the last meeting, it was in Arizona [in April 2014], you could just feel it before you even get to the stadium. When you get to the stadium, you feel it even more."
If the USA-Mexico rivalry still generates that sort of buzz for the players, it does so under evolved circumstances. Rimando represents part of that evolution. The Inland Empire-born son of a Mexican father, Rimando is one of seven players on the current 22-man U.S. roster who theoretically could have played for Mexico. Defenders Omar Gonzalez, Greg Garza and Ventura Alvarado, plus midfielders Joe Corona and Miguel Ibarra, each have Mexican parents. Goalkeeper William Yarbrough is the Mexican-born son of Americans.
The increased blending of families and cultures on either side of the border, not to mention the sport's rising popularity in the U.S., has resulted in greater parity between the countries and more integration between American and Mexican soccer. U.S. players once were a rarity in the Mexican professional ranks. Now, there are more of them in Liga MX than in any other top-tier circuit outside MLS. Americans have won championships and a goal scoring title (Herculez Gomez, 2010) there. U.S. youth players are scouted by Mexican academies, and MLS clubs are gradually becoming more competitive against Liga MX rivals.
USMNT roster for Mexico friendly offers opportunity for younger players
In other words, in both countries, the soccer played on the other side of the border doesn't feel nearly as foreign as it used to.
"We are very proud of them, that they stand in their position in the Liga MX … having them now as part of our program means a lot to us," U.S. coach Jurgen Klinsmann said here regarding his Mexican-based players. "They're fully integrated. They're part of the group, absolutely no problem at all."
The ability of American players to survive and thrive in Liga MX is testament to the improvement and increased professionalism of the sport in the U.S., which marks the biggest change in the rivalry. As recently as a quarter century ago, USA-Mexico was no contest and American soccer was an afterthought. At the start of the 1990s, the U.S. national team had a 2-23-3 record vs. Mexico. But the Americans' historic qualification for the 1990 World Cup, from which Mexico was banned, altered the landscape.
| | |
| --- | --- |
| 1991 | USA stuns Mexico in Gold Cup semifinal en route to first regional title. |
| 1995 | USA beats Mexico in penalty shootout in Copa America quarterfinals in Uruguay. |
| 1997 | 10-man USA earns 0-0 World Cup qualifying draw at Estadio Azteca. |
| 2001 | USA beats Mexico 2-0 in World Cup qualifier in Columbus, the first of four straight Dos-A-Cero WCQ results at Crew Stadium. |
| 2002 | USA beats Mexico 2-0 in World Cup round of 16 in South Korea. Brian McBride, Landon Donovan score the goals. |
| 2007 | Benny Feilhaber's stunning volley lifts USA to 2-1 win over Mexico in Gold Cup final. |
| 2009 | In one of a series of violent encounters throughout the years, Rafa Marquez goes studs up on Tim Howard, gets sent off. |
| 2011 | Mexico routs USA in Gold Cup final, which ends up being Bob Bradley's last game as USA manager. |
| 2012 | Michael Orozco's goal delivers USA its first win at Estadio Azteca. |
| 2013 | With its rival's fate in its control, USA rallies to beat Panama, keeping Mexico alive in 2014 World Cup qualifying. |
The following year, a more confident U.S. stunned El Tri by the soon-to-be-familiar score of 2-0 in the CONCACAF Gold Cup semifinals (goals by John Doyle and Peter Vermes). Mexico coach Manuel Lapuente was fired, the U.S. went on to win its first continental title and a rivalry was born.
The stakes at that point were clear. For the U.S., Mexico represented the clear CONCACAF standard. El Tri was the benchmark. To compete in the world's game, Americans first had to figure out how to compete in their own backyard.
For Mexico, the pitch represented one meaningful place where domination over its powerful neighbor was assured. It was a matter of identity and self esteem. Mexico would fight fiercely to hold on to its dominant position.
Twenty-five years later, the Yanks and El Tri are relative equals. There is a natural ebb and flow to the rivalry. If one side has the upper hand, roles soon will reverse. Since 2000, the U.S. is an impressive 12-5-5 against El Tri, and the Americans are unbeaten at 2-0-3 under Klinsmann.
Mexico has won six Gold Cup titles since the CONCACAF championship was expanded and rebranded in 1991 to the Americans' five. Bragging rights are split. Mexico has won four of the five Gold Cup finals between the nations. But the U.S. won the biggest game of all, the 2002 World Cup round-of-16 showdown in South Korea.
That history and those meaningful, and occasionally violent, matches add to the lore and inject gravitas into subsequent matchups. You never know when the next iconic moment or controversy will occur.
"What's unique about U.S.-Mexico at this point, especially for this generation of players, is that we've grown up with this game," said U.S. veteran Michael Bradley, who has scored four goals against Mexico. "We can remember, at least on the American side, we remember [qualifiers] in Columbus. We can remember the game in the World Cup in 2002. I've been lucky enough to be part of a bunch, and so it means a lot. These are special games … There's a buzz and an excitement that surrounds these games that's different than any other. As players, we look forward to those."
Different, yes. But does it retain the same meaning as American ambitions and benchmarks evolve? Two decades ago, it was about matching Mexico. Now, Klinsmann has set a different challenge. From the start, the ambitious U.S. manager has asked his players to demand more of themselves and their team. Staying static and worrying about backyard bragging rights won't move the program forward. Chasing, emulating and then overhauling the countries that contend for World Cups will.
So the question is, with five Gold Cups in the U.S. trophy case and three second-round berths in the past four World Cups tantalizing those who want to push the sport further, does Mexico still represent the benchmark? Does it still mean as much to beat a team you now defeat more often than not?
To Klinsmann and his players, it does—but for different reasons. USA-Mexico has evolved. In the early days of the rivalry, it was about closing the gap and gaining respect. Now, the massive reduction in that gap, both on the field and culturally, creates a sense of familiarity that continues to fuel the rivalry.
The Year in Photos: U.S. Soccer in 2015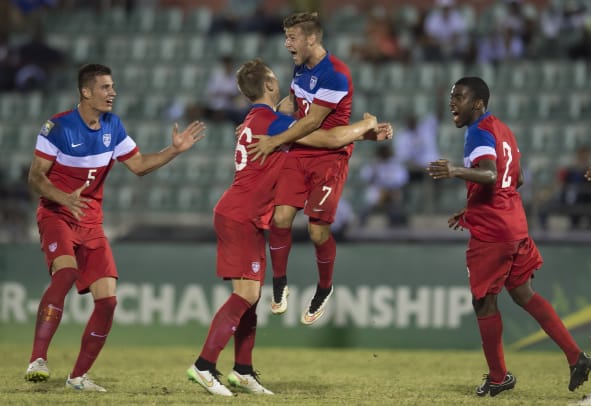 "For Mexico, it's the same ambition. They want to compete with the best in the world. They want to grow. They want to be better. Both of us want to be the No. 1 in CONCACAF," Klinsmann said, adding that both teams are seeking to stretch and challenge themselves abroad. The U.S. continues to schedule games in Europe and in June, it will visit Netherlands and Germany. Mexico will warm up for July's Gold Cup by playing in the Copa América in Chile.
"We're in very similar situations," Klinsmann said. "Around the world you have those rivalries. You have those big matchups, if you play Brazil-Argentina, in Europe you play a Germany-Holland or France-Italy. On the club level you have the big events, Barcelona-Real Madrid and whenever Tottenham and Arsenal play, Inter Milan-AC Milan. Those are special opportunities for players and they are wonderful memories for them to have later on. They are special games in their communities and for fans as well. That's what they're talking about the next couple of days to keep it alive."
Yarbrough, who made his U.S. debut in last month's 1-1 draw against Switzerland, grew up in Aguascalientes and now tends goal for Club León. He said CONCACAF's new competitive reality, and Mexico's desire to be more a global player, hasn't altered the tenor of the rivalry in his native country.
"Living in Mexico, every time there's a game against the U.S., you can just tell right away how important it is to Mexico. It's a big deal. A week prior to the game, it's something that's looked at pretty intensely down in Mexico too, just because of the rivalry that exists," Yarbrough said. "It's always been there and it'll keep being there in the future."
That's the case north of the border, as well.
"I certainly think that for us, as we try to move ourselves forward, as we try to improve, our results and performances in big games against big teams will always be important to us," Bradley said. "But nothing can ever change U.S.-Mexico."
USA vs. Mexico Soccer