Jordan Morris turns Alamodome into field of dreams for USA vs. Mexico
SAN ANTONIO – Jordan Morris's surreal San Antonio evening was summed up quite well by what he took with him as he left the cavernous Alamodome and what he was forced to leave behind.
Ever wonder what happens to those embroidered silk pennants that team captains exchange prior to kickoff? Apparently the man wearing the armband for the U.S. has some say. On Wednesday, that man was Michael Bradley, and he decided to send the banner home with Morris, the Stanford sophomore who started his first senior international and scored his first goal—the game winner—in Wednesday's uplifting 2-0 defeat of Mexico.
"For a kid like Jordan to get a goal like that is great," Bradley said.
Dos-A-Cero once again: USA beats Mexico behind Morris, Agudelo
In November, Morris became the first college student in nearly two decades to suit up for the U.S. He then entered Wednesday's friendly with two senior caps and 17 minutes of international experience. And in the 49th minute of a scoreless game played before nearly 65,000 fans, the ball fell his way after a Mexican defender blocked a pass from Gyasi Zardes to Bradley. Morris pounced quickly and made no mistake, sliding his shot under goalkeeper Cirilo Saucedo.
This from a player who was "pretty much missing everything" during pregame warmup, according to U.S. coach Jurgen Klinsmann.
That moment, along with a couple of impressive runs during the first half, put Morris in contention for U.S. Soccer's man of the match award. Ultimately, however, it went to defender Ventura Alvarado, a young defender who also earned his third cap on Wednesday. A key point of differentiation: Alvarado is 22, Morris is 20 and the award is sponsored by Budweiser. Morris was too young. The pennant would be his only reward.
In sum, Wednesday's spectacle was exhilarating—"I also blacked out a bit, didn't even know what was going on. It was such an emotional time," Morris said of the seconds after he scored—and certainly demonstrated he's a player worthy of Klinsmann's attention. But Morris still has yet to play a minute of professional soccer, and there's a long, long way to go.
"We see his improvement. We see there's a constant, positive path in him. Does he need to mature? Does he need to get stronger? All these things that will come over time," Klinsmann said following the game. "We hope we can do a lot of work [managing growth and expectations] by talking, communicating with his [Stanford] coach and him, and also to the family, and keep them with their feet on the ground. With Jordan, you have a character that is very grounded. He's a smart kid and he understands he has a long way to go, but he also understands that he has qualities that he believes in."
Morris' qualities—he's sturdy and quick, fearless and a genuine danger on the dribble—were noticed on a national level when he scored 28 goals for the Seattle Sounders U-18 team in 2012-13, a total that resulted in a U.S. Soccer Developmental Academy player of the year award he definitely was eligible to win. Morris was in contention, but ultimately failed, to make the U.S. team that competed at the 2013 FIFA U-20 World Cup, but he was called back in to train with the U-21s last year.
Circumstances have evolved, but USA-Mexico remains a special rivalry
Then, a stroke of good fortune: Klinsmann selected Stanford as the site of his pre-World Cup camp. Morris was invited to practice with and against the men who would play in Brazil, and he scored against the U.S. during a scrimmage. Morris tallied only four goals and six assists for the Cardinal during the 2014 college season, but Klinsmann already was convinced he had a player who could handle an introduction to the next level.
Morris earned his first senior national team call-up ahead of a September friendly against the Czech Republic.
"There's always two sides to it," Bradley said of the introduction of young, inexperienced players to the national team. "The first part of it is, it's up to those guys to step on to the field and relish the occasion, to understand that not every play is going to be perfect—it never is for anybody—but to enjoy it, to compete, to make sure that at the end of it their personality comes out. I think we have a number of guys who have been able to do that and then, obviously, the other part of it is the guys around them, the team, to make sure there's support, there's an ability to make sure these guys feel as comfortable as possible both on and off the field."
But Bradley followed up with a bit of a warning.
"You have to show them the way that we do things," he said. "You have to make them feel comfortable. But at the same time, you can't hold their hand every step of the way and you also then need to see form them that they're willing to take the challenge and obviously, you don't want guys who walk in at 18 years old and think that they've made it. But at the same time, you want to see a little bit of personality, a little bit of confidence. You want to see that they're now excited for the opportunity they're given. It's a balance."
Throwing young, talented players onto the big stage has been a hallmark of Klinsmann's tenure (as it was when he rebuilt the German national team in 2004-05), and the results reveal the tenuous nature of the balance Bradley described. The two most obvious examples are DeAndre Yedlin and Julian Green, surprising additions to the World Cup roster who made significant, and spectacular, contributions in Brazil.
Life hasn't been easy for either of them since, however. Yedlin, now 21, parlayed his World Cup performance into a transfer to Tottenham Hotspur and finally made his English Premier League debut last weekend. His U.S. performances have been uneven. Green, 19, was sent on loan by Bayern Munich to struggling Hamburger SV, where he's made only five first-team appearances for a club now on its fourth head coach this season.
But Klinsmann remains steadfast in his belief that, "The only way for them to grow is getting opportunities." He continues to call on players like Morris, Yedlin and Green, and others whose careers may have taken a detour. Brek Shea, now with Orlando City, is in contention to start the upcoming CONCACAF Gold Cup at left back despite a miserable two years in England. Juan Agudelo, a talented striker who scored on his international debut back in 2010, returned to MLS this season after a year abroad and played for the U.S. for the first time in more than a year on Wednesday. He relieved Morris in the 65th minute and tallied the Americans' second goal seven minutes later.
Wednesday night's game presented an ideal opportunity to give Morris and Agudelo a chance. It was a non-FIFA date, meaning Klinsmann wasn't going to bring in players based in Europe. Clint Dempsey (hamstring) and Jozy Altidore (red card suspension), the two incumbent starting forwards, were unavailable and veteran Chris Wondolowski was called into camp but then held out with a calf issue. Klinsmann started five players who were 23 or younger against Mexico, which went with an even more inexperienced lineup. Both teams would look quite different in a Gold Cup game or World Cup qualifier.
"When they get those moments and those opportunities because other ones are not here, that's huge, and that's why I wasn't worried at all playing [Morris] from the beginning," Klinsmann said. "I just hoped he just kind of calmed down after a while and isn't overthinking a game like that because it's a special atmosphere, no doubt about it."
Morris agreed.
"[I was] trying to get the nerves out in warmups a little bit," he said, acknowledging he was off target. "I've never played in an atmosphere like that before, so it was a little tough to adjust to at first, I guess. But I'm happy when I got the chance I was able to put it away."
Klinsmann told Morris on Tuesday that he'd be starting alongside Zardes, a 23-year-old with three senior caps to his credit.
The Year in Photos: U.S. Soccer in 2015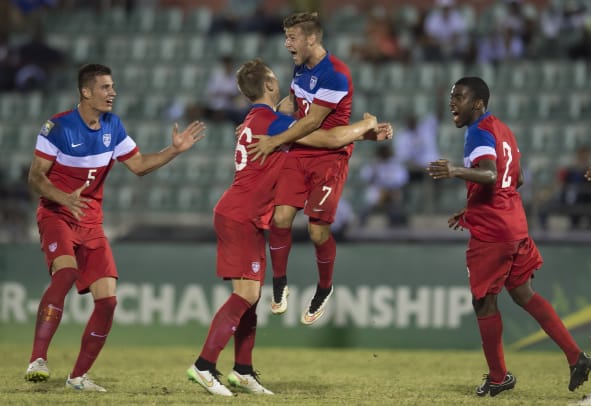 "Honestly, I was just excited. I've been dreaming about this since I was a little kid, to start, especially against a team like Mexico. It was an amazing feeling. I was nervous, but I was excited," Morris said. "Obviously it's a bigger atmosphere. The speed of play is faster. You've got to adjust a little bit. But I think the training beforehand definitely helped with that and the guys are super supportive and welcoming. It's been a great week."
That week began with a spring exhibition against Cal Poly San Luis Obispo (Morris scored the third goal in a 3-0 Stanford win), peaked with a goal against Mexico in a sold-out Alamodome and will end in class back in Palo Alto. He said he's "100% committed" to playing his junior season with the Cardinal, which leaves open the tantalizing possibility of a Pac-12 showdown against University of California freshman goalkeeper Jonathan Klinsmann, Jurgen's son.
Morris has said he'd like to sign an MLS contract with his hometown Sounders after that. His international future is unclear. He'll likely play a key role in the U.S. U-23 team's Olympic qualifying campaign this fall–he could start against Mexico's U-23s in Wednesday's friendly at StubHub Center–and clearly has earned the benefit of the doubt from Klinsmann.
The manager has said he understands Morris's preference for remaining in school and then joining Seattle, but also said Wednesday that players like Morris, "Need to grow quickly because the professional game usually starts at the age of 18 globally." Whether Morris is in contention for a Gold Cup roster spot is unknown. There's a logjam of proven forwards in front of him.
What is certain, however, is that after Wednesday night, the country will be watching.
"I honestly don't think it's really hit me yet, to be honest," a smiling Morris said in the Alamodome tunnel. "We'll see how it goes."
USA vs. Mexico Soccer