As Montreal goes for history, CCL hero Cameron Porter roots from sideline
Cameron Porter joined his Montreal Impact squad after the team's final practice before the biggest game in the club's history, the CONCACAF Champions League final second leg against Mexican power Club America (8 p.m. ET, FoxSports2), only to find that nobody wanted it to end.
In the locker room at the Stade Olympique, Porter found a group of grown men playing like little children; engaging in skill competitions, kicking a ball into a trash can, and playing other mini games common to the sport. Eventually, Porter says, coaches had to urge the guys to get in the showers so the squad could get going. 
"You can barely get 'em out," Porter says by phone from Montreal. "They needed to leave to go to the hotel and everyone was trying to stay in the locker room and play around some more. So you can definitely tell everyone's excited."
Memories of past cup runs fuel Montreal Impact's quest for history
Porter, though, wasn't involved in the mini games. He spent practice itself with the club's medical staff, whose job it is to bend his knee "aggressively, into positions I don't want to be bent in." And while the Impact squad boarded a bus to a hotel as they had for every home CONCACAF Champions League game this season, Porter caught a cab back to his apartment.
Thanks to a freak injury, the rookie whose miracle goal kicked off the Impact's cup run will watch the conclusion from, comparatively, quite a long ways away.
"I will be at the stadium," he says, "Cheering very loudly."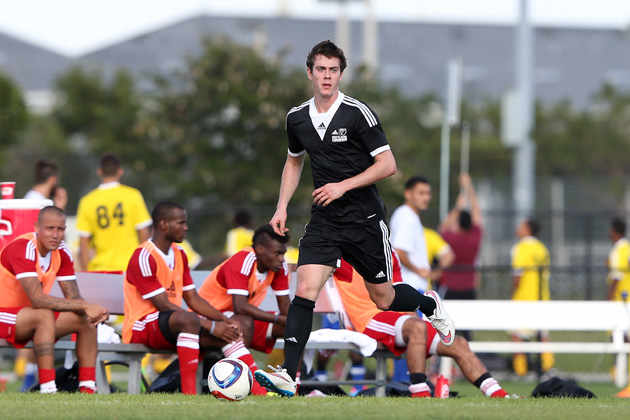 Things weren't very loud at Stade Olympique back on March 3, after Pachuca scored an 80th-minute goal in the second leg of the clubs' CCL quarterfinal. The goal gave the Mexican side a 3-2 aggregate lead, and it appeared, once again, that MLS's hopes in the competition were hanging by a thread.
"You could definitely sort of feel peoples' hearts sink in the stadium and on the bench," Porter recalls. "I honestly didn't think I was going to be in the game. The only reason I did get in was because they scored."
In the 85th minute, Porter entered in place of Nigel Reo-Coker. Ten minutes later, this happened:
[youtube=https://www.youtube.com/watch?v=yv-OZSuob98]
All of a sudden Porter, a rookie drafted in the third round after four years of college soccer at Princeton, became the biggest story of the young season. His goal put the Impact through on the away goal tiebreaker and into the semifinals.
"It's a wild experience," he says. "You go from college soccer and having a strong year there and you thought that was cool. Then you make a team, you're on the team, you get a contract, oh you're getting a little playing time, then you're in the big game, then you score in the big game. You never expect it to happen so fast."
Montreal stuns Pachuca, advances to CONCACAF semis after 1-1 thriller
With the goal against Pachuca, Porter gained momentum. He furthered that with a substitute appearance against D.C. United in MLS play. In the CCL semifinal first leg against Alajuelense, he showed the makings of a contributor with a solid 90-minute outing in a 2-0 win. That full-game performance is, to Porter, the highlight of his career so far–surpassing even that goal.
Then, on March 24, his rookie season came to a premature end.
Landing awkwardly after challenging for a header against the New England Revolution, Porter tore the ACL in his left knee. Just like that, his season was over.
"I could take it one of two ways–I can be super down that it happened at this time when I was basically at the top of my career so far, or it happened at the top and now people will be happy to see me working hard to come back," Porter says. "If I hadn't done what I had done before, then it would have been of less importance. It's nice to have more support because of how well it was going."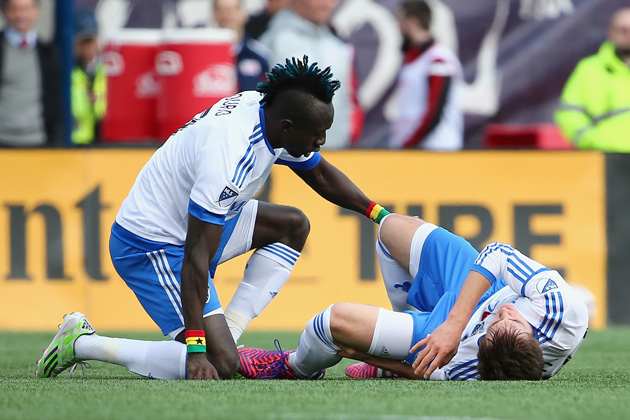 For Porter, watching the remainder of the Impact's run from afar has, in some ways, been harder than it was to play in it.
"I'm so much more nervous," Porter admits. "You just feel like you have no control over the game, and you want to yell and scream."
This nervous feeling stems naturally from the unprecedented amount of energy the team has put toward the competition. As the Impact have gotten results against the region's elite, it has struggled in its own league–through four games, the Impact has two ties, two losses, and no wins. This after a 2014 season in which the team finished dead last in MLS.
Montreal signs goalkeeper Kristian Nicht ahead of CCL final 2nd leg
The CCL, though, was a chance for redemption. A chance for relevance. The competition was the team's primary focus from the beginning of 2015, to the point to where it eschewed using the MLS-standard Adidas balls in training. Instead, they used the kind used in the CCL. Because of the Impact's preseason schedule, Porter lived out of the same duffel bag he took to the SuperDraft until the team's game against D.C. United–a span of nearly three months. By that time, Porter had become one of the league's hottest stories. 
"It was a crazy ride with almost nothing on my back," he says. 
Porter watched the Impact draw the first leg of the final among others at a watch party, and can only laugh when asked about the experience, which he called "intense, like an emotional roller coaster."
It's a phrase that could just as aptly describe Porter's career thus far. Few things could make it more so than if Porter meets his dream goal for a return from ACL surgery. He recounts this dream without hesitation, and with perfect recall of a detail most, even those immersed in the soccer world, would struggle to list off the top of their head.
"December 12th in Tokyo," Porter says, referring to the start date of the FIFA Club World Cup, when Montreal could be kicking off yet another unlikely run. That's his target date for a return, should the Impact have a game to play. 
For that to even have a chance of happening, Porter will need to recover quickly from surgery. He'll need to push hard through the rehab. he'll need luck on his side, and not suffering setbacks would help. But first his team must finish on top of a stout opponent in front of a sold-out StadeOlympique. The stadium will hold 61,003, plus Porter–one of the primary reasons they're there.