SI cover: Morgan, Wambach, Leroux, Lloyd and the USWNT World Cup team
Members of the U.S. Women's national soccer team are on this week's cover of Sports Illustrated.
The United States women's national team is on a mission, and it won't settle for anything less than hoisting the 2015 Women's World Cup trophy, after a heartbreaking shootout loss to Japan in the 2011 tournament.
The 23 women, led by forwards Abby Wambach, Sydney Leroux, Alex Morgan and midfielder Carli Lloyd, who appear on this week's national cover of Sports Illustrated, feel there is just one piece missing to their trophy case, with only one active player–captain Christie Rampone–remaining from the USA's 1999 champions.
Wambach, who turns 35 on Tuesday, is the all-time leading scorer in women's international soccer history with 182 goals, while the four cover athletes have combined for 331 international goals and 592 caps (international appearances).
The team has injury concerns coming into the tournament, with Morgan slowed by a left knee contusion and midfielder Megan Rapinoe nursing a thigh injury. Neither played in the World Cup send-off game against South Korea last week.
Still, the U.S., the world's second-ranked team and reigning Olympic champion, is among the tournament's favorites and starts Group D play in a match against Australia on June 8.
Meet the USWNT 23: The USA's 2015 Women's World Cup team
The tournament, hosted by Canada, dealt with a bit of controversy over its playing surface when Wambach and others filed a lawsuit alleging gender discrimination because the World Cup is being played on artificial turf, unlike the men's World Cup, which was held on natural grass. The lawsuit was eventually dropped.
There is no doubt that Wambach is the leader of the squad and the team's success may hinge on her having a big tournament.
"I have complete trust in Abby," Morgan says. "Opponents have to play a different way when Abby's on the field. That's crazy."
Adds manager Jill Ellis: "I have the utmost confidence in what she can give us-whether that's starting a game and playing 90 minutes or coming in for the last 30. What I do know is we need Abby Wambach to win a World Cup."
2015 FIFA Women's World Cup bracket: Knockout matches in Canada
For Wambach, focus is on this tournament as well as the future, which could include plans to play in the 2016 Olympics and maybe start a family.
"I could probably genetically engineer a professional athlete on some level," she says. "Maybe get somebody's stuff who plays a sport, like American football. I just need to find somebody who would be willing to do it."
• Twitter and the 2015 Women's World Cup
For more on the U.S. women's national team, check out Grant Wahl's story in this week's Sports Illustrated (subscribe here).
Also in this issue: previews of the NBA and NHL playoffs, more on the FIFA corruption scandal and a look back on the 1985 NBA Finals.
Subscribers will receive the team cover and newsstands will get the individual covers.
Sports Illustrated's World Cup Covers
SI's World Cup Covers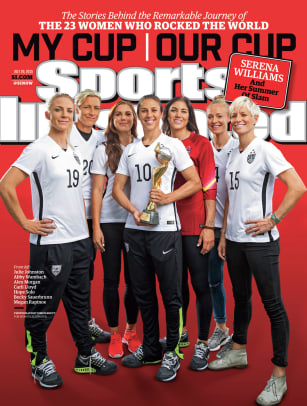 2015 Sports Illustrated Covers
2015 Sports Illustrated Covers