Despite gulf in support compared to men, Brazil women's team eyes glory
The Brazilian women's national team has succeeded despite a lack of support at home compared to the celebrated men. Is this the year Brazil reaches the Women's World Cup peak?
The 2014 World Cup embittered many of Brazil's ardent soccer fans. Even rabid football supporters found squandered public expenditures and displacement of poor residents unjustifiable, and recent charges against the head of the Brazilian Football Confederation (CBF), José Maria Marin, confirmed long-standing suspicions of deep corruption of the CBF. Unused stadiums now serve as painful reminders of squandered fortunes as the nation faces its largest political crisis since democratization, combining slow economic growth and financial scandals between the Workers' Party and the national oil company Petrobras.
In this context, the Brazilian women's national team is one of the few seemingly clean social institutions. Could it re-energize the country's "beautiful game?" 
The team facing South Korea on June 9 in Montreal has the charisma and talent to do just that, if it can perform well enough for long enough. Historically, the Brazilian squad has been the only South American team that can compete with the world's elite. It has won six of the seven continental tournaments, finished third and second in the World Cups of 1999 and 2007, and won two silver medals in Olympic competition.
Q&A: Marta talks awards, artificial turf, and Brazil's World Cup hopes
Its success is downright remarkable given how little support it has received from the CBF. Until this year, it had never held a real training camp before a World Cup. The World Cup squad of 1999 practiced once or twice a week, and in 2011 the team arrived in Germany only days before the tournament. This inhibited the team strategically and physically, and it made it impossible for the coaching staff to put together a roster.
The team's new coach Vadão is a puzzling appointment given that he has struggled to produce winning seasons in club soccer. One of the main themes of his coaching vision is the dead ball–important, to be sure, but hardly a source of tremendous inspiration. Still, he has as much on the line as his players, and he seems to have fostered a positive dynamic among the group.
With the gulf in salaries and support, it is easy to imagine an entirely segregated soccer tradition. But that would be a mistake. Just like in samba, which is a constant reference in soccer analysis in Brazil, women play with men all the time, and not just in pickup games. Many of the women on the national team played in youth leagues with mostly male rosters, including Marta. But what they could really use now is some male allies. But even if Neymar wanted to show up in Canada for his fellow Brazilians, he couldn't. The South American confederation, CONMEBOL, scheduled the men's continental tournament during the Women's World Cup.
Women's soccer evolution a product of pre-World-Cup-era resolve
Due to the scant attention it receives, one can't say there is a consensus on the chances of the Brazilian women's team. Some say the Brazilians have little chance of advancing much beyond the group stage. However, SI's Grant Wahl has them reaching the final before ultimately losing to the United States.
There are a few exciting elements within this squad that might help them beyond the group stage.
One of the Brazilian players I most admire is the team's anchor, midfielder Miraildes Maciel Mota, better known as Formiga. Where does the nickname come from? Formiga herself has never explained its origin. She is from Salvador, in the north of Brazil, and is of Afro-Brazilian descent. The complicated racial landscape of Brazil shapes how players are talked about, and the nicknames they receive.
Formiga is the Portuguese word for ant, and is sometimes used as a racist term for Afro-Brazilians. But there may be another source for her name: an intriguing folk tale from Salvador. A slave boy was horribly punished by his master, and tied up on top of an ant house to be eaten by the swarms. Miraculously, when the master checked on the slave the next day he hadn't been bitten: the ants, workers themselves, recognized the injustice done to the boy and protected him. 
The Two Brazils Revisited: What does the future hold after World Cup 2014?
If anyone embodies duty, perseverance, and teamwork of an ant colony, it would be Formiga. She is in her 20th year on the national team, at the age of 37. She is the bridge between the generation of the 1990s, led by Sissi, and today's stars. Her intelligence will surely be central to the game plan of the team. Formiga can read opponents well and is familiar with the spectrum of soccer tactics. It is no surprise that she plans on coaching after retirement. 
If Formiga works well with anyone, it is with Cristiane and the team's star, Marta. The Brazilian team had to qualify for this World Cup without the talents of Marta, but she was in fine form in the December games against the United States and China. It seems difficult to remember the women's game without Marta, but she is just 29 years old and fast as ever. She has the capacity to feed Rosana and Cristiane, draw defenders, and create goals from start to finish. She is simply capable of transforming games. 
But in a recent Brazilian television feature, Marta broke down in tears calling it a constant struggle to survive in soccer. This came as a bit of a surprise given Marta's usual upbeat behavior, but my interpretation is that she was crying not from sadness, but from years of frustration. As Gwendolyn Oxenham has written in a recent piece, Marta's professional career has been, and held back, by the deep inequalities surrounding the women's and men's games in Brazil and globally. 
As an impoverished girl, Marta dreamed of using her talents to help her family financially. For some, Marta may be considered a "white" Brazilian, but immigrants from the Northeast aren't seen that way. Marta hails from Alagoas, one of the poorest states in what has been regarded as the poorest region. It's important to understand that when Marta describes a "constant struggle" she is tapping into something deeper. 
She has everything to win in this tournament. 
GALLERY: Images from the WWC's opening day
2015 Women's World Cup: Defining images from the opening day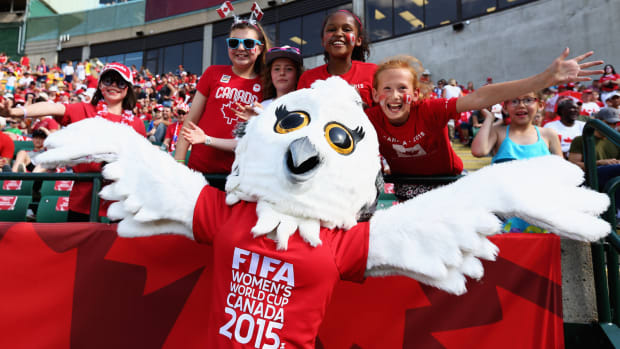 Brenda Elsey teaches at Hofstra University, and is currently writing a book with Joshua Nadel, Futbolera: The History of Women and Sports in Latin America. She can be followed on Twitter @politicultura.