Familiar Wambach, Morgan USWNT tandem teams together vs. Nigeria
For the USA's 1-0 Women's World Cup win over Nigeria, coach Jill Ellis turned to a familiar forward tandem: Abby Wambach and Alex Morgan.
VANCOUVER, British Columbia — Alex Morgan is the most popular player on the U.S. women's national team. She has competed in so many big games and has been around long enough by now that it was easy to forget: Tuesday's game against Nigeria was Morgan's first World Cup start of her six-year national-team career.
Think about that: She had never been out on the field with the starting 11 for the national anthem at a World Cup game.
"We were having laughs before the game [about it]. I was talking to Meghan Klingenberg asking her for pointers because she's such a veteran," joked Morgan after the U.S.'s 1-0 win against Nigeria, in which she played 65 minutes in her first start in more than two months after recovering from a bone bruise in her knee.
Wambach scores, defense thrives as USA wins Women's World Cup group
It was an important stepping-stone game for Morgan, in the sense that if she's going to be where she wants to be in the knockout rounds, she needed the 65-minute run-out that she got on Tuesday. No, Morgan didn't score, though she did have two good second-half chances that were snuffed out by Nigeria's excellent goalkeeper, Precious Dede. And no, Morgan wasn't in full Morgan Mode: She probably would've buried one of those chances if she was in top form.
But the overall impression that Morgan left was an encouraging one.
"We had wanted to build my minutes into this tournament," she said after the game. "But I think seeing the last couple of games and the training sessions and obviously with the fitness coach seeing all the numbers I've had the last couple weeks, she felt really comfortable giving Jill [Ellis, U.S. coach] the go-ahead to start me if she wanted to.
"So I feel really good getting the start and getting 65 minutes. I think that was the perfect amount of time for me."
USWNT's Alex Morgan had late start yield meteoric rise in women's soccer
Not only did Morgan get the start, but she did so alongside Abby Wambach, the U.S. stalwart who had come off the bench in the last game against Sweden. If you know Ellis, it wasn't surprising that Morgan and Wambach started the game after Christen Press and Sydney Leroux had started up top in the previous game. Morgan needed the minutes, and Wambach is a menace on set pieces, which the Nigerians have often struggled to defend.
"We knew the Nigerians were pretty weak on set pieces," said Morgan. "It was pretty apparent they were big ball-watchers."
Sure enough, Wambach scored the U.S. goal on a set piece, a well-delivered corner from Megan Rapinoe. The only surprise was that she struck it not with her head but her feet.
"I literally don't know what happened after we scored that goal tonight," said Wambach afterward. "There was just so much excitement and adrenalin that I can't remember a) how I celebrated and b) where the ball came off my body. I think it was my shinguard, to be honest."
Wambach had been in the news the last few days after saying that she thought the U.S. would have scored more goals if the games were being played on grass instead of artificial turf. On Tuesday she said it was terrific for the sport that her comments were dissected with such passion and precision. And while she backed away a little bit, she didn't completely.
"I think it's important that people understand, you know, scoring goals is not that easy, right?" she said. "'I'm not making any excuses. I need to finish chances that are handed to me. And all of us on my team would agree that if you're given a chance you have to take advantage of it.
"But that being said, the turf does make the ball bounce differently. It makes you think differently about the game. That's just the reality. So those are what my comments meant. And today it feels great to help my team win this game, to help my team advance No. 1 in the group. I can't remember the last time we've done that." (It was eight years ago in 2007, to be exact.)
Abby's Road: Wambach's motivation, quest for elusive World Cup glory
It's the nature of the U.S.'s personnel and the circumstances of this tournament that Ellis figures to mix and match her forward pairings moving forward. Wambach played all 90 minutes on Tuesday, and it wouldn't surprise if she starts on the bench in the round of 16 game on Monday. In just three games the U.S. has started four forwards—Wambach, Morgan, Leroux and Press—with Amy Rodriguez being another realistic option.
But the biggest guns are Morgan and Wambach, and when it comes down to it, those are the two who would likely start in a final at this point.
Ellis seems to know that, too. When asked about Morgan, she said her plan was to start the 25-year-old at least by the round of 16.
"But she looked good in training, and I figured sooner rather than later," Ellis said. "With Abby, specifically we knew that set pieces would maybe be an issue for Nigeria. So that presence, that danger, it obviously paid off. But Abby in the run of play was very good tonight."
"I know you'll take this literally, but jokingly, when I took the job I'm like, If Abby's got one leg she's going to make this roster. Because there's so much about her that she embodies a lot of the spirit of this team and this program. Her leadership is tremendous, her spirit is fantastic. So when I met with her earlier, I said, 'Listen, I haven't predetermined your role. Your role will be as big as you can deliver.' … I know in big moments she'll deliver."
Wambach did on Tuesday. And she knows there's another big moment, the World Cup final, that will take place here in the same stadium on July 5.
"Our goal," Wambach said on the night her mojo came back, "is to get back here in 20 days."
The Year in Photos: U.S. Soccer in 2015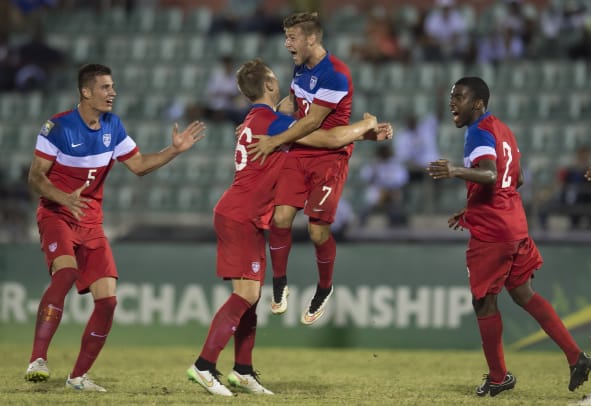 ​