With Bradley leading, USA aims to seal CONCACAF control at 2015 Gold Cup
The U.S. men's national team begins its quest for the 2015 CONCACAF Gold Cup on Tuesday against Honduras. Brian Straus runs down the storylines to watch ahead of the regional championship.
The U.S. men's national team has spent the past year-plus testing and challenging the established order. It has pushed its limits and potential against soccer's traditional powers and learned a bit about where it stood on the world stage one World Cup cycle into coach Jurgen Klinsmann's ambitious and unconventional tenure.
The Americans survived a difficult group last summer in Brazil. They defeated nemesis Ghana, should have beaten Cristiano Ronaldo and Portugal, held champion-to-be Germany to one goal and nearly escaped the rampant Belgians in the round of 16. Since then, Klinsmann has made the most of the available friendly dates, intending to prioritize the crucible over the comfort zone. He took his team back to South America and to Europe four times. Some games, like last month's wins over Netherlands and Germany, revealed signs of progress. Others, like November's heavy losses to Colombia and Ireland, demonstrated how far the U.S. still has to go.
Now, after a year of travel and trial, Klinsmann and U.S. will face familiar opponents on familiar fields.
USMNT has slow start, strong finish in Gold Cup tune-up vs. Guatemala
The 2015 CONCACAF Gold Cup, the 13th edition of the continent's biennial championship tournament, kicks off Tuesday in Frisco, Texas, and represents a return to the Americans' base of power. There are challenges there, certainly, but far loftier expectations. The U.S. is the reigning champion, having stormed to the 2013 title. And it understands that global legitimacy begins with sustained success in its own backyard.
Twelve teams will compete for the CONCACAF title in 14 cities over three frantic weeks. Here is a U.S.-centric look at nine Gold Cup storylines, one for each final the Americans have contested since the tournament began in 1991:
The U.S. is on the verge of establishing regional dominance
A quarter century ago, the U.S. competed in its first World Cup in 40 years. In 1991, the Americans stunned Mexico in the Gold Cup semifinals and went on to claim their first regional title (CONCACAF had been crowning a champion via other means since 1963). At that point, the U.S. was a soccer Cinderella. A generation later, it's practically the king of CONCACAF.
Klinsmann turns to experienced USA squad in CONCACAF Gold Cup quest
The Americans have won three of the past five Gold Cup titles (and five overall), qualified for a record five straight finals and finished first in each of the last two Hexagonal World Cup qualifying competitions.
Under Klinsmann, the U.S. is 24-4-7 against CONCACAF opposition. That record includes a 3-0-3 mark against Mexico and a current eight-game unbeaten run lasting 22 months.
Klinsmann's only loss to a regional rival on home soil came back in September 2011, a 1-0 friendly setback to Costa Rica in his second match in charge.
A second straight Gold Cup championship would draw the U.S. level with Mexico on the tournament scoreboard and cement the Americans' reign over CONCACAF, helping it establish a foothold for its assault on the rest of the world in 2018.
The trophy is just the beginning
For soccer's traditional powers, a continental title is chased for its own sake. One doesn't think of the European Championship or the Copa América as a means to an end. But the Gold Cup—young, frequent and dominated by the U.S. and Mexico—doesn't have that cache. The trophy is just part of the prize. No statement of Gold Cup intent is complete without a reference to the 2017 FIFA Confederations Cup in Russia, where the U.S. hopes to prepare for the World Cup in a tournament that will feature three European teams (including Germany), Chile and more.
USMNT's Netherlands, Germany wins reinforce team's system, belief
When asked about why he assembled such an experienced squad for this month's competition, Klinsmann answered, "Our approach for putting together the roster for [the Gold Cup], which is very, very important to us, is obviously to do everything possible to win this competition. Winning it would qualify us for the 2017 Confederations Cup in Russia, so putting the pieces together is very crucial."
Outside of a World Cup, the Confederations Cup represents the Americans' only chance to play European and South American powers in official competition. It's an opportunity that Klinsmann doesn't want to waste. If the U.S. fails to win the Gold Cup, it will be forced into a one-game playoff in early October for CONCACAF's Confederations Cup birth (thanks to the 2013 title). If the U.S. claims the Gold Cup, it'll qualify directly for the 2017 tournament. That playoff is the only big game that Klinsmann has no interest in playing.
The General takes command
Michael Bradley has been a key U.S. contributor for years. Now, as he prepares to win his 100th cap when the U.S. opens group play against Honduras on Tuesday, he's its centerpiece. This Gold Cup tournament is poised to be his.
Bradley's move to Toronto FC after eight years in Europe appears to be having the affect he desired. He wanted to crucial rather than complementary—a leader who was counted on, who set the tone and helped shape his team's approach and culture. Given the chance to do that every day in Toronto, he's confidently embraced that mandate with the U.S. It's his team.
Michael Bradley will captain U.S. men's national team in Gold Cup
Starting last year, Klinsmann began asking Bradley to do more, adding the primary playmaking responsibilities to his box-to-box checklist.  Bradley has become increasingly comfortable in that role and he was dominant against the Dutch and Germans last month, keying both wins with his range and relentlessness in midfield. He's played every minute of all eight U.S. games this year and last week was named team captain, replacing Clint Dempsey.
Bradley has worn the armband in each of the past five friendlies.
"It's a huge honor," Bradley said. "It's a big responsibility and one that I'm very, very excited about. But who I am and what I'm about on the field and off the field with this team doesn't change whether I'm captain or not."
His leadership already was established, which even Dempsey acknowledged.
"It's cool. Michael is a great leader. He deserves to be captain," he said.
Bradley also deserves to lift a trophy, which is something he hasn't done in an otherwise successful, arguably groundbreaking, 12-year pro career. He was suspended from the '07 Gold Cup decider and has been shut out with club and country since (he wasn't part of the 2013 Gold Cup team). He's ready and able. It's time to come full circle. The final is July 26 in Philadelphia, not far form his birthplace of Princeton, New Jersey.
Challenge and opportunity in CONCACAF
The U.S.'s tough first half in Friday's friendly against Guatemala illustrated some of the challenges CONCACAF opponents beyond Mexico (and now Costa Rica) can pose. Being the favorite can be frustrating if you lack sharpness or are out of synch.
"We expect most of the teams to play against us in a very defensive style," Klinsmann warned. "It's not going to be an open game like in a World Cup where you have the best teams in the world and they just go at you. In most of our games in the Gold Cup, it's going to be the opposite. They're going to defend first of all and then hope for a counter break or for a set piece to score against us."
The U.S. broke through in the second half and beat Guatemala, 4-0, in Nashville. But Klinsmann remained concerned.
"Obviously 4-0 sounds really nice," he said Friday. "Performance? Not so nice. I'm not happy with that performance. I'm kind of disappointed with a couple things: movement off the ball, speed of play, urgency."
Klinsmann's self-imposed mission was to field a national team that played proactive, dynamic soccer. The challenge this month will be to do so against teams aiming to stop it. At the World Cup, the U.S. typically was on the back foot. In CONCACAF it should be on the front, and with that comes a different sort of test. Gamesmanship, tactical fouling and infuriating officiating are part of the CONCACAF landscape. The team Klinsmann ultimately wants to build must thrive, not just survive, in those conditions.
Dempsey's present and future
There's been speculation that Dempsey's U.S. Open Cup meltdown was the excuse, rather than the reason, for Klinsmann's decision to hand the captaincy to Bradley (The notion that Dempsey would have faced additional pressure internally, or from the press or supporters, because of last month's red card doesn't make much sense. A pre-emptive, first-day apology immediately followed by, "And from here on out I'm focused only on winning the Gold Cup," would've been the last time it was brought up.)
Dempsey is 32 years old. He'll be 35 when the 2018 World Cup kicks off, an older player in a tournament that often caters to the young. His skill and flair certainly haven't deserted him (he's got seven goals and six assists in 12 MLS games for the Seattle Sounders), and he'll be crucial to U.S. hopes at the Gold Cup.
"We need Clint Dempsey badly with the national team. We need him in a good spirit," Klinsmann said. "He's at [41] goals for his country and I told him I want him to score many, many more. Hopefully in this summer's Gold Cup he becomes the top scorer in the tournament."
Dempsey has U.S. goals since the World Cup, one in February's 2-0 win over Panama and a second from the penalty spot on Friday. There are questions about the evolution of the U.S. offense. Is it better with two frontrunners, or with one striker supported by a withdrawn forward and attackers on the flanks? Does the team benefit more from Dempsey's prowess near goal or from his tendency to retreat and hunt for the ball? Do Dempsey and Jozy Altidore have a long-term future together?
Dempsey's creativity will be key against opponents who pack the penalty area, and he remains a charismatic focal point of the national team. But a time when the U.S. must imagine an attack without Dempsey is approaching, and his performance over the next month may offer an indication of how close that time is.
Guzan's play in goal
Brad Guzan is 30, has been an English Premier League player for seven years and has 31 caps. Yet he hasn't started a game at a major tournament in six years, ever since manning the nets in the 3-0 win over Egypt at the 2009 Confederations Cup. Tim Howard started at the 2010 and 2014 World Cups and the 2011 Gold Cup and Nick Rimando was the No. 1 in 2013 (He did start a pair of key World Cup qualifying hexagonal matches against Costa Rica and Mexico in the build-up to Brazil 2014).
Finally, at this Gold Cup, it's Guzan's goal. And the appointment from Klinsmann came despite Rimando's sustained excellence and Guzan's recent benching by Aston Villa. It also comes with Howard, who took a year's sabbatical from international play, having said he'd be interested in returning.
Guzan has been more than patient as a backup. He played well last month, especially in the win over Holland. It was first U.S. appearance since November. Now is his chance to seize the No. 1 spot permanently.
"Anytime you're in professional sports, there's going to be ups, there's going to be downs," Guzan told reporters before shutting out Guatemala. "It's a test of your character. It's a test of your mentality, how you bounce back from those times when they don't go your way, and you have to try and find a way to move forward from those."
Said Bradley: "Across the board, the confidence in Brad is huge. We're all excited for him now that he's getting extended run of games as the No. 1. There's full confidence in him that when big moments come, that he'll be there for us."
Surviving and thriving in a year of transition
Klinsmann said numerous times that the 12 months following the World Cup would mark a year of "transition" that would end with the selection of a roster designed to win the Gold Cup. So who/what did that transition produce?
The Year in Photos: U.S. Soccer in 2015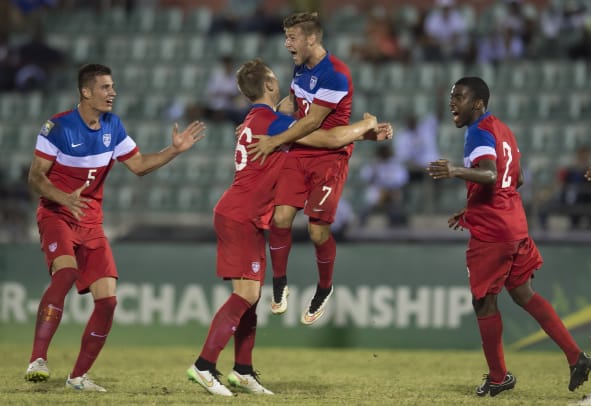 The big winners are Gyasi Zardes, Alfredo Morales, DeAndre Yedlin, Ventura Alvarado and Greg Garza. Zardes, 23, has been particularly impactful this year and his increasing comfort with the speed of the international game was evident in last month's wins in Europe and on Friday against Guatemala, which had difficulty dealing with his pace and inventiveness on the wing. He may be in line to start Tuesday against a Honduran side that can threaten from the flanks.
Yedlin also wasn't a sure thing, especially after he struggled in a couple friendlies last fall then transferred to Tottenham, where playing time is tough to come by. But his pace and knack for getting behind defenses remains irresistible (see his assist against Holland), allowing for his learning curve to continue.
Yedlin, Zardes and Bradley are the only players to appear in each of the national team's eight games this year.
Those who failed to make the provisional or final Gold Cup roster following the year of transition include young players like Julian Green, Miguel Ibarra and Bobby Wood. Bill Hamid, Joe Corona, Lee Nguyen, Michael Orozco, Matt Besler and Brek Shea made the 35-man cut, but at the very least won't be part of the group stage. (Tim Ream's return may have forced Besler aside).
Veterans such as Jermaine Jones, Danny Williams and Geoff Cameron are unavailable, highlighting the importance of the depth that Klinsmann has been trying to create. Klinsmann's door tends to remain ajar, however. There surely will be more churn before World Cup qualifying starts this fall.
Mexico attempts to reclaim the throne
Four years ago, as Giovani Dos Santos was dancing through the U.S. defense en route to a memorably backbreaking goal in the Gold Cup final, it seemed as if Mexico's position on the CONCACAF summit was unassailable. Blessed with a ton of attacking talent, El Tri than confirmed its championship credentials with an Olympic gold medal the following summer.
Report: Galaxy working on acquiring Mexican star Giovani dos Santos
Then it all sort of fell apart. Mexico grew soft. It qualified for the World Cup only because the U.S. decided to go for it in a meaningless (for the Americans) game at Panama, and then Mexico lost to the Panamanians in the 2013 Gold Cup semis. A 'B' team went winless in what arguably was the easiest group at the 2015 Copa América. Since defeating Guatemala, 3-0, at the end of May, Mexico is 0-2-5. Now playing in black or white kits, El Tri fails to look the part in more ways than one.
The pressure will be on coach Miguel Herrera to win this Gold Cup, and he'll be challenged by the absence of injured defender Héctor Moreno and forward Javier "Chicharito" Hernández, who fractured his collarbone last week.
There's still plenty of firepower. Dos Santos, Oribe Peralta and Carlos Vela—who finally ended his international exile last fall—can do damage. Whether Mexico can find its rhythm and summon the steel to win a tournament, however, remains to be seen. A favorable draw provides Mexico with a clear path to the final, assuming the U.S. and Costa Rica win their groups.
Will it ever be Central America's turn?
There's talent in Central America. Costa Rica got out of a World Cup group that featured three former champions and made it to the quarterfinals last summer. Honduras is 2-3-1 against the U.S. since 2010 and Panama ousted Mexico in last summer's Gold Cup.
Yet none have broken through to lift the trophy. Frequent champions under CONCACAF's older competition systems, Central American nations have been shut out in the Gold Cup era. They've come close. Honduras, Costa Rica and Panama (twice) each have lost the final to the U.S. Honduras and Panama (in 2005) fell on penalties.
Will the drought finally end this year?
Costa Rica, the Central American champion, has tested itself against the likes of Colombia and Spain this year and boasts an attack led by familiar faces Álvaro Saborío, Bryan Ruiz and Joel Campbell. Star midfielder Celso Borges established himself at Deportivo La Coruña after a January transfer, but goalkeeper Keylor Navas, Los Ticos' savior last summer, is out with an Achilles injury.
If games go according to form, Costa Rica will meet the U.S. in the semifinals.
Honduras and Panama are in Group A with the U.S. and Haiti, and both will be eager to avoid advancing to the quarterfinals as the third-place team, which likely would mean a quarterfinal against Mexico. Winners of two of its past 12 games, Honduras hasn't been in great form. But it fields dangerous young attackers like Anderlecht's Andy Najar, formerly of D.C. United, and Olimpia's Anthony Lozano. Panama has a veteran team that will be hoping to salve its World Cup heartbreak. This may be the last Gold Cup run for veteran forwards Blas Pérez and Luis Tejada.