MLS Power Rankings Week 18: LA's Robbie Keane returns to MVP form
Robbie Keane's hat trick helped the LA Galaxy climb Liviu Bird's MLS Power Rankings after Week 18.
The situation in the Eastern Conference of parity-driven Major League Soccer has been particularly interesting over the last couple weeks. Despite slumps from the New England Revolution and New York Red Bulls, they're both still above the red line in a group where second and sixth place are separated by one point.
D.C. United also lost this week but continues to lead the conference by 11 points, also maintaining its spot at the top of the Supporters' Shield standings. The next seven teams behind D.C. are in the West, though, and Ben Olsen's team has played the most games in the league along with the LA Galaxy.
Elsewhere, the U.S. Open Cup also resumed last week, with six all-MLS matchups as an extension of the league calendar. The two teams playing opponents from outside the league ensured that the quarterfinals would feature exclusively MLS teams, as the New York Red Bulls defeated area rival New York Cosmos, 4-1, and the Chicago Fire beat the USL's Charlotte Independence, 3-1.
Here are a few thoughts on MLS play as the league enters the second half of its season:
Galaxy show last loss was just a blip
LA manager Bruce Arena was not a happy man after a 3-1 loss to the San Jose Earthquakes last week, but after another stellar showing against Toronto FC on Saturday, that looks more like an outlier than an incipient problem. The Galaxy smacked TFC, 4-0, and Robbie Keane scored a hat trick to provide some July 4 fireworks and finally put that nagging groin injury behind him.
That second-half-of-the-season push that Arena orchestrates every year seems to be arriving right on schedule, as that San Jose result came in the midst of three wins in which LA outscored opponents 14-1. It's almost as if Arena walked into training a couple weeks ago, snapped his fingers and said, "All right—the season starts today."
A team on the rise gets another boost with Steven Gerrard's impending introduction to the team. It'll help his acclimation that the longest road trip remaining in league play will be to Kansas City on the final day of the season, but he'll get a chance to impact other important matches as well, including two against Seattle and FC Dallas each.
Kamara making MVP push with Columbus
Returning to MLS after a year in England, Kei Kamara looks like much the same player he was before he left except for a ruthless tweak in his mentality.
MLS's stadium deadline passes, but Minnesota still in play for expansion
He's already surpassed his career-high goals total for a single season with 12 and is among the top of the league in assists (five), dragging Columbus Crew SC to second place in the East.
Kamara has had a hand in multiple goals in a third of his 18 appearances so far, including assisting both in a 2-1 win over the Red Bulls on Saturday. Not only is he playing well, but he's more consistent, making good on the potential he showed before moving to England's League Championship.
Europe obviously served him well in terms of learning how to play to his highest level on a daily basis. Columbus is still a dark-horse candidate to win MLS Cup, and it'll be Kamara's ability that carries the team as far as it can go.
Conference leaders clash in Seattle
The teams at the top of the table met in the Emerald City last Friday, with the Seattle Sounders narrowly defeating D.C., 1-0, on an 88th-minute Tyrone Mears rocket. (The Vancouver Whitecaps could have surpassed Seattle in the West but lost a day later.) After Fabián Espíndola's first-half red card, Seattle could have easily run away with it.
When Obafemi Martins and Clint Dempsey haven't played, the Sounders' attack has struggled this season. And it took Mears's golazo from the right side of the penalty area with the outside of his left foot to break Seattle's three-game losing streak. The team will need to find some consistency without its two over-30 Designated Players, at least until Martins returns from injury and Dempsey returns from Gold Cup duty.
For D.C., it was another case of not playing spectacularly but still being incredibly hard to beat. Seattle doesn't deserve to be completely panned for its performance, because it seems as if United just has a way of making any team it plays miserable, which is probably why Olsen's men are in the position they are.
Red Bulls' recent wins can't hide larger trend
Besides two wins over Real Salt Lake and New York City FC, both lower in the standings and in poorer form this season, the Red Bulls might be running into a bit of a midseason wall. The team is teetering on the edge of the Eastern Conference's playoff places, although nothing has really changed in terms of its system of play.
New York's Pro Soccer War: Red Bulls, NYCFC, Cosmos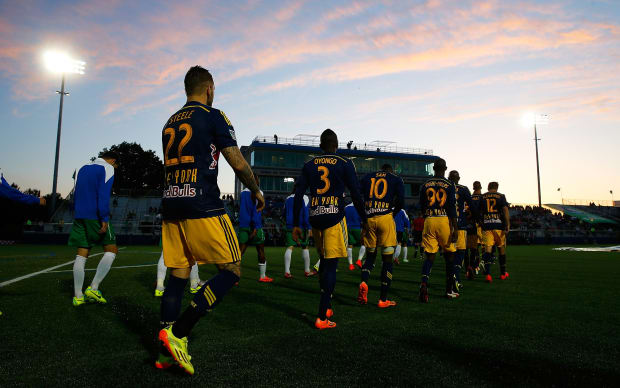 Jesse Marsch instilled a high-energy, high-pressure defensive block to great effect early, but it's hard to sustain that kind of energy in MLS for 34 weeks.
The squads aren't deep enough to rotate without at least some drop-off, and the league plays through the hottest weather of the year, making it difficult for players to expect to cover six miles a game.
Losing fullback Chris Duvall to a broken leg, suffered in the Open Cup triumph over the Cosmos, and then being further depleted by the Gold Cup won't help matters. As they begin to see more opponents for the second and third time this year, the opposition will know what to expect, so the Red Bulls will have to find another level in attack to match its defensive zest and reclaim its place near the top of the East.
Week 18 Best XI
GOALKEEPER: Josh Saunders (New York City FC)
DEFENDERS: Víctor Cabrera (Montreal Impact), Eric Gehrig (Chicago Fire), Seb Hines (Orlando City SC)
MIDFIELDERS: Sebastian Lletget (LA Galaxy), Juninho (LA Galaxy), Mauro Díaz (FC Dallas), Ethan Finlay (Columbus Crew)
FORWARDS: Robbie Keane (LA Galaxy), Kei Kamara (Columbus Crew), David Villa (New York City FC)
1. Sporting Kansas City
PREVIOUS: 3
RECORD: 7-3-6 | This week Off
SKC didn't have to worry about playing a game on the weekend when it picked its Open Cup lineup in midweek, trouncing FC Dallas at home, 6-2. By virtue of the teams ahead of SKC losing and the club's league-low three losses, Dom Dwyer & Co. get the bump up.
2. Los Angeles Galaxy
PREVIOUS: 4
RECORD: 8-6-7 | This week 4-0 vs. Toronto
Robbie Keane put away a hat trick, perhaps finally marking his full return from a nagging groin injury, as LA dismantled Toronto in front of Steven Gerrard at the StubHub Center. Gerrard is eligible to join the defending MLS champs on the field this weekend.
3. Portland Timbers
PREVIOUS: 5
RECORD: 9-6-4 | This week 1-0 vs. San Jose
The Timbers left it late but won their fifth consecutive home match with Jack Jewsbury's goal in stoppage time on Sunday to make it a Cascadian trifecta at the top of the West.
4. Vancouver Whitecaps
PREVIOUS: 1
RECORD: 10-7-2 | This week 1-2 at Colorado
Despite losing to Colorado on the road, the Whitecaps have still won four of their last six and sit tied for first in the West on points.
5. Seattle Sounders
PREVIOUS: 6
RECORD: 10-7-2 | This week 1-0 at D.C.
Seattle needed a last-gasp goal from Tyrone Mears to defeat 10-man D.C. at home, continuing the team's attacking struggles without Clint Dempsey and Obafemi Martins in the lineup.
6. D.C. United
PREVIOUS: 2
RECORD: 10-6-5 | This week 0-1 vs. Seattle
United nearly held out for a draw despite losing Fabián Espíndola to a straight red card very early against the Sounders, but Seattle managed to get a goal in the face of D.C.'s usual stifling play.
7. FC Dallas
PREVIOUS: 13
RECORD: 8-5-5 | This week 3-0 vs. New England
With a big win off Mauro Díaz's playmaking ability, Dallas extended its home record to 6-1-2 entering the most difficult part of the year to play in Texas.
8. Columbus Crew
PREVIOUS: 14
RECORD: 6-6-6 | This week 2-1 vs. Red Bulls
Columbus conceded the first goal of the game for the sixth straight match, but Kei Kamara and Ethan Finlay combined once in each half to reverse the deficit and extend Columbus' unbeaten streak to four.
9. Toronto FC
PREVIOUS: 7
RECORD: 7-7-2 | This week 0-4 at LA
TFC played shorthanded on the road against LA and got the kind of result you might expect from a weakened team against one of the league's most consistent over the years.
10. New York City FC
PREVIOUS: 12
RECORD: 5-8-5 | This week 2-1 at Montreal
After an abysmal start, Jason Kreis's team is picking up a bit of steam having won four of its last five matches to give it the best record in the last five games in the league, tied with Portland. With Frank Lampard set to debut this weekend and Andrea Pirlo officially in the fold as well, things are looking up for the expansion side.
11. Orlando City SC
PREVIOUS: 10
RECORD: 6-6-6 | This week 1-1 at Salt Lake
A point might have seemed acceptable after losing Kaká to a bizarre red card just before halftime, but the Lions controlled most of the second half even down a man and easily could have won.
12. San Jose Earthquakes
PREVIOUS: 9
RECORD: 7-6-4 | This week 0-1 at Portland
The Earthquakes have only lost twice since the start of May but still find themselves just outside the playoff places in a tough Western Conference.
13. New York Red Bulls
PREVIOUS: 8
RECORD: 6-6-5 | This week 1-2 at Columbus
Even with wins in both matches directly preceding a disappointing loss in Columbus, the Red Bulls are undoubtedly playing worse than when they jumped out to an early lead in the standings; are other teams starting to figure them out?
14. Montreal Impact
PREVIOUS: 11
RECORD: 5-7-3 | This week 1-2 vs. NYCFC
Montreal hasn't been able to figure out NYCFC, losing both matches against the expansion side this year on three total goals from David Villa
15. Real Salt Lake
PREVIOUS: 15
RECORD: 5-6-8 | This week 1-1 vs. Orlando
More than halfway into the season, RSL's tenure as the team with the longest active playoff streak in the league is on thin ice in a tough Western Conference.
16. New England Revolution
PREVIOUS: 16
RECORD: 6-8-6 | This week 0-3 at Dallas
The Revs are on a four-game losing streak and have dropped five of the last six, winning just once since May 2.
17. Philadelphia Union
PREVIOUS: 17
RECORD: 5-10-4 | This week Off
The Union's league travel schedule in July is very kind despite playing two of three on the road; the farthest they will venture is to Toronto on July 18.
18. Colorado Rapids
PREVIOUS: 19
RECORD: 3-6-9 | This week 2-1 vs. Vancouver
In his seventh appearance and first full, 90-minute game, Kevin Doyle opened his MLS goalscoring account with a game-winning header early in the second half on Saturday.
19. Houston Dynamo
PREVIOUS: 18
RECORD: 5-7-6 | This week 1-1 vs. Chicago
Houston gave up what coach Owen Coyle characterized as an easy goal on "a catalog of errors" to relinquish a late 1-0 lead against Chicago.
20. Chicago Fire
PREVIOUS: 20
RECORD: 4-9-3 | This week 1-1 at Houston
Manager Frank Yallop has come under heavy criticism for Chicago's results this year, and rumors of him being replaced have begun to circulate, although the club vociferously disputes reports that it is looking to replace him.