USA, still confident, knows there's work to be done after Gold Cup finish
While Panama upset the United States on penalty kicks in the CONCACAF Gold Cup third-place game, it appears the USMNT has greater problems to deal with.
CHESTER, Pa.—The U.S. national team was well past writing a storybook ending to this disastrous CONCACAF Gold Cup when DaMarcus Beasley, 33 and a veteran of four World Cups, stepped to the penalty spot hoping to keep his side alive in Saturday's bronze medal game.
Even victory over Panama would not have obscured the disappointment of the Americans' two-year decline from unbeaten regional champion to this consolation match played at half-empty PPL Park. But a Beasley miss, on what was probably the last touch of his historic international career, would be cruel salt in the wound. It would have been too much.
Fittingly, Panama goalkeeper Luis Mejia, a 24-year-old playing only because starter Jaime Penedo was suspended, dived to his left and made the save. Los Canaleros won the shootout and with it, the bronze medal.
• MORE GOLD CUP: USA vs. Panama live blog | Full results, schedule
Beasley had unretired from the national team in order to help the U.S. during the Gold Cup's knockout rounds. He was injured in his first practice. Finally healthy enough to play against Panama, Beasley's second-half appearance had been trumpeted the day before by coach Jurgen Klinsmann as an opportunity to provide the legendary winger with a proper sendoff. Like the U.S.'s Gold Cup run, those plans ultimately fizzled. Beasley certainly wasn't to blame for this mess, but his week-plus with the national team was sadly symbolic. Pretty much nothing went right.
Outplayed by Panama throughout the 1–1 draw and outscored, 3–2, in the tiebreaker, the U.S. now must pick up the pieces from a discouraging summer. On a high following the June wins over Netherlands and Germany, Klinsmann's team managed to put together a consistent and impressive, 90-minute performance only once at this Gold Cup. And that came against Cuba, an overmatched team wracked by defections. The Americans' 3-1-2 record and +7 goal differential (+1 excluding the Cuba game) compares to a 6-0-0 mark and +16 differential at the 2013 Gold Cup. The U.S. took the fewest number of shots in this year's 12-team group stage. Those numbers certainly don't scream "progress."
USA's poor Gold Cup ends as Panama wins third-place game on PKs
But Klinsmann and U.S. Soccer Federation president Sunil Gulati, who spoke after Saturday's game, believe the national team remains on track. That was evident when Klinsmann was asked whether the squad he takes to this fall's critical Confederations Cup playoff would be similar to the one that failed to medal at the Gold Cup for only the second time in 13 tournaments. (The U.S. will meet the winner of Sunday's final, Mexico or Jamaica, on Oct. 9 to determine CONCACAF's entrant in the 2017 tournament).
"It won't be totally different. It will be very similar," Klinsmann said.
Why? Because the manager feels that this week's results don't tell the whole story.
"I think other teams were really competitive. Other teams who were in the competition wanted badly to win it and there was just a lot of stuff going on outside the field," Klinsmann said when asked to explain why a team that won the Gold Cup so easily two years ago stumbled so badly.
"There was always a sense of kind of being uncertain of what happens next," he said. "I think when we talked to our players this morning and I told them, 'Listen guys, we don't know what will happen.' Because every time you go on the field you don't know what happens with the refs in terms of, either way they go and you feel really sorry for them because they make a mistake, then whatever side [feels wronged] goes at them. This kind of feeling was there from the beginning of this tournament that you always wonder what will happen. So that kind of overshadowed everything that really went on."
Klinsmann continued, "I think going through it, from our end, we started fine. Got the two wins. We qualified for the quarters. We took care of the quarters and then it happened what happened Wednesday night [in the semifinal against Jamaica]. It took the wind out. That's just normal. That's fine. But it shows you also how competitive this region is. Nations that were maybe not regarded as high before the tournament earned a lot of respect."
• PODCAST: Making sense of, processing Gold Cup semifinal chaos
Asked about the impact of the uncertainty Klinsmann described, U.S. goalkeeper Brad Guzan—who was outstanding against Panama and made nine saves as the Americans were outshot, 25-5—said, "Us as players, our job is to go and play and try and win games. Everyone has to deal with it. You find a way to deal with it the best you can … It's a challenging four weeks, plain and simple, for a number of different reasons. But in saying that, from a soccer standpoint, from a playing standpoint, it wasn't good enough. We know that. Now we have to make sure we improve going into September and going into October."
Brad Guzan bets on himself, seizes long-awaited chance as USMNT No. 1
Ever the optimist, Klinsmann said his long-term vision remained intact despite the fact the U.S. still seems far too reliant on Clint Dempsey, Michael Bradley and whomever is in goal. Dempsey, 32, scored seven Gold Cup goals and when he was off rhythm, as he was against Jamaica on Wednesday, the U.S. was beaten. Bradley remains the linchpin, director and midfield engine. When he's great, the Americans have a chance to beat anyone. But it seems he has to be in order for the U.S. to find fifth gear. Bradley scored twice at this Gold Cup. The move to MLS certainly hasn't had an adverse impact on either player's national team performance, but neither is going to be at his best every night.
Klinsmann has called the year following the World Cup one of "transition," during which new players' ability to adapt to the international game is tested. There must be competition for minutes and churn in the pool. But that was supposed to be put on pause for the Gold Cup, a competition where only results matter. And Klinsmann claimed he picked a team capable of winning it. But by and large, the newer players weren't up to par. Midfielder/forward Gyasi Zardes had a very good group stage but faded in the semifinal. Forward Aron Jóhannsson struggled against Jamaica and again on Saturday. Central defenders Ventura Alvarado and John Brooks were beaten repeatedly in back. Brooks had an especially rough game against Panama, which was playing without its two top attackers. Reserve forward Roberto Nurse, a 31-year-old who appeared six times for Chivas USA back in 2008, blew past Brooks with ease to give Panama a first-half lead.
​Dempsey pulled the U.S. level in the 70th minute off a nice assist from substitute midfielder DeAndre Yedlin. But for the next 50 minutes, Panama looked like the team that would score a second. The Americans took the game to penalties thanks in part to goal line clearances by Fabian Johnson and Tim Ream.
"In this tournament, I'd agree. Obviously Clint scored almost all of our goals," Gulati said when asked about the team's dependence on two or three key veterans. "If you look at the spring games and the lead-up, Bobby Wood scored a goal and a few other guys that people didn't know ... We look at all of that as we move forward. There's no, 'Hey we were building and we're still building.' The Gold Cup was a critical competition. Jurgen knows it. The players know it. We all know it. And we didn't achieve what we wanted. We go onto the next thing, which is the playoff game and the start of World Cup qualifying."
Forward. Always forward. Klinsmann coaches with ultimate confidence, and Gulati has confidence in his coach. Bob Bradley, who won his first Gold Cup and then lost in the World Cup's Round of 16 in overtime, was fired after finishing second at the 2011 continental championship. Klinsmann's path is almost identical, except he finished fourth at his second Gold Cup.
2018 World Cup qualifying draw set; USA learns road to Russia
There are "no parallels," Gulati said.
"There's no panic. We've won, what, seven of our last 10 games? Drawn two and obviously lost today on penalties and lost one game in that period [to Jamaica]. But we move on," Gulati said. "We don't make judgments based on one thing. We don't go in and renew a [coach's] contract because we beat Germany and Holland away from home and 'we'll make a change here.'"
He continued, "Progress is not linear for anyone. There's bumps along the way. This is clearly a bump … But that's the norm for everyone because you don't go through and win all your games. Is Argentina happy about not qualifying for the Confederations Cup? And Brazil being out? But they don't panic and throw everything out. We're making progress in certain areas, and less so in other areas."
• MORE GOLD CUP: Controversy clouds flawed CONCACAF Gold Cup again
Gulati didn't elaborate, while Klinsmann said the "process is ongoing" and he hopes this step back will be followed by "two forward." He's aiming to field a better team in 2018 than the one that went to Brazil last summer.
"The goal was to win this Gold Cup with the best team available. And that's what we had. We had [our] best team in the tournament. The only bummer was that Beas got injured on the first day," Klinsmann said.
It was far from the only bummer. But it was symbolic. As Beasley exits, he's leaving behind a limping team that has a lot of work to do.
GALLERY: U.S. Soccer in 2015
The Year in Photos: U.S. Soccer in 2015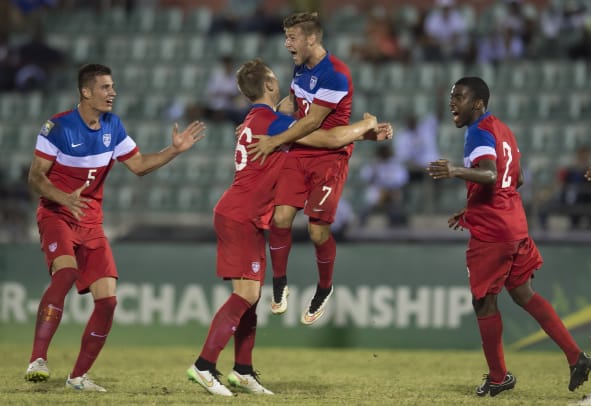 ​