Mexico beats Jamaica to win seventh Gold Cup, set up meeting with USA
Mexico beat Jamaica 3–1 for its record seventh CONCACAF Gold Cup title. Andres Guardado won the tournament's Golden Ball, which is given to its best player.
PHILADELPHIA—The Mexico that its fans had hoped to see, and that the rest of CONCACAF fears, finally emerged in the Gold Cup final.
Whether El Tri deserved its place at Lincoln Financial Field is up for debate, but there was no question that Mexico was a deserving winner on Sunday. It weathered an early surge from upstart Jamaica then took control, easing to a 3–1 triumph and a record seventh Gold Cup title. As a result, Mexico will meet the U.S., the 2013 champion, in a one-game playoff on Oct. 9 to determine CONCACAF's representative in the 2017 Confederations Cup.
While Mexico prevented Jamaica from becoming the first nation from outside North America to claim a Gold Cup championship, it joined Uruguay and Argentina in the exclusive group of countries that have won at least 10 continental crowns. Mexico was CONCACAF champion three times in the pre-Gold Cup era (before 1991).
• MORE GOLD CUP: Mexico vs. Jamaica play-by-play | Full results, schedule
Here are three thoughts from the final in Philadelphia, which was played before 68,930 fans:
Mexico makes the most of its good fortune
Wearing all black uniforms rather than its traditional, but now discarded, green, white and red and playing without several big names who were either lost before the tournament started or absent Sunday night, Mexico looked like its old, stylish self.
Watch: Guardado, Corona, Peralta score as Mexico earns Gold Cup title
The crisp combination play, creativity and clinical finishing missing since the second game of this tournament was back. Midfielder Andrés Guardado, his team's most consistent player and the man responsible for the three penalty kicks that sent Mexico to the final, finally had some help. And coach Miguel Herrera, under fire back home following a series of lackluster performances and a poor Copa América (albeit with a 'B' team), pushed all the right buttons. The beneficiary of two massively controversial refereeing decisions in the quarterfinal win over Costa Rica and Wednesday's semifinal defeat of Panama, Mexico stuck around long enough to find its rhythm.
"We have to correct some errors. Thankfully, we're able to correct those errors while winning," Herrera said this week.
The manager trusted Guardado (ankle) and midfielder Jonathan Dos Santos (groin) to manage Sunday's match with injuries and benched ineffective midfielder Héctor Herrera, who was pegged by many to be El Tri's best player before the tournament. Jesús Dueñas started his first Gold Cup game instead and was effective defensively, while Jesús Corona was deployed up top in place of the suspended Carlos Vela. It was "Tecatito" Corona's first start of the tournament as well.
He fit in brilliantly, and by the 20th minute or so, Mexico found its legs.
• WAHL: Controversy clouds flawed CONCACAF Gold Cup yet again
Gold Cup MVP Guardado opened the scoring in the 31st with his sixth goal of the tournament, a gorgeous, side-footed volley off a long cross from Paul Aguilar. Mexico hadn't scored a goal from open play since the group stage.
Corona then turned the screw with a goal just two minutes after halftime. The 22-year-old dispossessed a Jamaican defender, took the space in front of him and unleashed a perfect, low shot to the far post.
Oribe Peralta sealed the gold medal in the 61st, as he pounced on a misplay by Reggae Boyz defender Michael Hector. El Tri had several chances for a fourth before and after Jamaica's Darren Mattocks ensured his side wouldn't be shut out with a nice finish in the 80th.
A tournament that proved to be a frustrating slog for the favorites ended perfectly for one of them.
• PODCAST: Making sense of, processing Gold Cup semifinal chaos
Jamaica gets beat, but isn't a loser
This is a Reggae Boyz team that will have to be reckoned with going forward. It was the first Caribbean side to qualify for the Gold Cup final and deservedly beat the U.S. in Wednesday's semifinal. German coach Winfried Schäfer has constructed a side that has all the speed and menace of its predecessors, but which also relies heavily on players from leagues in England and the U.S. It's organized, disciplined and flexible.
"Individually they can hurt you but for me, they're more sound defensively," U.S. veteran DaMarcus Beasley said before the semifinal. "They've always had good attacking players, even 10-15 years ago, but now they're adding their defensive experience in the back four, organization that the coaches brought into the team. They're going to be a very tough team to break down."
Giles Barnes's unexpected journey to Houston, Jamaican national team
It took a Mexican team at its cohesive best to do it, but that won't make it easier on the rest of the region going forward. Jamaica will be a tough out in World Cup qualifying. It faces Nicaragua in a two-game series in August-September and assuming it advances, Jamaica will be slotted into a group that includes Costa Rica and Panama.
Jamaica threatened Mexico frequently during the first half and was let down by a lack of precision in the penalty area. But their confidence on the ball and ability to switch the point of attack was impressive. Many of Schäfer's players are in their prime. And he's said he's continuing to search for more eligible talent while bringing along younger contributors like Mattocks (Vancouver Whitecaps) and defender Kemar Lawrence (New York Red Bulls). Sunday's defeat could represent the beginning, rather than the end, of Jamaica's run.
USA-Mexico will happen after all
Mexico failed to do its part two years ago, and the U.S. stumbled this year. They won't be able to avoid each other any longer. Although an anticipated Gold Cup final showdown never happened, they'll now meet on Oct. 9 at the Rose Bowl in Pasadena, Calif., for a spot in the Confederations Cup.
CONCACAF gets marquee USA-Mexico clash with Confed Cup berth on line
Excluding last summer's matches in Brazil, it will be the biggest game of U.S. coach Jurgen Klinsmann's four-year tenure. He spoke repeatedly over the past few weeks about the importance of playing in the Confederations Cup. The eight-team tournament represents the only opportunity to play elite European or South American sides in official competition outside the World Cup. It also gives participants an early look at the country scheduled to host the World Cup the following summer.
Mexico obviously will enter that playoff on a high. The U.S., meanwhile, will have to overcome its dud of a Gold Cup. The Americans will meet Peru and Brazil in September friendlies that will represent their only chance to prepare for the October playoff, which will be the first of its kind. Klinsmann can silence the outcry that has followed a poor Gold Cup performance with a win, or risk further scrutiny and frustration with a loss. El Tri, meanwhile, will feel good about its chances. A day ago, Herrera and his team were facing similar questions. There was doubt about Mexico's direction. Now, after a polished performance in the game that mattered most, it's once again the king of CONCACAF.
GALLERY: U.S. Soccer in 2015
The Year in Photos: U.S. Soccer in 2015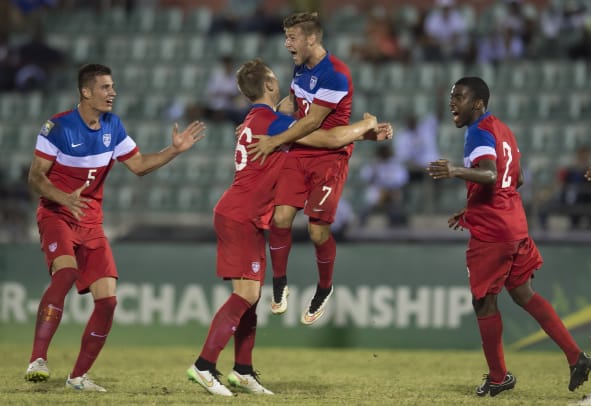 ​