CONCACAF gets marquee USA-Mexico clash with Confed Cup berth on line
Mexico's record seventh Gold Cup victory sets up an October 9 meeting against the United States in the Rose Bowl with a Confederations Cup berth on the line.
PHILADELPHIA—The international soccer game of the year on U.S. soil is coming on October 9: USA-Mexico in the Rose Bowl in a one-game playoff for a berth in the 2017 FIFA Confederations Cup in Russia.
It's kind of funny, really. Every two years CONCACAF foregoes an actual random draw for the Gold Cup in order to create the best possible scenario for a USA-Mexico final with the two regional heavyweights selling the most possible tickets and drawing the biggest possible TV ratings. But sports sometimes have a way of thwarting those plans, and in both 2013 and '15 a U.S.-Mexico showdown for the big prize failed to materialize.
Now we'll have one.
Two years ago, CONCACAF decided it would stage a one-game playoff between the 2013 and '15 Gold Cup winners to determine the region's entrant in the 2017 Confed Cup, the quadrennial dress rehearsal for the World Cup. The idea was to make each Gold Cup tournament matter equally, and it couldn't hurt for CONCACAF to make some money staging the game.
• MORE GOLD CUP: Mexico vs. Jamaica play-by-play | Full results, schedule
So here we are. Mexico won this year's Gold Cup with a 3–1 victory over Jamaica on Sunday. CONCACAF announced the game would happen in the Rose Bowl, a giant stadium (cha-ching!) that's on U.S. soil but has traditionally had heavily pro-Mexico crowds for U.S.-Mexico games.
The CONCACAF press release indicated that measures might be taken to produce more evenly-based crowd support: "Participating members associations and its [sic] supporter groups will have access to purchase tickets in advance of the public sale. Tickets will be available to the general public in September."
Mexico beats Jamaica to win seventh Gold Cup, set up meeting with USA
Based on current form, neither the U.S. nor Mexico is playing at its best right now. The U.S. struggled through most of the Gold Cup and lost its last two games of the tournament (to Jamaica and Panama). Meanwhile, Mexico was lucky to reach the final after being saved by some horrible penalty calls in the quarterfinals and semifinals. That said, El Tri played better in the final and deserved to beat the Jamaicans.
The October 9 game takes place on an official FIFA date, which means both teams will be able to call up their best possible squads. But there's one big wrinkle: The CONCACAF Olympic qualifying tournament (an Under-23 event) will be taking place at the same time, with the region's two automatic Rio 2016 berths on the line on October 10, one day after the Confed Cup playoff.
The U.S. men surprisingly failed to qualify for the 2012 Olympics, and U.S. coach Jurgen Klinsmann has said he puts a big priority on qualifying for the tournament to give his younger players the chance to compete in an international tournament with pressure on them.
That means a couple of things for October: 1) Klinsmann will have to decide if John Brooks, DeAndre Yedlin and Jordan Morris—Under-23 players who could help the senior team against Mexico—should be with the seniors or at Olympic qualifying. 2) Klinsmann will be training and coaching the senior team without the help of his right-hand man, Andi Herzog, who is the Under-23 head coach.
Watch: Guardado, Corona, Peralta score as Mexico earns Gold Cup title
One U.S. Soccer source said Herzog is often willing to challenge Klinsmann on things in a productive way when the U.S. senior team is in camp, adding that there are concerns Klinsmann can be less on top of things when Herzog is away.
For Mexico's part, it will have to make its own decision on whether to send Jesús (El Tecatito) Corona, who scored in the Gold Cup final, to Olympic qualifying or to the Confed Cup playoff.
Klinsmann suffered his worst loss as the U.S. coach with Jamaica's 2–1 defeat of the U.S. in the Gold Cup semifinals last Wednesday in Atlanta. A win against Mexico in October would restore his standing in many ways, while a loss would be another significant blow. That said, U.S. Soccer president Sunil Gulati said on Saturday that Klinsmann is not in danger of losing his job even if the U.S. loses to Mexico in the playoff.
• MORE GOLD CUP: Guardado wins Golden Ball | Dempsey, Guzan honored
At the very least, we'll now have two-and-a-half months to beat the drum for the October 9 Big Game at the Rose Bowl. The U.S. will then begin the semifinal round of World Cup qualifying on November 13 in St. Louis against one of the teams in its group: Trinidad & Tobago, the winner of St. Vincent-Grenadines vs. Aruba, or the winner of Guatemala vs. Antigua & Barbuda.
The U.S. men will also play friendlies against Peru and Brazil at home in September.
• PODCAST: Making sense of, processing Gold Cup semifinal chaos
GALLERY: U.S. Soccer in 2015
The Year in Photos: U.S. Soccer in 2015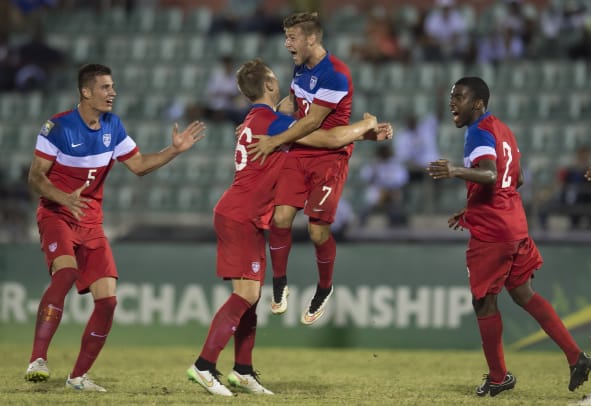 ​