Around Europe: Sherwood axed; Suarez, Aubameyang net hat tricks
Ben Lyttleton goes Around Europe where another U.S.-owned EPL club is changing managers and the most entertaining team plays in Germany–but it's not the one you might think.
Yet another dramatic week in Europe's major leagues saw pressure increase on Jose Mourinho, while there were hat tricks for some of the continent's big-name players, like Barcelona's Luis Suarez and Borussia Dortmund's in-form Pierre-Emerick Aubameyang. Bayern Munich might have found a successor to Pep Guardiola, while there was a dramatic return of the ex in Italy.
Here is the pick of this weekend's action Around Europe:
Another change for a U.S.-owned EPL club
Another week and another Premier League coach shown the door. And no, it's still not Jose Mourinho, who moves closer to the brink after Chelsea's latest defeat at London rival West Ham, but instead it's Tim Sherwood, whose Aston Villa side was ahead before losing 2-1 at home to Swansea.
EPL Notes: Manchester Derby ends in draw; Benteke with stunning header
Sherwood helped Villa survive last season: when he came in last February, the team was 16th. Despite briefly dropping down to 19th, he steered it to safety, albeit in 17th, and reached the FA Cup final. This season has been a different story: Sherwood has mixed up his lineups and formation like a coach who does not know his best team and one that has not worked in harmony with a new sporting director, Hendrik Almstadt.
Sherwood follows Brendan Rodgers (Liverpool) and Dick Advocaat (Sunderland) as coaches who have left their jobs this season. The clubs all have one thing in common: American owners. It was a point made by former Monaco chief executive Tor-Kristian Karlsen, who wrote on social media: "While hands-on U.S. owners undoubtedly bring great knowledge and expertise in terms of developing football clubs commercially, there might be some issues related to building sporting structures (and club culture/identity) on which to build long-term success."
The other common thread with the clubs has been their confused approach to recruitment: at Liverpool, Rodgers was at loggerheads with the so-called "transfer committee," while Sunderland sporting director Lee Congerton came under fire for signing players that Advocaat felt were not up to the task.
Jurgen Klopp brings needed vitality to Liverpool as club's new manager
Villa's new head of recruitment Paddy Reilly looked for young talent in France, only for Sherwood, who wanted players with Premier League experience, to bemoan that he could not turn new players into superstars.
"U.S. owners, in my view, also tend to learn about the transfer market the hard way. [They are] often convinced by imperfect models and poor advice," Karlsen added.
In the case of Liverpool and Sunderland, both clubs had a case for sacking their coaches in the summer. Timing matters but once again emotion seemed to play too keen a role in those decisions: Advocaat was brought in to just to stave off relegation and, job completed, was convinced to stay on (almost against his will). Rodgers changed his backroom staff in the hope it would buy him more time at Anfield; eight games later, he went the same way as his assistants Colin Pascoe and Mike Marsh.
REPORT: Bradley in talks with French club Le Havre
So now the hunt for the new Villa coach is underway. Wanted: coach to wake up a sleeping giant, survive a relegation battle and develop talent in a young squad. Remi Garde, Nigel Pearson and Bob Bradley are being tipped as the early favorites. Whoever gets the job will join a new chief executive, sporting director and head of recruitment at a club that is down at the bottom, and lacking in experience at the top. 
More new Atletico signings come through
Barcelona and Real Madrid both had nervy moments in their 3-1 wins over Eibar and Celta Vigo, respectively, but it was Atletico Madrid that caught the eye with its 2-1 win over Valencia in a game billed as the battle for "best of the rest."
The Many Faces of Jose Mourinho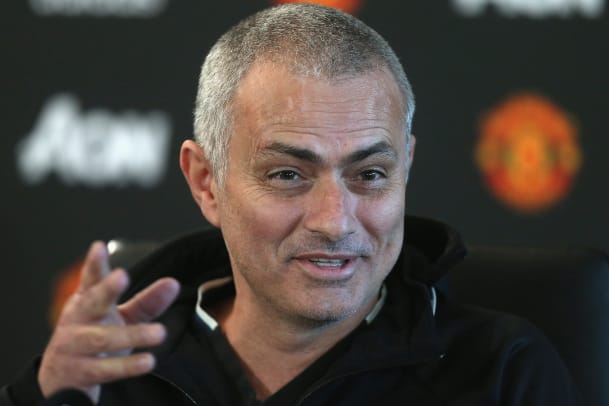 Last season, Antoine Griezmann scored his first La Liga goal for Atletico in late-October last season before a brilliant run in the second half of the season. The question after Sunday's comfortable win was whether something similar would happen with Yannick Ferreira-Carrasco. The Belgian winger scored a late goal at Real Sociedad last weekend, was outstanding in the midweek Champions League win over Astana and starred in Sunday's win, with the winning goal a fantastic solo effort.
It appears that after a slow start to his career in the Spanish capital, Ferreira-Carrasco is getting the hang of playing for Diego Simeone; as is Jackson Martinez, who scored for the second straight game and was subbed off to a standing ovation. Atletico knows its place in the football recruitment food chain, and continues to be the perfect breeding-ground for elite strikers. The likes of Diego Forlan, Fernando Torres, Sergio Aguero and Diego Costa have all honed their craft at Estadio Vicente Calderon. Griezmann looks set to be the next big-money sale next summer, but in Ferreira-Carrasco, Atletico already has an in-house replacement.
La Liga's table looks more familiar now: the big two are on top with Atletico tucked in behind them. There is still a chance for a new team to make the top four, with Celta Vigo and Villarreal close behind. But look out for Sevilla, back in the Champions League for the first time since 2008, and with a new-look squad that is finally clicking. It beat Getafe 5-0 with Kevin Gameiro scoring a hat trick, and three players–Gameiro, Ever Banega and Yevhen Konoplyanka–scoring from the penalty spot. Sevilla was toiling at the bottom after five games, but manager Unai Emery has it going in the right direction now.
Can the same be said for David Moyes's Sociedad, which jumped out of the relegation zone with a 4-0 win at Levante? Moyes could have been shown the door with a defeat. Instead he has earned a reprieve and probably took himself out of the running for the Aston Villa post. Ironically, it was Levante's Luis Alcaraz who was sacked after this one.
Leverkusen not lacking in excitement
Is there a more exciting team to watch in Europe than Bayer Leverkusen? After an astonishing Champions League draw with Roma–when it was 2-0 up, then 4-2 down, only to score two late goals to make it 4-4–Leverkusen was at it again Saturday, coming from 2-0 and 3-1 down to beat Stuttgart 4-3.
"If you win, [this way of playing] is bearable," said sporting director Rudi Voller.
Champions League: Arsenal comes through; Leverkusen-Roma thriller
Coach Roger Schmidt is the architect of this high-pressing team, and one that, according to German expert Raphael Honigstein, even gives the ball away on purpose in certain areas. Schmidt was coaching in Germany's second division at Paderborn when Ralf Rangnick, a key influence in the rise of tactical gegenpressing, appointed him coach at Red Bull Salzburg. After two successful seasons, Leverkusen signed him.
Last season only penalties stopped Leverkusen reaching the Champions League last eight, and this season it could yet get out of a killer group featuring Barcelona and Roma.
"You need to have conviction to play the way we do, you have to give it your all, all the time, and there are few moments of relaxation," Schmidt has said of his intense, risky and always offensive teams.
Watch: Chicharito scores two for Leverkusen in Champions League
His team is the fittest in the league after Oliver Blickett, formerly Jurgen Klopp's fitness coach at Borussia Dortmund, joined Leverkusen. Javier Hernandez has given the team a cutting edge (and star quality) up front, and after a slow start to the campaign, Leverkusen is up to sixth. Wolfsburg is next up on the schedule. As for Schmidt, he is certainly a contender to replace Pep Guardiola if the Spaniard leaves Bayern Munich next summer.
Now that team really would be worth watching.
Salah puts Roma atop Serie A
They call it "revenge of the ex," and it might be confirmation bias, but it seems to happen an awful lot. Attention was focused on Mohamed Salah on his first return to Fiorentina, whom he left in acrimonious circumstances in the summer after a loan from Chelsea and opted instead for a switch to Roma, and it took six minutes for the Egyptian to make his mark. He cut in from the right flank and curled a shot into the far corner, putting Roma ahead. It was the first league goal Fiorentina had conceded at home all season.
Champions League: PSG-Real Madrid stalemate; Clutch Kevin De Bruyne
​Gervinho doubled the visitor's lead before Khouma Babacar's late consolation. The upshot? There's another new leader in Serie A, this time Roma, despite a late dismissal for Salah, who was show two yellows in quick succession, the second for apparent dissent. Salah had claimed he moved to Roma because he wanted to win the Scudetto. He probably didn't realize he'd be challenging his former team for the title.
Juventus and dark horse contender Napoli also won, leaving five teams just two points apart at the top. Serie A remains the closest title race to call in Europe.
Jesus victorious in return to Benfica
The Lisbon derby between Benfica and Sporting is always a big game but Sunday's fixture carried more spice than usual. It was the first league encounter between the two teams since Sporting coach Jorge Jesus defected across town in the summer–and the first game back at Estadio do Luz for the controversial boss. Jesus had already put Benfica on alert with a 1-0 victory in the Portuguese Super Cup.
This game took it to another level as Sporting, the visiting side, raced into a 3-0 lead inside 40 minutes. The game finished the same way, and it was the first league defeat for the Eagles since March 2012, and Sporting's first win there since 2006. Jesus won 10 and lost of 14 derbies as Benfica boss; now he has won two out of two as Sporting coach.
"We were confident because we worked well this week, but the team has to grow and will be better in the second half of season," he said.
Braga capped a super day for Sporting by holding Porto to a goalless draw, leaving Sporting two points clear at the top and dreaming of a first title since 2002. Benfica is eight points back in eighth place.
Top three players of the week
Dirk Kuyt (Feyenoord)
Part of Feyenoord's recruitment policy is to welcome back former stars at the end of their careers, which is why Gio van Bronckhorst, now coach, saw out his playing days in Rotterdam; the same goes for Kuyt, who followed up last week's hat trick against Heerenveen with three more goals against AZ. That win kept Feyenoord joint-top with Ajax and moved Kuyt, now 35, top of the Eredivisie scoring charts.
Luis Suarez (Barcelona)
It was a year ago this weekend that Suarez made his Barcelona debut: 57 games later, he has scored 35 goals and won four trophies. Three of those goals came in Sunday's come-from-behind 3-1 win over Eibar; after Neymar's recent heroics, this time it was the Uruguayan's time to step up.
Pierre-Emerick Aubameyang (Borussia Dortmund)
Thomas Tuchel's inspiration sparks Borussia Dortmund's revival
Robert Lewandowski's scoring exploits have rightly captured the headlines this season, but what about Dortmund's Aubameyang? He has an identical record in the Bundesliga, with 13 goals in 10 games (and 19 in 18 in all competitions). The Gabon international scored his second hat trick in four days, following up three against Qabala in Europa League with another triple in the 5-1 league win over Augsburg.
New coach Thomas Tuchel has brought out the best in Aubameyang by moving him to center forward. Simple enough.
Top three goals of the week
Nolito (Celta Vigo vs. Real Madrid)
It was always going to take something special to beat Keylor Navas, who has been Real Madrid's outstanding player this season. The Costa Rican made three marvellous saves against Celta Vigo before Noilto's cracker left Madrid worried until Marcelo's late strike sealed a 3-1 win.
Paulo Dybala (Juventus vs. Atalanta)
The young Italian has scored in four out of his five starts for the Italian champion this season, and his latest was a swerving blaster from outside the area to set Juve up for a much-needed 2-0 win.
Munas Dabbur (Grasshoppers vs. Sion)
The young Israeli forward is lighting up the Swiss league this season. This genius solo goal was his ninth of the season, and he has 10 assists to boot. Expect interest in him in the January window.
[youtube:https://youtu.be/4RR_rXLGTzs]