USA World Cup qualifying roster: Nagbe, Johnson in; Dempsey out
Darlington Nagbe has received his first U.S. men's national team call-up, getting tabbed by Jurgen Klinsmann for the USA's first 2018 World Cup qualifying matches. Brian Straus breaks down the roster.
Clint Dempsey, who started the year as U.S. national team captain, is off. New citizen Darlington Nagbe and emerging defensive stalwart Matt Miazga suddenly are on the threshold of their international debuts. Fabian Johnson is back after a short stay in the coach's doghouse. And Jurgen Klinsmann has found a balance between continuity and overhaul on his first World Cup qualifying roster of this new cycle.
Less than a month after reaching the nadir of his four-plus year tenure as U.S. coach, the embattled manager has named a 23-man team for the upcoming qualifiers against Saint Vincent and the Grenadines in St. Louis (Nov. 13) and Trinidad and Tobago in Port of Spain, Trinidad (Nov. 17).
Thirteen of the 23 players have World Cup qualifying experience and 14 were on the team that fell to Mexico in last month's Confederations Cup playoff, which capped a miserable summer anchored by a fourth-place finish in the CONCACAF Gold Cup.
Klinsmann said Friday that he's eager to turn the page.
"We're all excited about starting World Cup qualifying toward Russia 2018. Every time you say the words 'World Cup' it means so much to everyone involved that it gets you pumped up and energetic," he told U.S. Soccer. "The players realize it's going to be a long marathon toward Russia 2018, but we have to start it on the right foot."
The U.S. will start practicing this weekend in Miami before moving to St. Louis on Nov. 12. The following day, it'll kick off its quest for an eighth straight World Cup appearance when it hosts Saint Vincent at Busch Stadium. The Americans then will travel to Trinidad.
Klinsmann and Co. enter CONCACAF's qualifying competition at the semifinal stage, which comprises three groups of four teams. Guatemala rounds out the Americans' quartet, which is the easiest of the groups on paper. The four teams will play a home-and-home round robin (six games each) over the next 10 months and the top two will advance to the Hexagonal, which kicks off in November 2016.
The Year in Photos: U.S. Soccer in 2015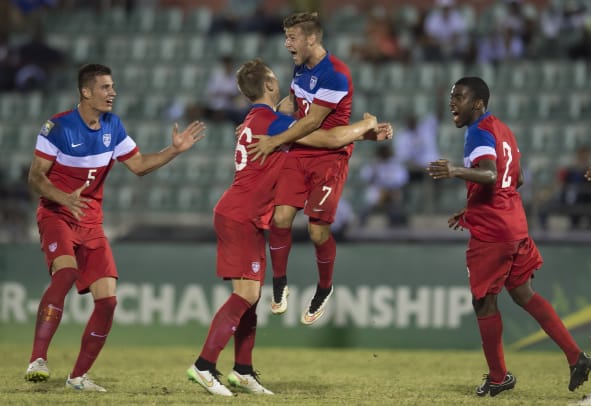 With the World Cup nearly three years away, it's likely that the team Klinsmann takes to Russia (assuming qualification) will differ significantly from the one announced Friday. Of the 17 men who played in the first two qualifiers of the 2014 cycle, which were played seven months later, only eight went to Brazil. But there are several players on this list who look set to lead the transition from the squad that fell short this summer.
Chief among them are Nagbe and Miazga, who have received their first senior call-ups. Born in Liberia, Nagbe moved to Ohio as an 11-year-old. He's now 25 and received his U.S. citizenship in September. He has only 24 goals and 20 assists in 166 career MLS games, but he appears to have turned a corner this season thanks in part to a shift from the flank into the middle, where his speed and skill on the ball has changed the Portland Timbers.
Miazga, a 20-year-old central defender, has had a breakout season for the Supporters' Shield-winning New York Red Bulls. The 6' 3" academy product was third in MLS in headed clearances as New York yielded the fewest number of goals in the Eastern Conference.
"Those are two players that have been on our radar for a long time. Matt is a youngster coming through our system. He played for the Under-20's and he played for the Olympic team," Klinsmann said. "In Darlington Nagbe we have a player who we've been following for quite a while and he finally became eligible for the United States. We are looking forward to having them with us ... It's good to see that we have players coming through and give us more of an option."
The inclusion of forwards Bobby Wood, 22, and Stanford junior Jordan Morris, 21, also is notable, especially considering the absence of Dempsey, who is the national team's second all-time leading goal scorer.
"At this point in time, I want to give the younger strikers a chance to prove themselves and this is a good stage to do it. I communicated with Clint about it and it's all fine," Klinsmann said.
Klinsmann also welcomes back Johnson, whom he dismissed last month after publicly questioning his commitment to the team following the Mexico game. Johnson asked to be substituted out in extra time despite not being injured.
Here's a closer look at Klinsmann's team:
GOALKEEPERS: Brad Guzan (Aston Villa), Bill Hamid (D.C. United), Tim Howard (Everton)
Guzan and Howard will compete for the starting spot. Hamid, who's up for a second straight MLS Goalkeeper of the Year award, is third in line. Real Salt Lake veteran Nick Rimando frequently fills that role but is unavailable after undergoing knee surgery.
DEFENDERS: Ventura Alvarado (Club América), Matt Besler (Sporting Kansas City), Geoff Cameron (Stoke City), Fabian Johnson (Borussia Mönchengladbach), Matt Miazga (New York Red Bulls), Michael Orozco (Club Tijuana), Tim Ream (Fulham), Brek Shea (Orlando City)
Sensationally sent back to Germany in disgrace last month, Johnson—Klinsmann's first-choice right back—has returned to the fold. 
Regarding Johnson's controversial substitution, Klinsmann said, "[Johnson] said he couldn't go anymore … he just feared to get possibly an injury. But he was not injured in that moment. He got all stiffened up. It's a muscle issue. That's normal. In a situation like that, little things often make a difference."
Klinsmann added, "So he is going home after we had a talk. And he can rethink his approach toward his team."
Johnson, who scored midweek in a UEFA Champions League game against Juventus, apparently had his rethink and is back in Klinsmann's good graces. The pair always was likely to patch things up. A year ago, the coach called Johnson the best right back at the World Cup.
Brek Shea, now a candidate to start on the left in DaMarcus Beasley's absence, returned to the U.S. picture in October's loss to Costa Rica after several months out with a sports hernia. Tim Ream, a St. Louis native, has shown well in during recent internationals and also is a good possibility.
Klinsmann praised the Fulham defender on Friday.
"He is a player that is playing very, very consistently in his environment in the English Championship," Klinsmann said. "What I really like of him in England is consistency. He is also versatile. He can play on the left, he can play in the middle and he stands his man. He's a doer. I'll really be looking forward to have Tim back in our group again and build on his consistency."
Besler and Cameron, who started against Mexico, remain the likely starters at center back. Omar Gonzalez and John Brooks, who've been recent U.S. regulars, missed out on the Confederations Cup playoff and once again are on the outside looking in.
Seattle Sounders captain Brad Evans, who relieved Johnson at the Rose Bowl, is out with an injured hamstring, Klinsmann said.
MIDFIELDERS: Kyle Beckerman (Real Salt Lake), Michael Bradley (Toronto FC), Mix Diskerud (New York City FC), Miguel Ibarra (Club León), Jermaine Jones (New England Revolution), Darlington Nagbe (Portland Timbers), DeAndre Yedlin (Sunderland)
The U.S. midfield once again may be anchored by the ever-present trio of Bradley, Jones and Beckerman, although Nagbe's arrival presents Klinsmann with an interesting option. The Portland playmaker's increasing comfort in the middle may allow Bradley to retreat into the more deep-lying role where he's excelled for most of his career. That may push Jones or Beckerman to the bench, but it would allow Bradley to play his best position.
Ibarra earned his first international call-ups while a member of the NASL's Minnesota United but hasn't been brought into camp since the June friendlies in Europe and hasn't played for the U.S. since April. But he's starting to get comfortable with León, for which he scored his first Liga MX goal last weekend.
Diskerud, who missed out on the Confederations Cup playoff, can plug a variety of midfield holes. Klinsmann seems to continue to prefer Yedlin in midfield even though the Seattle product has been starting recently at right back for Sunderland.
FC Nantes' Alejandro Bedoya is the most notable absence. He missed out on the Confederations Cup playoff after falling ill in California and Klinsmann said Friday that the midfielder is "still not back in place right now." Bedoya has missed Nantes' past five games.
Danny Williams and Graham Zusi also failed to make the cut.
FORWARDS: Jozy Altidore (Toronto FC), Alan Gordon (LA Galaxy), Jordan Morris (Stanford University), Bobby Wood (Union Berlin), Gyasi Zardes (LA Galaxy)
It's strange to see a U.S. roster without Dempsey's name on it. The 32-year-old has remained threatening when healthy and was the Americans' only reliable finisher at this summer's Gold Cup. He had a disappointing outing against Mexico, however, and is only just finding regaining his form with the Sounders.
Chris Wondolowski also was left behind. Although the San Jose Earthquakes marksman remains a reliable scorer in MLS, the 32-year-old is nearing the end of his international run. Aron Jóhannsson is out following hip surgery and New England Revolution striker Juan Agudelo wasn't preferred over veteran target man Alan Gordon.
Altidore and Zardes become the likely starters in St. Louis while Wood and Morris continue to find their international footing. Wood, the hero of the June wins over Germany and the Netherlands, has four goals for second-tier Union Berlin. Morris has eight goals and two assists in 13 games for Stanford, including seven goals in his last nine appearances.
More so than any other position on Friday's roster, the forward corps provides a glimpse into the national team's future. It's a future that begins next week in St. Louis.