Nagbe, Borchers the keys to success for Portland Timbers' MLS Cup run
For Portland Timbers coach Caleb Porter, Darlington Nagbe and Nat Borchers provided his team with a balance that carried it to the 2015 MLS Cup title over the Columbus Crew.
COLUMBUS, Ohio — Is it possible to be both bold and pragmatic? To take risks and minimize the fallout? To find that elusive balance, the sweet spot between imagination and strength, between creativity and workrate, that we're all looking for in one way or another?
That was the challenge facing Portland Timbers coach Caleb Porter entering 2015, and it was an achievement realized in full on Sunday when his team won its first MLS Cup title with a 2-1 victory here against the Columbus Crew. And while soccer is a team game, the linchpins of Portland's championship could be found in the balance personified by two new players: midfielder Darlington Nagbe and defender Nat Borchers.
Portland Timbers win first MLS Cup, beat Columbus Crew 2-1 in crazy final
Wait, new players? Nagbe isn't new to Portland, of course, but he might as well have been an entirely new addition to the team after Porter switched him to a central midfield role from the flank in midseason. That was bold and risky, not least because Portland was now sacrificing a more defensive-minded player in that role. And it came, too, after Porter had entered the season talking about how much more pragmatic he had become in an effort to improve the defense that had leaked 52 goals in 2014.
The pragmatic side of Porter had brought in Borchers, a solid MLS veteran who knew how to win big games in this league. That made Portland's defense better, but the key to taking the Timbers to an even higher level was the risky tactical switch of Nagbe, which unlocked game-changing results from the potential he had often shown.
• WATCH: Timbers jump out to 2–0 lead seven minutes into MLS Cup final
Porter decided it was possible to be both bold and pragmatic. "I've found when you're building the layers on your team, a lot of times you get one lightbulb on and the other one goes off," he said in a quiet moment in the Champagne-soaked locker room after the game. "But to get the layers built, you've got to almost focus on that side of things. We've really had to emphasize the defensive side—as a team, with the personnel changes—and we probably did it to a fault. Even though we were generating chances, I'm not sure they were quality, and I'm not sure the players felt as free as they needed to be."
Timbers' Paulson, Crew's Precourt owners for MLS's present, future
​Nagbe was one of them. Not even Porter, who had coached Nagbe at the University of Akron, had been able to figure out the best way to use his talents, special talents on the ball that are hard to find in this league, in this country.
"Darlington is pretty special," said Porter on Sunday. "I don't tell people publicly, but he's like a son to me. I'm really proud of him, because there was a time when I'm like, 'Does he want to make the next step?' It's like father-son, right? 'It's time. You have to make the next step. You've got world-class talent, but you've got to figure out the player you want to be.' But with that I thought: I've got to find a role for him."
Nagbe's father, Joe, had played the No. 8 position, the box-to-box role, in his days with Liberia's national team. And Darlington had told Porter that his father's message was "just don't lose the ball." Porter said he understood that, but Nagbe's talent also required him to use it, to take risks.
Nagbe became that player in the central midfield for Portland, swashbuckling his way through the middle at certain times, deploying a deft first touch to create space at others, and even providing smart defensive work and positioning at others.
• STRAUS: How Portland GM Wilkinson built an MLS Cup winner
If Porter had a model for Nagbe's role, he said, he wanted him to become something like Paul Scholes, the Manchester United and England No. 8. And on Sunday, Porter sent Nagbe a text message before the game with one of his favorite quotes, from the Spanish and Barcelona legend Xavi: "The one who has the ball is the master of the game." If you get on the ball today, you'll be the master of the game.
Indeed, Nagbe played a big role in creating the game-winning goal in the seventh minute. And while he had fewer rushes forward as the Timbers protected their lead, there were solid defensive moments and those occasional gorgeous first touches on the ball that he can conjure.
"Special touches," Borchers called them, "that first touch that Darlington makes that puts him in space that gets it by the defensive pressure and makes us able to get our line up."
Being in the center "allows me to get different looks on the field," Nagbe said. "Being on the wings gave me the same look almost every time. Being in the middle was good for me and the team."
MLS Cup Winners Through The Years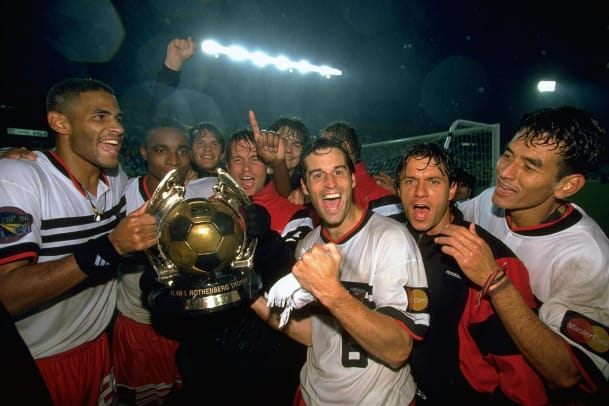 It's hard to imagine things going much better for Nagbe lately. His emergence has been the key to Portland's championship, and he earned rave reviews from U.S. national team coaches and teammates for the way he trained during his first stint with the national team last month.
"This kid, I don't think anybody knows just how good he is," said Porter. "The national team tasted it. I always said, 'Get this guy in training and they'll be like holy s---.' You know when Diego Valeri is saying Nagbe is our best player, that says something, you know what I mean? If you ask anybody on our team they'll say he's our best player, because he's special on the ball."
Infographics of MLS Cup history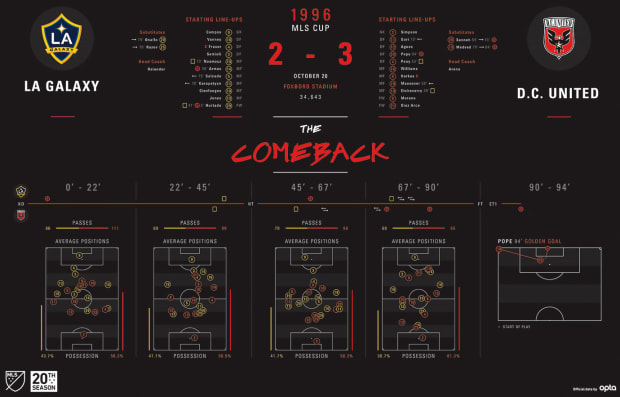 But it was the acquisition of Borchers that allowed Porter to become more pragmatic at the beginning and later set the stage for the Nagbe risk. Portland conceded 13 fewer goals in the regular season this year as Borchers and Liam Ridgewell became one of the league's best central defense partnerships. On Sunday, they anchored a defensive unit that shut down an explosive Columbus outfit for the final 73 minutes of the game.
You could make persuasive arguments for both Nagbe and Borchers as the most outstanding player of the 2015 MLS playoffs. Borchers was solid throughout and made some signature plays, like his late-game block in the box against Dallas and his late goal in the first leg of that series that gave Portland a 3-1 advantage. Nagbe, too, influenced every postseason game on the ball, and his defensive help was a pleasant surprise.
The sense of possibility right now with Nagbe is energizing and even a little bit overwhelming. But that's what he always wanted. And as he wore a wide smile in the championship locker room on Sunday, Nagbe revealed something else too. "For me, the best part hasn't happened yet. I'm going home and we're having a son this week."
Wednesday is the expected due date. It'll be a fun week in Portland.