As Messi wins another Ballon d'Or, his evolution as a superstar continues
Despite all of his past success, Lionel Messi continues to raise his game. The result: a fifth Ballon d'Or trophy.
So the experts know their stuff after all. Lionel Messi polled 41% of all votes to win the FIFA Ballon d'Or for a record fifth time Monday in Zurich. In a democratic vote that considers every FIFA country's national team coach, captain and one accredited journalist–a system that always throws up anomalies–Messi came out on top, as expected.
The surprise was that he missed out on a historic player/goal double. He was nominated for the Puskas award for his fantastic strike against Athletic Bilbao, but little-known Brazilian Wendell Lira won it. When 2007 winner Kaká–the last non-Messi/Ronaldo winner–announced Messi's name, there was no emphatic shout of "Siiiiiiiiiiiii!" as when Ronaldo won it last year; nor was there a sartorially brave suit choice, as Messi has donned in previous years (It was Neymar who took that accolade with his jauntily-angled trilby hat). 
Messi, playing it safe in a smart black tuxedo, straight-batted the usual press conference and ceremony questions about his own brilliance and thanked his teammates. "It's an incredibly special moment for me to stand again on this stage, after being in the audience for the last couple of years watching Cristiano [win the trophy]," said Messi. "It's more than anything I ever dreamed of when I was a kid. Without my teammates none of this would have been possible. Football has made me grow and learn every day. Thank you."
Also on the day in Zurich, USA standout Carli Lloyd won Women's Player of the Year, USA's Jill Ellis won Coach of the Year for Women's Football and Barcelona's Luis Enrique won Coach of the Year for Men's Football. And while the day was about honoring all of world soccer's best, the bulk of the spotlight belonged to Messi. 
Best photos of Lionel Messi throughout the years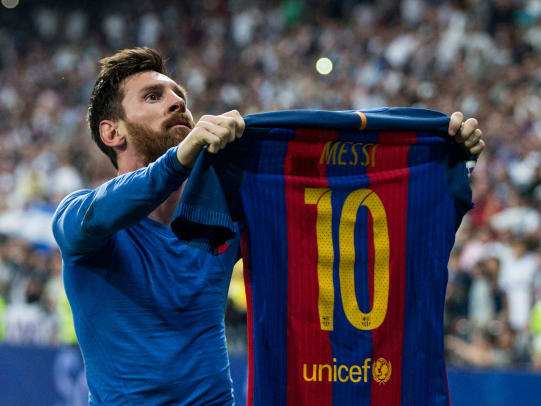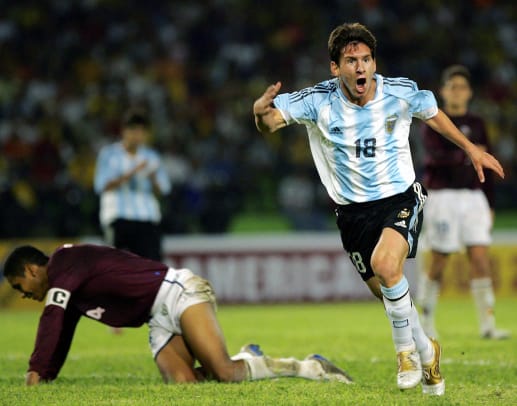 Messi now has five Ballon D'Or wins to Ronaldo's three. This one was no surprise, given that Barcelona won the treble last season, and capped that with the Club World Cup victory in December. While the raw numbers of Messi's goalscoring (and indeed Ronaldo, who outscored his rival last year) are mind-boggling, this time the judges–made up of national team coaches, captains and one accredited journalist from each FIFA nation–must have considered the aesthetic as well.
Watch: Here's why Lionel Messi won his fifth Ballon d'Or
​Messi has the same killer instinct as Ronaldo, but his goals are on a different level; the goal against Athletic Bilbao in the Copa del Rey final was one thing, but what about the dizzying dribble in the Champions League semifinal that left Bayern Munich's Jerome Boateng in a heap, followed by the delicate close-range chip that had Manuel Neuer and Rafinha lying on the goalline and unable to stop? Huge games, huge goals.
"Does anyone really believe that the best way to describe Leo is by talking about his numbers?" asked Martin Mazur in a passionate column in El Grafico. "It is an unfair reduction of the beauty of his game."
You can have the goals, the vines, even the trophies. What Messi has provided this year are those jaw-dropping moments, those 'I saw that live' memories, a level of majesty that can reduce Pep Guardiola to open-mouthed wonder (as when he nut-megged two Manchester City players in a Champions League tie in February).
It's nine years since Messi first appeared on the Ballon D'Or podium, and he has not left it. At that time, we focused on his speed, his dribbling in tight spaces and his humility. As the seasons have gone by, he has responded to every criticism. He didn't score enough headers, until he did just that in the 2009 Champions League final. He didn't score enough free kicks, except he now does (19 in all, the same as Ronaldinho, including an in-off-the-crossbar beauty last week against Espanyol). He was not a leader, and too quiet in the dressing-room, which we now know is not true either, even if Javier Mascherano or someone else often does the talking for him.
The expectation next year is that Neymar will step up and replace his Barcelona teammate. But don't be too sure Messi is ready to give up just yet.
"He is obsessed about winning a title with the Argentine national team, so I think he will keep this galactic level until the 2018 World Cup," said Hernan Claus of Diario Ole. "It's up to him, but he is looking after his body better than ever."
Experts in Brazil are not convinced that Neymar is ready to win it either.
"I cannot picture Neymar becoming the next Ballon D'Or," Silvio Nascimento, sports editor of Veja, told SI.com. "He is not mature enough yet. It will depend on how Messi and even Ronaldo keep playing, but also on himself. If you watch carefully, you will see Neymar still playing this Brazilian style of dribbling when sometimes it is not needed. Even if he did win the Ballon D'Or, I reckon he wouldn't be able to dominate as Messi has, simply because both Messi and Ronaldo will still be there."
Even Pelé has spotted improvement areas in Neymar's game.
"He doesn't know how to play backwards, he doesn't know how to organize the game, he doesn't know how to build-up. He has lots of deficits in his game," Pelé said last year. "Neymar is a really good player but he's not yet a complete one. Messi is definitely the best."
With the Olympics, Copa America Centenario and the European Championships coming up this summer, the field of contenders for next year's title might not be limited just to this year's podium players. How unlucky is Luis Suarez to miss out on the top three? Could Gareth Bale fulfill the ambitions of his president Florentino Perez? This could be the year of Paul Pogba or Antoine Griezmann, of Thomas Muller or Mesut Ozil. The favorite, though, has to be Messi again.
In 2015, he made us reconsider his own brilliance. Even if he does not make it 10 years unbroken on the podium, we can surely now end the debate about who was the best ever.