Around Europe: Torres hits 100, Serie A title clash beckons, more
Fernando Torres hit an Atletico Madrid milestone, Juventus and Napoli are on a crash course and Leicester City is for real. Ben Lyttleton goes Around Europe with the latest.
Another packed round of matches around Europe saw the Premier League have no choice but to take underdog contender and league leader Leicester City seriously. Elsewhere, the top three sides won in Spain, and there was a moment of history for Atletico hero Fernando Torres. In Germany, Pep Guardiola faces a tricky period in charge of Bayern Munich, while PSG prepared for the Champions League with its latest win in France. In Italy, the match of the season takes place in Serie A next weekend with speculation swirling over one of the coaches involved.
Here is what is catching our eye Around Europe:
Torres hits Atletico Madrid landmark
It took 19 games and five months but finally the wait was over; Fernando Torres moved from 99 goals to 100 for his beloved Atletico Madrid and so marked another piece of history in his remarkable career. The goal, the third in a 3-1 win over Eibar, helped end a four-game winless run in all competitions for Atletico and keeps the club in contention with Barcelona, which is still three points clear with a game in hand.
Best photos of Neymar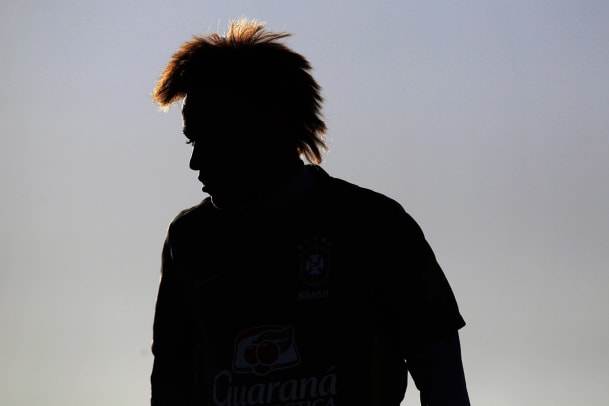 For Torres, though, the goal was a major moment. The Spanish striker's contract ends this summer and though he does not want to leave, Atletico might be tempted to cash in on a player whose impact has been more effective off the pitch than on it of late.
If Torres's history with the club is coming to an end, it deserves recognition. He was the fan who broke into the first team at 17 and captained the side at 19.
"I arrived when we were in the Segunda [second division] at a time where Atletico needed a glimmer of hope, something different and ... in a way I represented this revival," he told So Foot magazine. "I never really felt the pressure because I had no picture in my head of what I was doing. My grandfather Eulalio told me: 'Atletico is a combat. The most important is not to be best, but to fight for your values.' He was right. It was more than a team, it was a feeling. It must be like that. I liked the 'one team against everyone'. I ended up watching games and I realized that I had chosen to be with a club that did not win a lot... but I did not care."
Atletico wins more these days under Diego Simeone, but if the coach is heading elsewhere this summer or next, then it would be worth keeping hold of Torres just to convey that "feeling" to the next generation of players. The fact he presented the shirt he wore Saturday to the academy head who spotted him over 20 years ago, Manuel Brinas, now 84, says it all about his class. Torres may not be a one-club man, but when it comes to Atletico, he certainly talks like one. And he only needs one more goal to equal Sergio Ageuro's tally of 101 for the club.
Allegri's future in spotlight
Remember when Juventus started the season so badly and was written out of the title race? It lost four and won only three of its first 10 games in Serie A as the team got used to life without Pirlo, Vidal and Tevez. Since then, though, it has won 14 games in a row, the latest a 2-0 win at Frosinone thanks to two late goals from Juan Cuadrado and Paulo Dybala.
EPL Notes: Mourinho the loser as Man United draws Chelsea
It sets up Serie A's title race nicely as leader Napoli, two points clear, also won again, with Gonzalo Higuain scoring in his sixth straight match. Next week the top two play each other in Turin.
Before then, the future of Juve boss Max Allegri will be on the agenda, as last week it was reported he had met with Chelsea executives to discuss taking over as coach next season, on a three-year contract worth €7.5 million per year. Allegri insisted he was committed to Juventus until 2017, but added: "Everything in its own time."
Juventus general manager Beppe Marotta responded in an interview with Mediaset: "All the conditions are right for us to continue with him as coach. Results are what count and Allegri has delivered plenty of those. Football is a business and the role of a coach is important when it comes to breeding continuity. Chelsea are a top club and it's obvious that they'll want to look at the best coaches. All I can say is that Allegri is already at a top club, so he'd do well to think twice before leaving Juventus."
The other coach in contention for the Chelsea job is Antonio Conte, who Juventus might want to hire to replace Allegri. Ahead of a potential title decider, it's a debate and distraction Juventus could do without.  
Questions for Manchester City
Manchester City had a good week last week; until it took to the field that is. It was praised for "the coup" of landing Guardiola as coach next season, and after a messy divorce with previous bosses Mark Hughes and Roberto Mancini, this seemed like a smooth separation with Manuel Pellegrini, whose dignity in a tricky situation should be noted. And yet: you can't help but wonder what effect the announcement had on a group of players whose mental toughness is questionable at the best of times. Would they be inspired to new heights by the fear of what the demanding new coach would expect? Or would they coast to the end of the season with a lame-duck coach who is leaving anyway?
Leicester City's magical run continues with 3-1 win over Manchester City
If Saturday's chastening 3-1 loss to Leicester is anything to go by, it's the latter. City was second best in every department, and the only surprise was that Leicester did not score more. City knew what to expect and simply could not handle it. The team still misses Vincent Kompany far more than it should at the back, while with Kevin de Bruyne injured and David Silva not fully fit, Sergio Aguero was left trying to make something happen on his own.
That was the difference between the two sides: Leicester was a team playing to its full potential, greater than the sum of its parts. City was the opposite: less than the sum of its parts.
This was a clear opportunity for City to stamp its mark on the title race, but instead it reminded us of Pellegrini's shortcomings–this complacency that City sometimes plays with has been a feature of his time at the club (usually coming on the back of a title-winning season)–and offered an insight for Guardiola of just how much work he has to do at the club. Some think he had easy jobs at Barcelona and Bayern Munich (he didn't), but the job spec at the Etihad might not be as simple as it first appeared.
Bayern's Vidal faces his critics
Saturday provided a tough test for Bayern Munich in the first game since Pep Guardiola was announced as the next coach of Manchester City, as it traveled to Bayer Leverkusen, whose high-pressing intense style under Roger Schmidt is similar to Borussia Dortmund at the peak of the Jurgen Klopp era.
Lost in the Pep Guardiola spotlight: What's next for Manuel Pellegrini?
​Guardiola was aggravated before the game, claiming he could multi-task when questioned about how much time he is giving to City next season. Then there was the issue of Arturo Vidal, a player he reportedly did not want signed last summer, who was alleged to have returned from winter break overweight and, according to a report in SportBild newspaper, left the training camp in Qatar without permission and returned with alcohol on his breath.
Vidal has denied the story and threatened legal action against the paper, and the club released a statement backing Vidal as well.
Yet he started against Leverkusen with his role to keep Kevin Kampl quiet. It was not his best performance, and he was replaced after 52 minutes by Thiago Alcantara. Chilean paper El Mercurio has started the summer rumors by claiming he is ready to leave Munich and that Diego Simeone wants him at Atletico Madrid. Expect similar stories for anyone who gets subbed off between now and the end of the season for Bayern. Vidal's crunch game comes soon, when Bayern takes on his former club, Juventus, in the Champions League.
What looked a like an easy road for the German side when the draw was made is altogether tougher now, given Juve's form and the pressure for Guardiola to succeed before he departs.
PSG passes a rare Ligue 1 test
The records continue to tumble for PSG, which remains 24 points clear at the top of Ligue 1 and has now gone a record 34 top-flight games unbeaten, after getting through a tricky game at Marseille Sunday night. Marseille was one of the few teams to take on PSG rather than sit back and go for damage-limitation.
At first it looked to have backfired, with Zlatan Ibrahimovic giving the visitor an early lead. But inspired by midfielder Lassana Diarra–probably the only Ligue 1 player outside PSG who is good enough to play for the leader–Marseille fought back and equalized with a smart strike from Remy Cabella. That PSG's best player was Thiago Silva tells its own story.
Best, worst transfers of January window; Summer names to watch
For next week's Champions League opponent Chelsea, there were some seeds of optimism; without Marco Verratti in the midfield three, PSG is a different side. The Italian is injured at the moment, and his replacement Adrien Rabiot does not give them the same penetration. Lucas Moura is preferred on the left with Javier Pastore injured, but he was quiet against L'OM and his replacement Edinson Cavani was anonymous.
Then there's the goalkeeper issue: Kevin Trapp has made the odd error this season and could have done better with Cabella's goal. He will need to be at his best next week. On the plus side, Angel di Maria is back to his Real Madrid best and he once again combined with Ibrahimovic to punish Steve Mandanda's rush of blood to come out and not claim the ball to score the winner. It was not totally convincing but in Ligue 1 these days, it does not need to be.  
Top three players of the week
Robert Huth (Leicester)
The German center back scored twice against Manchester City as Leicester's run continues. Signed last January, he has now played 38 league games for the Foxes and won 21 of them–there can't be many more successful winter signings than him.
Thiago Silva (PSG)
The Brazilian center back is not often tested in Ligue 1,but he stood up to the challenge of Marseille in an outstanding performance for the champion-elect.
Luis Suarez (Barcelona)
Another goal for the Uruguayan who is now La Liga's top scorer with 20 goals. It was not a vintage Barça display, and Suarez's goal was late; but the striker continues to make the M-S-N trident fearsome.
Top three goals of the week
Jesse Lingard (Manchester United)
After a week in which Dele Alli and Jamie Vardy both scored great goals, a third English player got in on the act with winger Lingard's smart swivel and shot putting United ahead at Chelsea.
Luka Modric (Real Madrid)
A humdinger from outside the area, the Croatian midfielder said that coach Zinedine Zidane had told him to shoot more often. Modric's late goal was the match-winner in a 2-1 result at Granada.
Kostas Stafylidis (Augsburg)
The Greek fullback opened the scoring for his side with a bolt from the blue but was not able to defend the lead as host Ingolstadt ran out a 2-1 winner.