Premier League superlatives from a storybook 2015-16 season
The Premier League season is over. From Leicester's title to Chelsea's flop, Ben Lyttleton looks at the bests and worst from a remarkable campaign
Such is the smartness of the Premier League marketing machine, every season seems to end with fans declaring it the best ever. But perhaps 2015-16 will be remembered as just that; a season when champion side Chelsea slumped to mid-table, and Leicester City, tipped for relegation during preseason and was 5,000-to-1 odds to win the title, romped to the trophy by a clear 10 points.
There was drama, controversy, glory and surprises. Here are some of the bests and worsts of an unforgettable, storybook campaign (which has one game to go after Manchester United's bomb-scare-turned-training-exercise fiasco on Sunday):
Coach of the Year: Claudio Ranieri, Leicester
It's impossible to look beyond the charm and humility of Ranieri. A coach belittled by Jose Mourinho, he showed quiet leadership (incidentally, that's the title of a new book by another former Chelsea boss, Carlo Ancelotti) and enough confidence to make only minor changes to the Leicester side that ended last season so well. Leicester's local butcher made Ranieri sausages in his honor and he can expect a street to be named after him.
He seems to enjoy the absurdity of it all and unlike many of his colleagues, does not take himself too seriously. 
Honorable mentions:Mauricio Pochettino (Tottenham), Slaven Bilic (West Ham)
PODCAST: Brian McBride interivew; EPL coaching carousel
Player of the Year: Jamie Vardy, Leicester
5,000-to-1? Second to none: Leicester City wins Premier League
The Premier League players voted for Riyad Mahrez, the Leicester players voted for N'Golo Kante, and the football writers went for Vardy, whose 24 goals propelled the Foxes to the title. His story is well-known–rejected as a youngster, playing non-league football five years ago, and scrapes with the law along the way–but it is so unlikely that a Hollywood film is in the pipeline. So is his autobiography, which will come out later this year.
After a sensational season. the clamor for him to start for England at Euro 2016 continues.
Honorable mentions: Riyad Mahrez (Leicester City), Harry Kane (Tottenham)
GALLERY: Best moments of Leicester's title run
Leicester City's Top Moments of 2015-16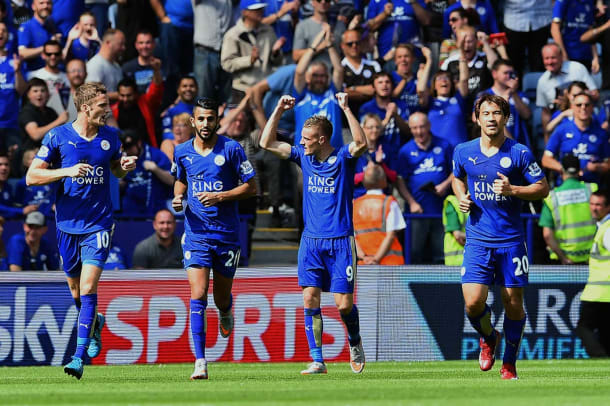 ​
Young Player of the Year: Dele Alli, Tottenham
Harry Kane, Dele Alli are present, future for Tottenham, England
Dele Alli began this season wanting to play 10 games for his new club.
After all, he was 19, had never played in the Championship before, let alone the Premier League, and was at a team competing in the top four. But that didn't stop Mauricio Pochettino, who gave Alli his debut in the first game of the season and started him for the second time in Spurs' 4-1 win over Manchester City.
He kept his place ever since, forming a partnership with Eric Dier in midfield that has continued into the full England squad. He scored from 25 yards on his England debut against France and will be a key player at the Euros this summer. Pochettino deserves great credit for giving him the opportunity.
Honorable mentions: Marcus Rashford (Manchester United), Jack Butland (Stoke City)
Signing of the Year: Kevin de Bruyne, Manchester City
£55 million is a lot of money to be considered a bargain, but when you look at how badly City fared in De Bruyne's absence–albeit with an imbalanced squad and an injury-prone captain–it was clear that the young Belgian will continue to prove Chelsea's decision to sell him to Wolfsburg a wrong one.
More than Vincent Kompany and Sergio Aguero, De Bruyne was the decisive player for City this season, and had he stayed fit in spring, when the club dropped out of title contention, it might have ruined Leicester's party. His teammate Raheem Sterling cost a little less, but the difference between the two could not have been bigger.
Honorable mentions: Lamine Kone (Sunderland), N'Golo Kante (Leicester City)
Flop of the Year: Florian Thauvin, Newcastle
Manchester United threat casts cloud over Premier League finales
The French winger raised eyebrows when he cost Newcastle £12 million last summer–it seemed a lot for player who had issues at his previous club Marseille–but was dressed to impress when he turned up for his first home game wearing a tux complete with bow tie. Unfortunately his performances did not match the outfit and he only played three games before going back to Marseille on loan in January.
That was quite a fee Newcastle paid for him; it paid the same for Jonjo Shelvey in January, when it was apparent that the defense needed improving. The recruitment mistakes contributed to Newcastle's relegation.
Honorable mentions: Seydou Doumbia, Henri Saivet (both Newcastle), Eder (Swansea)
​
Goal of the Season: Jamie Vardy, Leicester vs. Liverpool
This was a goal that summed up Leicester's season: A long ball from Mahrez, and confidence, impudence and perfection execution from Vardy. The context was significant too: it came at the start of a run of games against Liverpool, Manchester City and Arsenal when everyone expected Leicester to slip away. Instead it won the first two matches. And often, its best goals came in the big games: Mahrez's against Chelsea and Manchester City were among the best all season.
[youtube:https://youtu.be/Lnncn1Hd3g8]
Honorable mentions: Dele Alli (Spurs vs. Crystal Palace), Cuco Martina (Southampton vs. Arsenal)
GALLERY: Best of Leicester's title celebrations
Leicester City's Premier League title celebrations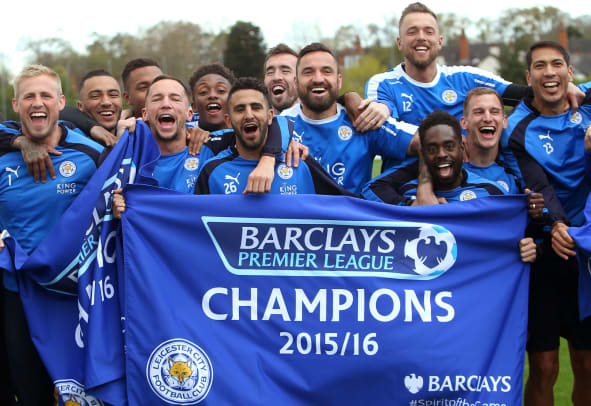 ​
Mystery of the season: Eden Hazard's loss of form
No team defending the title has ever done as badly as Chelsea this season, and the player who embodied its struggles was Hazard.
Americans Abroad season in review: U.S. options emerge overseas
He went from Player of the Year to a place on the bench and couldn't seem to work out why himself. Some cynics suggested that, once Chelsea was eliminated from Europe, he was keeping his powder dry for the Euros. He definitely looked in better form in the last two weeks of the season, with goals against Spurs and Liverpool reminiscent of last season's player. New coach Antonio Conte's challenge next season will be to recapture that form.
Honorable mentions: Why did Watford get rid of Quique Sanchez Flores for doing what he was brought in to do? Why did Crystal Palace sign Emmanuel Adebayor in January?
Quote of the Year: "Dilly-ding, dilly-dong!" (Claudio Ranieri)
Only towards the end of the season did the Leicester players reveal the Italian's habit of ringing an imaginary bell in training to keep the players focused. It's a long-standing technique in the Ranieri coaching handbook, as former Cagliari player Ivo Pulga told The Guardian that Ranieri used the line on his squad in 1989. "At Christmas, he gave us each a bell with "Dilly-ding, dilly-dong', and his name on it," Pulga said.
Whatever Ranieri did, it worked.
Honorable mentions:
"In sex masochism, then it is allowed." - Louis van Gaal on Robert Huth pulling Marouane Fellaini's hair 
"Even if you are a medical doctor or secretary on the bench, you have to understand the game." - Jose Mourinho on the opening-day row with club doctor Eva Caneiro that sowed the seeds for them both leaving the club
Team of the Season
GOALKEEPER: Joe Hart (Manchester City)
DEFENDERS: Hector Bellerin (Arsenal), Virgil Van Dijk (Southampton), Toby Alderweireld (Tottenham), Christian Fuchs (Leicester City)
MIDFIELDERS: Kevin De Bruyne (Manchester City), N'Golo Kante (Leicester City), Dele Alli (Tottenham), Riyad Mahrez (Leicester City)
FORWARDS: Jamie Vardy (Leicester City), Harry Kane (Tottenham)