Jose Mourinho has no excuses for Manchester United's dud at Chelsea
Chelsea destroyed Manchester United 4-0 in Jose Mourinho's latest return to Stamford Bridge.
Six days after playing for, and getting, a goalless draw at Liverpool, Jose Mourinho's plans to do similar at Stamford Bridge lasted only 29 seconds. By then, Pedro had put Chelsea ahead and it kept on coming, adding goals from Gary Cahill, Eden Hazard and N'Golo Kante to seal a 4-0 win, Mourinho's worst league result as a coach in England.
By his own standards, the post-final-whistle conversation with Antonio Conte–which was reported by Italian press as saying he should not humiliate him by getting the crowd going at 4-0 up–was a poor diversionary tactic. After all, Mourinho's history is hardly garlanded with humility from the touchline.
More importantly, it should not detract from United's woeful performance. Who has ever seen a Mourinho side with such a chaotic defense? Was there a plan going forward? What is Mourinho asking of Marouane Fellaini, Anthony Martial, and even Marcus Rashford, who ended up at left back to cover Victor Moses? The energy from United was reminiscent of Chelsea's before the Leicester defeat after which Mourinho claimed the players had "betrayed" his work. We can only begin to imagine what he thought of Eden Hazard's performance, his fourth goal of this season as many as he managed all last year.
EPL Notes: Chelsea dominates Manchester United in Jose Mourinho's return
Chelsea was good but did not need to be great; Conte's 3-4-3 system is starting to take shape, and wingbacks Marcos Alonso and Moses were both excellent.
Mourinho pointed to the table, where United is only five points off fourth place, "not 16," he said in a dig at his predecessors. The reply could only be: "Yet."
Any more displays like that and it will be. Mourinho cannot claim this is not his squad either. He claimed he wanted four players over the summer, and he got them all. Eric Bailly went off injured at Chelsea and that could be a loss for United, while Paul Pogba and Zlatan Ibrahimovic both struggled. Henrikh Mkhitaryan is reportedly confused by his omission from the side.
GALLERY: The many faces of Jose Mourinho
The Many Faces of Jose Mourinho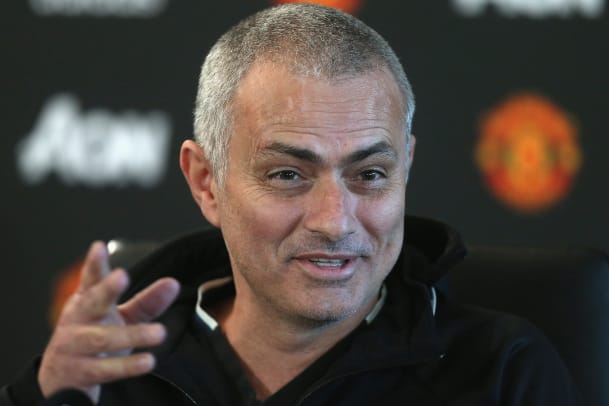 This season was billed as Pep Guardiola versus Jose Mourinho, and the two Manchester clubs–who square off again in the League Cup on Tuesday–were viewed by many as the title favorites. The last few weeks have reminded us that even the best coaches need time. United might also need to re-calibrate expectations. This side is miles away from winning the title.
Of more worry for United fans, the coach looks miles away as well.