Landon Donovan finds his post-playing passion in San Diego's MLS expansion bid
Landon Donovan speaks about his role with San Diego's expansion bid and how he got involved with the project in his new hometown.
Quartyard is an outdoor (see 'yard') events space in San Diego's East Village that boasts a bar (see 'quart'), a kitchen and a stage. There's room for food trucks and up to 1,500 people. It may wind up being too large for a party thrown by a soccer team that doesn't exist, but the hosts aren't taking any chances. They learned a valuable lesson a few weeks ago, when even they underestimated the local soccer community's thirst for beer and belonging.
The occasion was Major League Soccer's 22nd opening night and the place was a pub in Miramar. Interest was high, in part because the most decorated player in American history was promoting the event. Consequently, about a week before kickoff, the viewing party was shifted to a larger bar down the street. But RSVPs continued to flow in. And people wanted to bring their kids. So with just two days' warning, organizers moved it again to a restaurant near UCSD with around 20,000 square feet of space.
"We originally thought maybe 100 or so would come. But a thousand people showed up at a place that was really out of the way. It made it even more surprising," said attendee Landon Donovan. "I've lived it. I genuinely want people to be a part of this from the beginning and from the ground up. It's what people love about soccer, when they feel they're really a part of it."
So Friday evening, fans longing to be "a part of it" will fill the Quartyard for a World Cup qualifying doubleheader featuring the two existing sides that probably are the most popular in this unique nexus between Los Angeles and Mexico—the U.S. national team and El Tri. Donovan spent hours mingling, signing and posing at the first party but won't attend Friday. Instead, he'll be involved in Fox's production of the USA-Honduras matchup in San Jose. But that hasn't stopped him from promoting Friday's soirée on social media, and he'll almost certainly be at the Quartyard in spirit. Rallying and uniting the soccer fans of San Diego, his new home, has become a substantial part of Donovan's new calling. And he's all in.
MLS expansion: An in-depth look at the many bids for the league's next four clubs
He bounced around a bit after retiring (for the first time) following the 2014 season. Donovan did some marketing and sponsorship work, took classes, helped launch a soccer camp and dabbled in TV. He even returned to the LA Galaxy and played for a couple months last fall. But nothing really captured him. Nothing scratched the itch. During that time, Donovan and his wife, Hannah, moved south to San Diego. They had a son last year, realized during a subsequent visit to her hometown how helpful the in-laws could be and pulled the trigger soon thereafter.
"It's a pretty special place, and it took me a little while to fully appreciate and understand what it's all about. I've been in L.A. so long, which is pretty hectic and fast-paced. San Diego is very relaxed, very laid back," Donovan said. "I always thought of it as a really big city. But when you get to know people here, it has a very community-friendly, small-town vibe to it, which I really like."
San Diego won him over. That sense of community won him over. But it also highlighted the smaller divisions within the city's soccer scene, as well as that scene's lack of a focal point.
"I didn't realize [at first] how many people are involved in the game here in San Diego, and the problem, candidly, is that there hasn't been an overlying entity to help regulate or motivate in the right way," Donovan said. "Because there's been that void, everybody ended up fighting or competing at an unhealthy level. All these youth clubs are completely isolated from one another. They don't collaborate. They compete for the same players and have been poaching players from each other for many years. In my opinion, it needs a galvanizing and unifying project that brings those people together. If that happens, this becomes a massive, massive home run, because there are so many people, hundreds of thousands, that are connected to the game here and love it."
• STRAUS: Go further inside the details of San Diego's MLS expansion bid
American soccer's most prolific finisher then got the service he needed. MLS began soliciting expansion bids and indicated it wants to identify two new clubs this year. The Chargers left town after failing to secure public funding for a new stadium, and a group of potential investors led by Mike Stone, who runs a local private equity firm, saw a once-in-a-lifetime opportunity. San Diego losing its NFL team to L.A., created a sporting void. Qualcomm Stadium wasn't fit for purpose, either for pros or for the collegians at San Diego State. But it was on a large piece of city-owned land with which locals were familiar. Stone, according to The San Diego Union-Tribune, was introduced to soccer by his brother. A partner at FS Investors, Nick Stone (no relation), already was a fan. The pieces and a plan fell into place.
One of the aims of these viewing parties is to collect signatures. Fans can sign there, or at any of a number of places to which the MLS hopefuls send their T-shirt-bearing signature gatherers. Two weeks ago, for example, they were at a Sockers indoor game at the Valley View Casino Center, where more than 6,200 fans watched Donovan lace up his boots once more and take one for the team during a halftime celebrity match. Anyone who's been off the field for a while knows that indoor is no joke. The lungs catch fire quickly. But for Donovan, Nick Stone—who said he now spends well more than half his time on the MLS effort—and their colleagues, this is a commitment. They'll do what needs to be done.
They're aiming for more than 100,000 signatures, but 72,000 will be enough to put the proposal before San Diego's city council. The Stones and their partners would purchase the stadium property at market rate, split the cost of a 30,000-seat, $200 million venue with SDSU (which then would be gifted the MLS group's half) and use the remainder of the land for a 55-acre park, commercial and residential development and space for a future NFL stadium if needed. The council could either vote on the proposal directly or have a referendum.
Potential, future soccer stadiums in America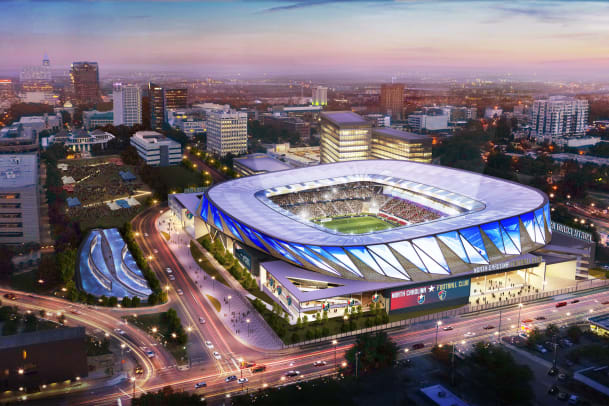 Either way, Donovan is confident. He's traversed this soccer nation, and knows genuine passion when he sees it.
"The good news for us is that our polling has been very good and we're out in the community every day," he said, adding that those who hope to "obstruct" the project are worried it would prevent the NFL's return, that it could limit SDSU's expansion or, for a select few, impact their own designs on the property.
"Our goal really now is to energize the people that want this and to make sure they are involved and that they are pushing for it," he said. "It's very grassroots. It's very organic. We're going to hold little events in different communities. We're going to have free clinics for people. Celebration nights to come watch the U.S. game, and the women's national team as well. It's to get people going and keep them excited."
He's contributing money in addition to time and the obvious emotional investment. Donovan already owns a piece of Premier League club Swansea City. But that, he said, is "more on the periphery." He's there to answer questions, exchange ideas, and be a "supporter just like everyone else."
The San Diego project is different. Donovan wouldn't provide specifics, but said his financial stake in the effort is "very substantial." And he won't be on the periphery if their bid is chosen. Expect Donovan to be one of the new club's primary, day-to-day executives long-term.
"I've been waiting for something to captivate me and to find something I'm really truly passionate about. When the possibility first came about I was excited by it. But I was also a little bit hesitant and wanted to be a little bit cautious and be very smart about the people I work with," he said. "If you're not working with good people then it doesn't make sense and I had a few situations like that over the last few years, where they were incredible opportunities but they weren't the right people, and for that reason this made a lot of sense for me."
Eyeing greater ambition and a changed culture, Chicago springs for Schweinsteiger
He believes in FS Investors, who in turn are thrilled with Donovan. Nick Stone told SI.com that the former athlete appears to have transitioned seamlessly into this new world. He said Donovan was down-to-earth, inquisitive and insightful. There were times when Donovan the player was less than thrilled with the spotlight. But Donovan the potential MLS owner is at ease and enthused among fans, Stone said, and he's run the local media gamut several times over.
"For us, it's very straightforward. He has forgotten more about soccer in the last 24 hours than I know, and that's exactly the guy that you want intimately involved in helping you build out your franchise," Stone told SI.com. "He brings a lot to the table for us. It's an exciting partnership and I love the fact that Landon is really engaged. I'm getting texts from the guy at 11 at night—'Let's do this. Have you thought about this?'—It's really fun. He comes into the office a lot and is an integral part of the discussions.
"Landon helps you feel like what you're building has a lot of soccer integrity," Stone concluded. "You know the product ultimately is going to be of the highest quality."
They're both excited by delving into youth development, which is an area that's long been important to Donovan and one with massive potential in the San Diego area. Donovan called it "an island" surrounded by mountains, the ocean, the drive to L.A. and Mexico. He thinks about serious stuff like the players who might be mined there and fun stuff like the group's team-name voting initiative, which comes complete with Donovan's video updates, local choices like Mission San Diego or San Diego Fleet and absurd options like San Diego Bad Hombres and Footy McFooty Face.
"If the fans feel part of the process and more connected to what's going on, then they're going to own it," Donovan said.
But the same could be said of him. It can't be easy to win championships and accolades and play on the biggest sport's biggest stages and then find something else, in addition to family, that offers anything close to that kind of tension, feedback or thrill. Donovan has believed in MLS from the get-go and always saw the bigger picture. His decision to remain with the Galaxy rather than move abroad fit with his day-to-day desires but also helped stabilize and grow the league. He understood that and didn't shy away. Now he has a chance to continue that effort in a role where he can make a different kind of difference. We've seen the results when Donovan is focused and devoted. That's something San Diego's expansion competitors can't call upon.
"You have to find something meaningful," he said. "That you're passionate about and do every day. Having that opportunity, presented here now in my new hometown, it was a really easy commitment for me. I'm really glad it's come about."