The case for USMNT playing Christian Pulisic as a central playmaker
Christian Pulisic has proven his chops with Borussia Dortmund, and he belongs in the center for the U.S. men's national team in a pair of key World Cup qualifiers.
This story appears in the March 27 issue of SPORTS ILLUSTRATED. To subscribe, click here.
This week, the best U.S. men's soccer player of 2017, 18-year-old Christian Pulisic, parachutes into North America for two pressure-packed U.S. games: against Honduras on Friday in San Jose, and at Panama next Tuesday. Qualifying for an eighth straight World Cup is in jeopardy after losses to Mexico and Costa Rica in November, defeats that caused a change in coaches from Jurgen Klinsmann to Bruce Arena. After two games the U.S. is in last place in CONCACAF's six-team, 10-match final-round tournament, from which the top three (and perhaps four) teams will advance to Russia 2018. A win at home on Friday is paramount, and much of the U.S.'s attacking verve is expected to come from Pulisic. In light of this urgency, Arena should play Pulisic in a central attacking role from the start.
Over the last 18 months Pulisic has undergone a breathtaking rise. He broke into the first team of Germany's Borussia Dortmund in early 2016 and scored his first U.S. goal last May (the night after hiring a private plane to take him back home to his prom in Hershey, Pa.). He has only kept climbing since. Pulisic has five goals and eight assists in 31 matches this season for Dortmund, and on March 8 he produced the decisive goal that sent his team to the Champions League quarterfinals—arguably the biggest goal ever scored by an American on the Continent.
The Education of Christian Pulisic: Inside the Dortmund, USA rising star's rapid growth
U.S. fans are reflexively skeptical about emerging soccer talents in the men's game—Freddy Adu did TV ads with Pelé at age 14 but never went on to play in a World Cup, much less become the nation's first male soccer superstar. So far, at least, Pulisic shows every sign of being the real thing, a dynamic attacker with speed and vision who has the finishing instinct of an assassin. Merely becoming a regular for one of the world's top 10 clubs and providing a game-changing Champions League assist against Real Madrid already puts Pulisic in a group of one among American players all-time.
The looming question for the U.S., though, is where Pulisic will play. He has started wide for much of the season with Dortmund, but in recent weeks he has moved to a more central role that diminishes his defensive assignments. Pulisic himself prefers to play in a central No. 10 role—he wears 10 for the U.S., his Twitter handle is @cpulisic_10—and most observers think that eventually he'll be a fixture in that part of the American formation.
But will it be this week? Klinsmann started Pulisic centrally against Mexico in November, but the Mexicans sliced through the U.S.'s three-man back line so frequently that Klinsmann scrapped the idea in the first half. That wasn't Pulisic's fault—the blame goes to the poorly organized and executed defense—which is why Arena should unleash the 18-year-old centrally now, preferably playing ahead of Michael Bradley in a 4-1-3-2 formation.
Christian Pulisic: Budding career of USA, Borussia Dortmund's rising star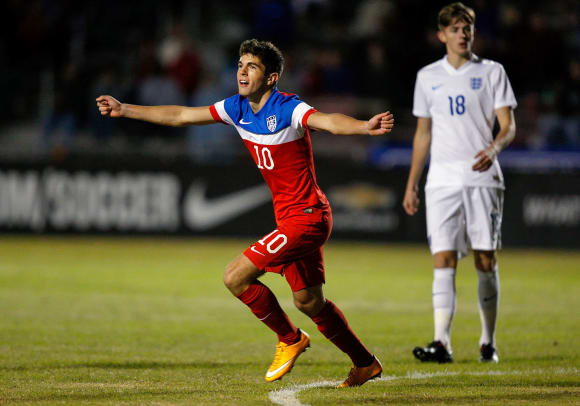 Reached in his L.A. office last week, Arena was asked if Pulisic was better out wide or in the middle. "I actually think it's both," Arena said. "We're going to see his comfort level when he gets into camp and talk to him a little bit. ... He's demonstrated at a young age that he's capable of getting the job done in a lot of positions. With our team, at the moment I'm on a computer doing that with the options of him playing at both spots and organizing our team accordingly."
The image of the 65-year-old Arena tinkering with lineups on his computer just like the rest of us soccer geeks is a fun one. But when the whistle blows on Friday night in San Jose, there will be little margin for error.