In with the old and the new: Dempsey, Pulisic display prolific combination for USA
The wily veteran and bright-eyed star-in-the-making showed an uncanny connection in a much-needed result that helped recalibrate the USA's World Cup qualifying campaign.
SAN JOSE, Calif. — One man is 34. The other is 18. One man is near the end of his historic national team career. The other is just at the start of a journey that has no limits of what it could become.
But on the night the U.S. got its groove back, the connection between Clint Dempsey and Christian Pulisic transcended age and experience and boiled down to the most elemental part of this beautiful game. Here were two American jazz men—one from Nacogdoches, Tex.; the other from Hershey, Pa.—riffing with each other all night long, connecting in ways that suggested this wasn't the first time they had started a game together, even though it was.
This was sexy football, American style.
The scoreboard would end up reading USA 6, Honduras 0 in Friday's World Cup qualifier at Avaya Stadium, a result that brought the U.S. from sixth place to fourth place in the Hexagonal standings, just like that. But the moments that set your pulse racing came when Pulisic set up Dempsey on two exquisite goals, part of Dempsey's hat trick on the night.
USMNT routs Honduras to emphatically get back on track in World Cup qualifying
On the first, with the U.S. up 2-0 in the first half, Pulisic hit a delicate lob that hit Dempsey's right shoulder, whereupon Dempsey bulled his way into the Honduras box with defensive contact happening the entire time. It didn't matter. Dempsey slammed it into the upper right corner.
On the second, with the U.S. leading 4-0 in the second half, Pulisic paused on the ball in the Honduran end. Dempsey made a darting run toward the goal, and you could see the gap between the defenders that Pulisic saw and instantly exploited. The pass was something magical, a perfectly weighted ball on the ground that met Dempsey in stride and made his finish seem like an extension of one intuitive movement from both men.
It was a beautiful thing.
U.S. coach Bruce Arena, hoping to make an emphatic statement in his first World Cup qualifier since 2005, decided to start Dempsey earlier this week after it became clear that Jordan Morris wasn't healthy enough to go. Dempsey had been out for six months–and nine from the national team–due to an irregular heartbeat that could have ended his playing career, but Arena said Dempsey and the Seattle Sounders fitness coaches had done the work to show he could play 90 minutes on Friday if needed.
As for Pulisic, Arena opted to start him centrally instead of out wide.
"Against this particular opponent, we were going to play two strikers and someone underneath them," Arena said afterward. "We had to win this game and have an aggressive attacking concept to break down a team that defends very well and gets good numbers behind the ball in good spots on the field."
"So we had to have a number of players in advanced positions. Christian's been playing in that spot a lot for Dortmund. I hate using these terms, but they kind of play with two No. 10s underneath a No. 9, and he's been playing there [at No. 10] recently. And I think he's been exceptional the last couple months with his club team. It's clearly a position he's played a lot, and I felt it was the right decision to make."
Christian Pulisic: Budding career of USA, Borussia Dortmund's rising star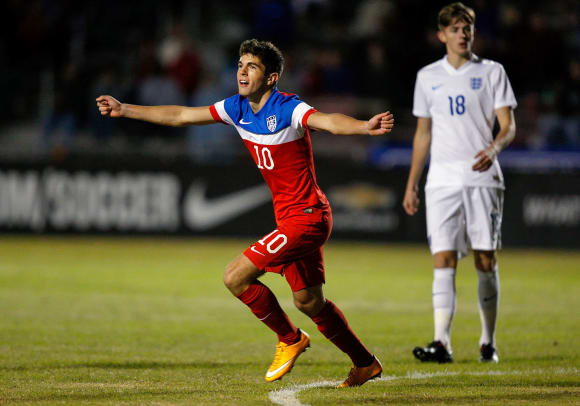 Hearing Dempsey and Pulisic talk about connecting with each other was revealing too. When you write about players, you can't help but jot "the 34-year-old Dempsey" and "the 18-year-old Pulisic." But the fact is these guys aren't thinking about ages when they're on the field together. They're just two inventive players finding a connection.
"Man, he's a great player," Dempsey said of Pulisic after the game. "He can beat people one-on-one on the dribble and creates mismatches because of that. Someone else has to try to push to him, and if you're able to make good runs he'll find you. It's great to have players like that who can win that 1-v-1 battle and kind of break teams open."
Pulisic was just as effusive about Dempsey.
"Clint's an easy guy to play with," Pulisic said. "He's strong, he's technical, he makes good runs and he always gives good support. That's exactly what you need from a forward, and he's clinical."
Pulisic's temperament, pace impressed Gundogan in American's early Dortmund days
It's impossible to know how many times Pulisic and Dempsey will get to play with each other on the national team. For a guy who said he thought his career might have been over recently, Dempsey was talking on Friday night about hoping to play in another World Cup and hoping to get the chance to score three more goals and set a new all-time U.S. record (he trails Landon Donovan's mark of 57 by two after Friday's trio).
At the rate he's going, Pulisic will be wearing the U.S. No. 10 jersey for a very long time. But instead of wondering how many times we'll get to see Pulisic and Dempsey play together, perhaps the best thing to do is savor it while we can and look forward to more opportunities to witness something special, something that, like Friday's performance, won't leave our memory banks anytime soon.
Maybe the next one will come against Panama on Tuesday.