Bruce Arena: USA positioned to be a 'big player,' can win by 2026 World Cup
Bruce Arena discussed the 2026 World Cup, Christian Pulisic, the Michael Bradley-Jermaine Jones partnership and more.
Despite the four points earned in last month's World Cup qualifiers, U.S. national team coach Bruce Arena still feels the pressure. The Americans (1-2-1) remain in fourth place in CONCACAF's Hexagonal, one point out of the three spots that come with direct entry into the 2018 World Cup. And on the horizon—a June 8 qualifier outside Denver against Trinidad & Tobago that will set the stage for the June 11 trip to the Estadio Azteca.
"There's no loss of urgency. "We're far from out of the woods here," Arena said Thursday during a media conference call. "I think we still have very little margin for error."
But that well-founded urgency hasn't darkened the long-term outlook. Arena admitted he doesn't "feel good about sitting with four points in four games." He discussed the difficulty in navigating a player pool beset by injury and unpredictability, the challenges of playing at altitude and Tuesday's shocking attack in Dortmund, from which Christian Pulisic emerged unscathed (BVB defender Marc Bartra wasn't so fortunate).
But there was one significant piece of positive news since the manager last met the press. On Monday, the U.S. Soccer Federation and its counterparts in Canada and Mexico unveiled plans to bid to host the 2026 World Cup. It's a bid that has an excellent chance of succeeding, and those prospects had Arena reflecting on how far American soccer has come and how far it soon may go. Through that wide-angle lens, the problems of the present seem somewhat smaller.
Mailbag: USMNT's current best XI; World Cups 2018, 2022, 2026; more of your questions
"In 1994, the U.S. was looked at as an emerging frontier in the game and FIFA wanted to bring the U.S. into the world's game," Arena said of the moment when the country hosted its first World Cup. "I think in 2026, we're going to be firmly immersed in the game and be a big player. I think 2026 will be the time where we're going to start talking about winning a World Cup. It wasn't going to be in 1994. It wasn't going to be in 2010. But 2026 can be your time. That's the difference."
He continued, "Think about where we're going to be in nine more years. Think about where we were in 1994, '98—keep going. And think about where will be in eight or nine more years in our league, eight or nine more years of [American] players developing all over the world and then playing the World Cup in our country. I think we're going to be positioned to be a big player in 2026."
In 1994, Arena led the Virginia Cavaliers to their fifth NCAA title in six years and MLS still was two years away from kicking off. In the summer of 2026, he'll be 74 years old. Pulisic, who set up the only goal in last month's 1-1 draw in Panama, will be in his playing prime at 27.
Here are some more highlights of Arena's comments:
On Pulisic, attack on Dortmund, U-20 World Cup
Pulisic came on as a reserve in Tuesday's UEFA Champions League quarterfinal game in Dortmund, where his shell-shocked team fell, 3-2, to AS Monaco. He's already proven indispensable to the USA, however, and U.S. Soccer was in touch with him shortly after the attack on the team bus, Arena confirmed.
"We've had contact with him. I actually left him a message although I haven't personally spoken to him," Arena said. "But we had contact with him through text during the incident and after the incident. He's O.K. I'm sure, again, I don't know the exact circumstances around the bombs going off and all that, but I'm sure it was very hectic, very scary, and I'm sure it disrupted the team in a lot of ways. It's never easy. Hopefully in time all those people will recover. It's unfortunate they lost a player to that as well. I think they're all O.K. and Christian's fine."
Ronaldo ends drought to beat stellar Neuer, lead Real Madrid over Bayer Munich
Dortmund is scheduled to host Eintracht Frankfurt on Saturday before heading to Monaco for the return leg next week.
Pulisic also was named by coach Tab Ramos to the preliminary roster for the upcoming U-20 World Cup in South Korea. That tournament will run May 20 to June 11, the day of the Mexico-USA qualifier. The Americans will meet Ecuador, Saudi Arabia and Senegal in the group stage.
"I talked to Tab about it. We didn't think it would hurt to have [Pulisic] on that roster. You never know," Arena said. "If the U.S. made it to the final, for example, maybe we'd send him. Our plans are that Christian is going to be playing with us. But it doesn't hurt to have him on that roster."
Christian Pulisic: Budding career of USA, Borussia Dortmund's rising star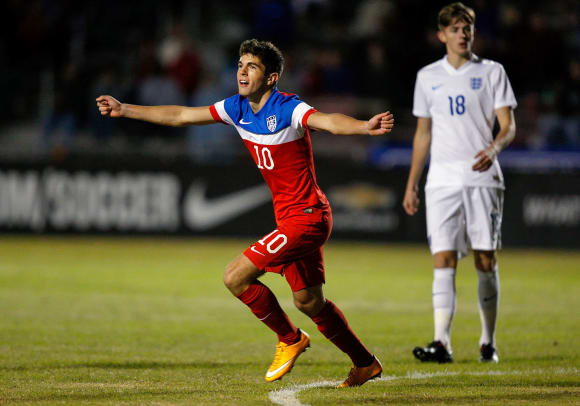 The constant Bradley-Jones question
Jurgen Klinsmann never really figured out how to get the best out of both Michael Bradley and Jermaine Jones in the U.S. midfield. His failure to solve that equation was especially evident in the November loss in Costa Rica, where the pair anchored a 4-4-2 that was torn apart by the hosts in what would be Klinsmann's final match in charge.
Arena was aware of the issue when he took over. He deployed Jones and Bradley together behind Sacha Kljestan in the January friendly against Serbia, which ended in a scoreless draw, but exited the winter camp lauding the leadership, professionalism and impact of both veterans. Jones was suspended for last month's home qualifier against Honduras, a 6-0 win and then returned to the lineup in Panama, where Arena fielded a 4-4-2 similar to the one shredded in San Jose. 
It held together far better in Panama. Bradley stayed deep and Jones didn't freelance nearly as much. But it also failed to generate much of an attack. Bradley remained the metronome and almost never ventured into the offensive third, while Jones wasn't on the ball much and didn't have much of an impact as a connector or creator. The Americans' only goal came when Pulisic dispossessed a Panamanian defender and fed Clint Dempsey.
Insider: Webb says Frings should've been whistled for handball vs. USA in '02 World Cup
Arena addressed the issue Thursday and said the lack of attacking spark in Panama was more the fault of the Panamanian approach, the lax officiating and the bumpy field. But he acknowledged the midfield problem still hasn't been solved.
"On the day, the game had very little flow. I think the referee did a terrible job. … We had a referee that would not issue cards or call a lot of fouls. It was just a rough, scramble of a game. There were not a whole lot of great quality in the attack," Arena said. "When you walk away from that game, you can't have a whole lot of criticism for the attacking players."
However, he said the partnership between Bradley and Jones, "Certainly didn't look like anything special. As we move forward we continue to look at different possibilities. You look at the game against Honduras and the game in Panama, they're two completely different games and have so many different qualities and characteristics. It's hard to go from one game to the other and come out with a perfect answer. ... In my mind there are some clear choices we're going to make in midfield and how others fit in remain to be seen."
Pool grows while planning for the unexpected
Six weeks before the USA gathers in Colorado to begin preparing for the June qualifiers, Arena has a player pool numbering 61, he said. Why so many?
"You lose players along the way. You've got to make adjustments," he said. "We were really scrambling in terms of numbers [in March]. You've just got to realize that's all part of the game so we've got to be prepared."
He rattled off the names of men who were unavailable for the qualifiers in San Jose and Panama City: Bobby Wood, Timmy Chandler, Fabian Johnson, DeAndre Yedlin, Brad Guzan. Geoff Cameron and Clint Dempsey had missed time and weren't givens. Eric Lichaj was a likely call-up but was injured. Sebastian Lletget got hurt against Honduras. 
"We named a roster of 24 players for the last qualifier and if I'm not mistaken, at some point either before we started or after the first game we lost nine of those players. That's like 40% of your roster," Arena said. "That's radical and we can't have that happen again. We don't have much of a margin for error. We've got that get that right."
So he's planning meticulously and starting with a long list of names he intends to narrow down over the next month. And another trip to Europe is likely toward the beginning of May, he said. He'll scout and consult and weigh his options, knowing that in the end there remains a core of players he intends to rely upon.
Christian Pulisic makes his presence felt; more takeaways from USA vs. Panama
"The general principle we're working on is not to make too many changes. We can't afford to do that," he said. "The names I mentioned we lost in the last camp, we'd like to see if any of those players are available and then we're not going to be experimenting a whole lot. We have to get results in these two games. We're going to stick to the group of players we had in the last camp and add a couple more, but I don't think you're going to see many new faces pop and you're going to be surprised by it."
Arena offered an update on Johnson, who's yet to play under Arena. The winger missed out on last month's qualifiers thanks to a hamstring injury suffered during Borussia Mönchengladbach's Europa League game against Schalke 04 played shortly after Arena named his team. Johnson hasn't played since.
"The word from their medical staff is that he hasn't responded that well," Arena said. "That's concerning. We're going to be checking his progress each week as we go to see if he's a possibility to be part of the next camp. Right now, it's not likely he's going to be playing over the next week or two."
Gladbach (11-11-6) is in eight place in the Bundesliga and just two points out of a Europa League spot. It also has a DFB Pokal semifinal on April 25 against Chandler's Eintracht Frankfurt.